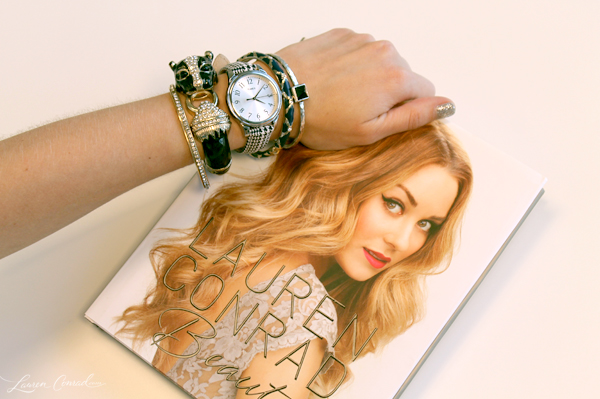 We have shared our Tortoise with a Twist and Gilded in Gold arm parties with you this month, and today we're focusing on a timepiece that is classic and stylish all in one. If you have never heard of houndstooth, now is the time to get a little fashion lesson (courtesy of Team LC, of course). This black and white checkered print is timeless, versatile, and it is on-trend this season. Thanks to the Timex Women's Houndstooth Strap watch you can wear this trend on your wrist. Take a peek below to see how we styled this week's Timex arm party…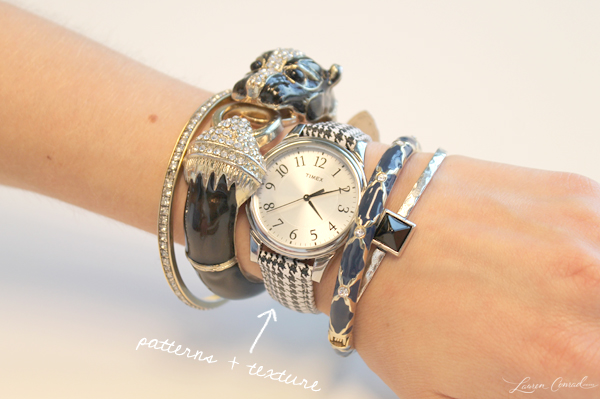 We used the Timex Women's Houndstooth Strap watch as the foundation of this arm party.
Since we wanted to create a patterned, textured army party to go along with the houndstooth strap, we decided to play with a few different styles of bracelets. We added a crystal and enamel panther bracelet to add some personality to the mix.
Then, we included a simple crystal bracelet to tie in to the panther bracelet.
A navy and crystal enamel bangle added a subtle hint of color that didn't overwhelm the rest of the arm party.
And we finished it off with a silver and black stone stud bracelet that is simple and chic like the rest of the arm party.
While we styled the Timex Women's Houndstooth Strap watch with bracelets to make an inspired arm party, this timepiece is stylish enough to be worn all by itself. The genuine leather strap showcases an eye-catching pattern, and the watch face has a sunray finish dial and a silver tone polished case. This is the perfect watch for a woman who wants to tell time in style.
If you liked this arm party, you will be pleased to know we have more to come! Stay tuned for our next Arm Party Inspiration post featuring Timex. And in the meantime, shop for your favorite styles at Timex.com.
Would you wear this houndstooth watch by itself or with your favorite bracelets?
XO Team LC
Today's post is proudly sponsored by…


Photos: LaurenConrad.com