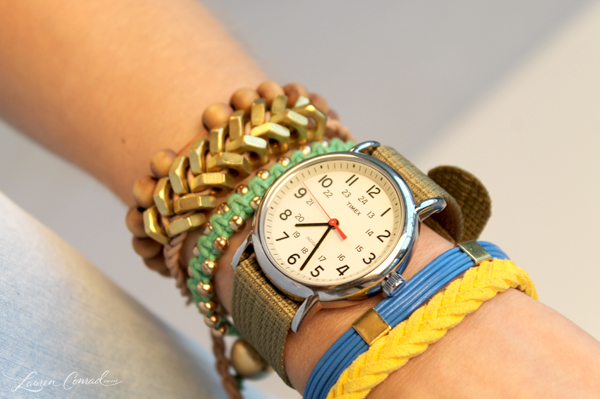 Last week we showed you how to style a fun and fashionable arm party using this Timex houndstooth strap watch. But if you tend to describe your personal style as "weekender chic," then today's post is for you. An everyday watch like the Timex® Weekender Slip Thru is casual enough to wear with your most comfortable off-duty attire, yet stylish enough to pair with your favorite jewelry. This Timex watch in particular, with its olive green changeable strap and sophisticated watch face, is fun and contemporary. For this arm party, we wanted to go with a variety of colorful, textured bracelets to create a weekend-casual theme. Here's how we styled this look…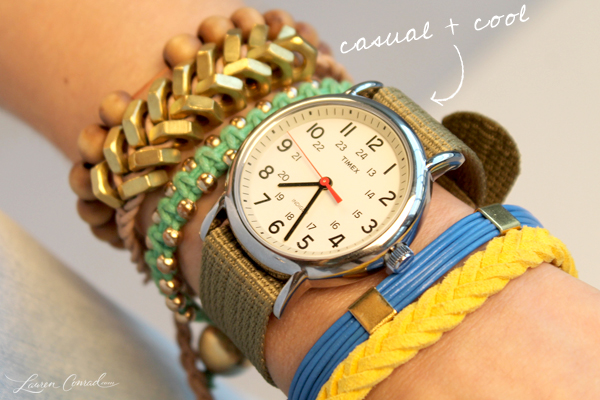 We started with the Timex Weekender Slip Thru watch before adding to our arm party.
Then, we added a green beaded bracelet to bring out the olive green tones in the watchstrap.
Next, we decided to add a yellow braided bracelet and a blue clustered cord bracelet. These two pieces add pops of color to the arm party, giving it a cool weekend vibe.
Then, we wanted to add a piece that could give this arm party a bit of flair. The gold braided bead bracelet kept the mix casual but provided a bit of metallic sparkle.
And lastly, we ended with a brown beaded bracelet. This final addition gives the arm party a bit of an outdoorsy feel that we liked for a weekend look.
We loved using the Timex® Weekender Slip Thru watch as the foundation for today's arm party because it was a great way to take a simple, chic watch and add some fun into the mix. This watch was designed for those who are seeking a fashionable, affordable, casual style that will stay in style for many seasons. The Timex Weekender™ collection is the ideal accessory for a sophisticated casual look, with interchangeable slip thru straps to match your personal style.
Timex is always launching new styles and collections of watches that draw on the company's leading legacy and history as an innovator in the watch category. Be sure to check out the rest of our Arm Party Inspiration posts by clicking here. We promise there is a style for everyone!
What's your favorite part about today's arm party?
We love the fun pops of color.
XO Team LC
Today's post is proudly sponsored by…


Photo: laurenconrad.com