Hi everyone! I'm shipping off to New York Fashion Week today to cover some of the shows and backstage beauty looks for LaurenConrad.com. Dream job, right? But running around from show to show—and live blogging and Instagramming in between—is also a lot of hard work, and there are a few key essentials needed to survive this hectic week in style. So, today I thought I'd give you a little peek inside my purse and the items I have packed. Even if you're not attending Fashion Week yourself, a lot of the items I tote around are perfect for traveling, or simply for any busy girl-on-the go.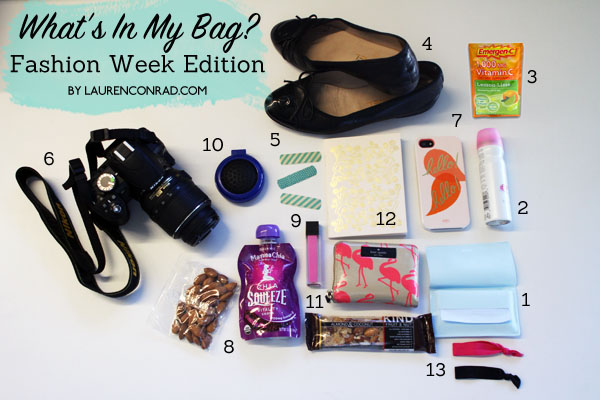 Shiseido Pureness Oil-Control Blotting Papers. Blotting papers are an essential for any girl-on-the-go—but especially this time of year in NYC, where heat and humidity can leave your makeup looking less than fresh after just a couple of hours. Instead of piling on powder that will leave your makeup looking cakey, use these blotting papers to soak up oil and leave your face shine-free.
Evian Mineral Water Spray. A facial mist is another great way to give your face a little midday refresh. Just spritz and go!
Emergen-C. The combination of airports, crowded shows, and a lack of sleep will do a number on your immune system. Fresh-squeezed juice is my usual immune system booster, but for convenience sake I usually pop an Airborne or an Emergen-C on the flight over to stay healthy.
Ballet Flats. More stylish than sneakers but more comfortable than pumps, chic ballet flats are a must for racing from show to show. When the presentation ends, my pumps come off and my ballet flats get me from place to place.
Bandages. I always keep a couple of bandages on hand to combat blisters from running around all day. These washi tape bandages from Pretty Strips are definitely Fashion Week worthy.
Camera. I shoot with a Nikon D3100 for Fashion Week. It's a great lightweight, easy-to-use DSLR for capturing backstage beauty snaps and designer presentations.
iPhone. When I'm not shooting with my real camera, I'm snapping pics for the @laurenconrad_com Instagram, of course! My cute case is from Rifle Paper Co., and Lauren actually has the exact same one as me.
Snacks. There's not a lot of time to sit and have a leisurely meal during Fashion Week, so I always keep plenty of healthy snacks on hand. Almonds, Kind bars, and Chia Squeeze are a few of my favorites.
Jouer Lip Gloss in Peony. You can find this shade is in my purse at all times. The poppy pink hue looks good with almost anything, and it complements my skin tone. Jouer is doing the makeup for the Kate Spade presentation at NYFW, and I can't wait to see what beauty looks they come up with!
Compact Mirror and Brush Combo. This combination mirror and brush comes in handy all the time. In fact, I own a few of them so that I can keep one in each of my purses at all times.
Wallet. I usually carry a smaller purse, so I love this compact Kate Spade wallet that I've had for a couple years now. The flamingo print just makes me smile.
Pocket Notebook. Even in the age of iPhones, sometimes it's just easier to jot down a quick blog idea with good old fashion pen and paper.
Seamless Hair Ties. These snag-free hair elastics are also less likely to leave a crease in your tresses if you need to throw your hair up for a few minutes.
What would you carry in your bag if you were going to Fashion Week?
Also, what items do you have in your purse at all times?
Let me know below, and stay tuned for more live Fashion Week coverage!
xo Ilana
Team LC