Since we have officially begun to dive into fall fashion this month, today's Store or Style is going to be all about boots. When the fall season rolls around, I love browsing through all my favorite websites on the hunt for the perfect pair of booties. But in my opinion, not all boots are created equal. At one time or another, I have probably worn every style of boot that exists. This fall, I am focusing on wearing two specific styles of boots that have caught my eye. Without further ado, here are the boots I'm styling and storing this month…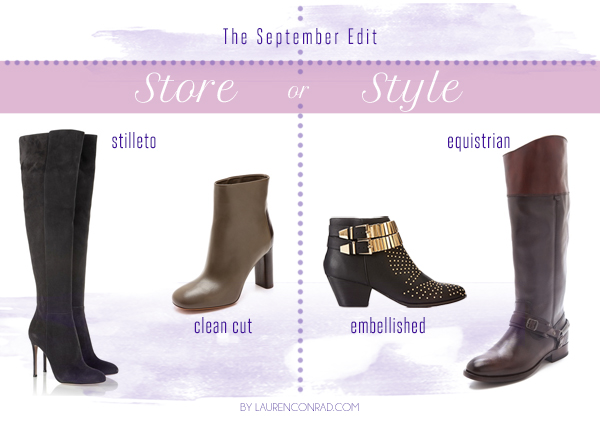 Store: Stiletto Heel Boots.
This boot silhouette has had its fair share of time in the spotlight. But this fall, I am going to go for a style that is flatter to the ground and not quite so dramatic. Stiletto heel boots are very pretty and feminine, but I am storing mine away for another season.
Store: Clean Cut Ankle Boots.
While this is a classic style of ankle boot that truly never goes out of style, this month I'm challenging myself to go for more unusual, trendy styles of boots. I might be storing my classic ankle boots for a while, but I'm sure I will break them out from time to time. If you usually opt for a cleaner, more classic style of ankle boots, try to go out of your comfort zone this season with an embellished or motorcycle style. Which brings me to my next point…
Style: Embellished Ankle Boots.
Lately, embellished boots seem to be all the rage. I love the look of the popular Chloé studded motorcycle ankle boots. They add a touch of toughened-up motorcycle style to some seriously glamorous boots. The style above is a steal of a deal from Forever 21. Click here to shop for them.
Style: Tall Riding Boots.
I love how tall riding boots go with almost everything in my closet. They add a preppy, polished element to any outfit I wear them with, and they are so easy to throw on. You will see me styling these boots all autumn long. Click here to shop the style by Frye above.
Are you going to buy a new pair of boots or booties this fall?
Tell me which style you will add to your wardrobe, and click the links above to shop the styles in this story!
XO Lauren
Photos: Net-A-Porter, Shopbop, Forever 21