With tomorrow marking the first day of October, fall is officially upon us… which means that the weather is about to get a bit chillier and the days are about to get shorter. I always find that I have a harder time getting to the gym before and after work during the fall and winter months. When it's dark and cold in the mornings and evenings, all I want to do is cozy up and watch movies (and I'm sure I'm not alone!). That said, sometimes working out indoors and on your own time is the best way to stay in shape when the weather isn't ideal. Today I'm going to be sharing a workout you can do pretty much anywhere, at any time.
All you need for this workout is a chair (or any surface that is sturdy and the height of a chair), two 1.5-liter water bottles (or any two objects that are the same weight that you can hold in each hand), and a yoga mat or a soft surface.
It's the perfect get fit plan for the colder months to come, so be sure to bookmark it and save it for later…
The Anywhere Workout Plan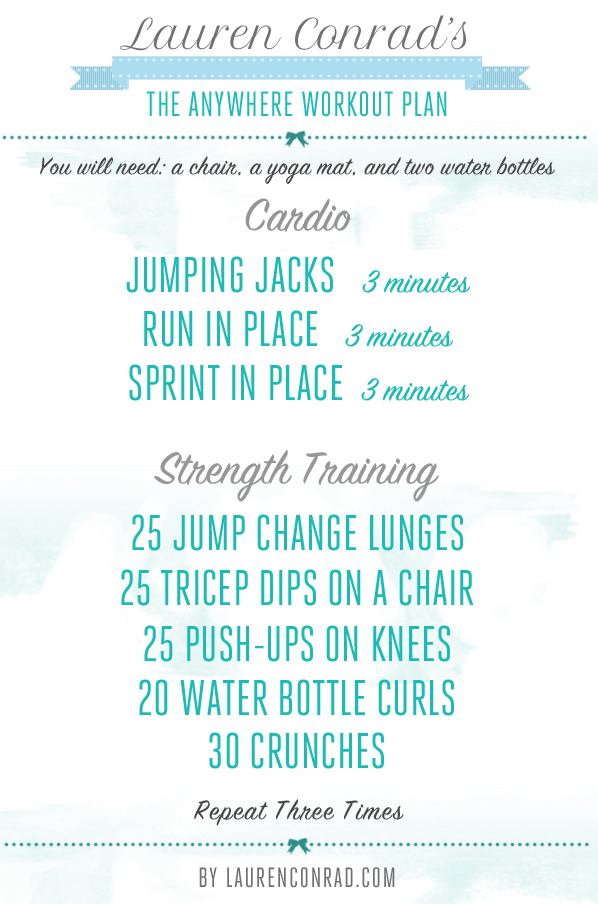 Cardio
Jumping jacks for 3 minutes
Run in place for 3 minutes
Sprint in place for 2 minutes

Strength training
25 jump-change lunges
25 tricep dips on a chair
25 push-ups on knees
20 water bottle curls
30 crunches
Repeat three times.
Like I said above, you can do this workout anywhere as long as you have a chair, a yoga mat (for the knee push ups) and two water bottles. That's some inexpensive workout equipment if you ask me…
Here's how to do each strength-training move above in case you're not sure:

Do you have any cardio or strength training moves you would add to this workout plan?
Also, if you have any suggestions for our next fitness post leave them in the comments below!
XO Lauren
Photo: LaurenConrad.com