Any busy girl knows that it can be hard to squeeze in a workout with a schedule that's packed to the brim. Trust me, I'm the expert on hectic schedules. Sometimes I can only set aside a quick 30 minutes for my daily dose of exercise. When I'm in a pinch for time, I like to make my trip to the gym worth every minute. When you find yourself in said situation, I have a trick that will help you to maximize your short workout: interval training.
You'll want to get sweating as fast as possible, and the best way to do this is to do 3-5 minutes on the treadmill in between each rep you do. To find out how to do a 1-hour workout in 30 minutes, take a peek at the breakdown below…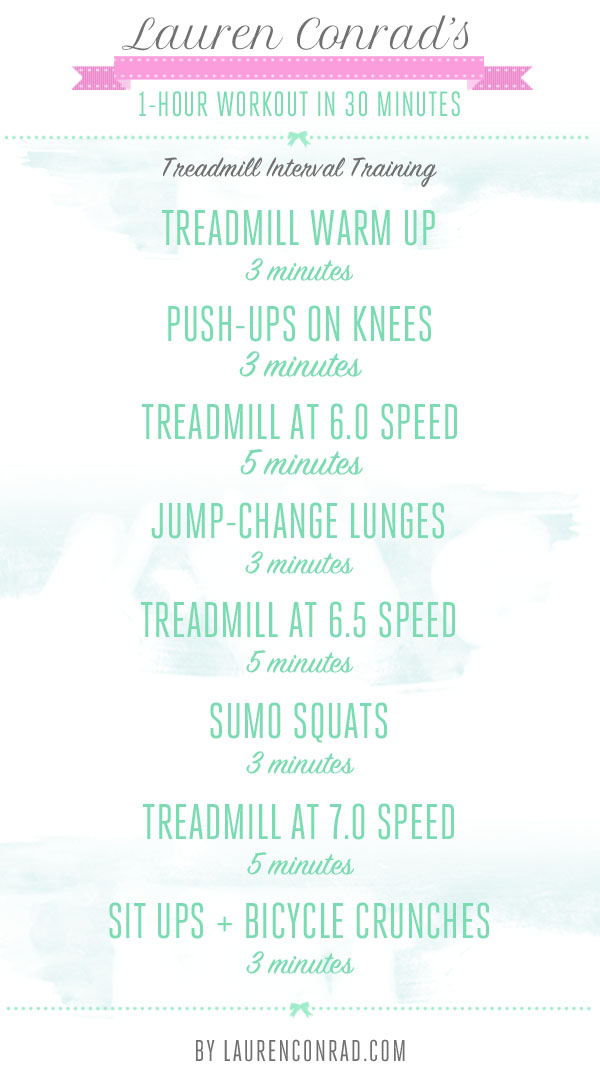 Here's how to do each move in case you're not sure:

This workout will work all the muscles groups in your body: legs, butt, arms, abs. And, you will be getting your cardio in too. I like interval training like this because it burns fat and builds muscle. It will also rev up your metabolism, so you will be burning calories all day long.
Don't forget to listen to Jilly's playlist while you workout! Click here to start listening.
Do you have any other fit tips for making the most out of a 30-minute workout?
XO Lauren
P.S. If you liked this post, you will also like…
Shape Up: My 30-Minute Workout
Shape Up: My Get Fit Quick Plan
Fit Tip: What to Eat Before & After a Workout
Shape Up: How to Stop Making Excuses
Photo:  LaurenConrad.com