Some of our very favorite recipes combine unexpected ingredients to make one delicious dish. We never knew we would love cauliflower and pizza sauce or cherries and balsamic vinegar until we tried them together, but that's the fun in recipe tasting! Today we're sharing a recipe of this same nature: California Dried Plums with sautéed kale and coconut. The end result is a little sweet, a little savory, and a whole lot of flavor. And there are a ton of health benefits, too.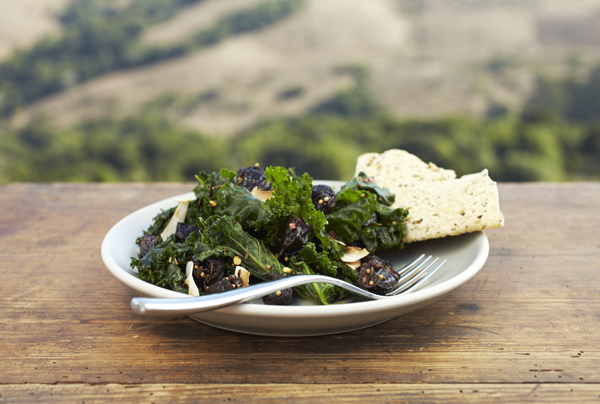 California Dried Plums are not only naturally sweet and satisfying, they will do your body good. Recent research suggests that dried plums may help keep bones strong and improve bone mineral density, as they are packed with an impressive list of vitamins and minerals like potassium and vitamin K. They also contain less than 100 calories per serving. This fruit of goodness is heart healthy because they are low in fat and cholesterol-free, plus their soluble fiber has been shown to decrease blood cholesterol levels. We consider this surprisingly yummy ingredient and snack a pretty plum perfect food.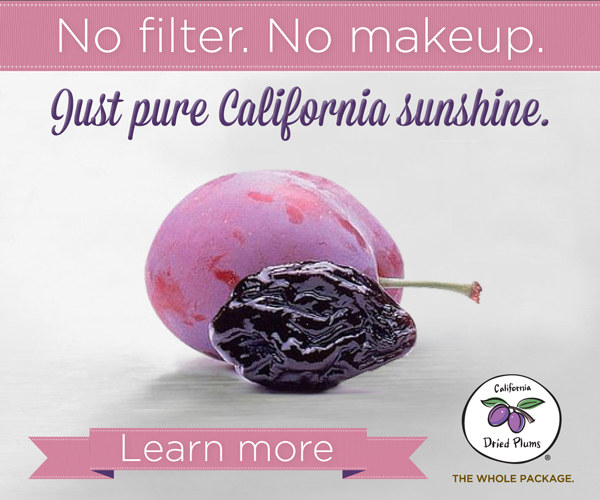 Here's how to use California Dried Plums in a delicious kale and coconut recipe that was developed by Gold Medalist Swimmer Natalie Coughlin:
California Dried Plums with Sautéed Kale and Coconut
Ingredients
1 bunch smooth or curly kale (8 ounces)
1 tablespoon coconut oil
1 teaspoon brown or yellow mustard seeds
1 teaspoon cumin seeds
½ cup diced California pitted dried plums
1 teaspoon grated fresh ginger
1 pinch of red pepper flakes (optional)
1 pinch of salt
¼ cup toasted unsweetened flaked coconut

Directions
Remove stems from kale and discard.
Cut or tear kale into bite-size pieces; wash and drain (do not dry in a salad spinner; there should be some moisture clinging to the leaves).
In a large skillet, heat coconut oil over medium heat.
Add mustard seeds; when they start to pop, add cumin seeds and toss for a few seconds.
Add dried plums, ginger and pepper flakes; after ginger sizzles for a few seconds, add kale.
Cover skillet and cook 3-4 minutes or until kale wilts but is still bright green.
Season with salt and mix well.
Transfer to a serving bowl and sprinkle with coconut.

Makes 4 servings
We hope you will enjoy this tasty recipe. We also have a little surprise for all of you budding chefs…Today we are giving away a $100 gift card to Sur La Table!
And we have our winner! Congrats to…Beth Schilling! xo
Here's how to enter:
Pin it. Pin one of your favorite California Dried Plum recipes from around the Web or from California Dried Plum's Pinterest account.
Comment. Leave a comment below with the URL link to your pinned recipe image.
Wait. We will announce the winner in one week, on Wednesday, September 11th.
Good luck everyone!
Also, look out for more posts to come with creative and mouthwatering recipes you can make with these nutrient-packed California Dried Plums. We will be posting four more recipes throughout the month of September, with $100 giveaways to Sur La Table at the end of each post. Our fifth and final post will give one lucky reader who has entered each giveaway the chance to win not only a $100 Sur La Table gift card, but a Vitamix 5200 Deluxe as well. Pretty sweet, right?! Stay tuned and be sure to enter each giveaway for a chance to win the grand prize.
XO Team LC
P.S. Don't forget to follow California Dried Plums on Twitter and on Facebook for more tasty recipes.
Today's post is proudly sponsored by…