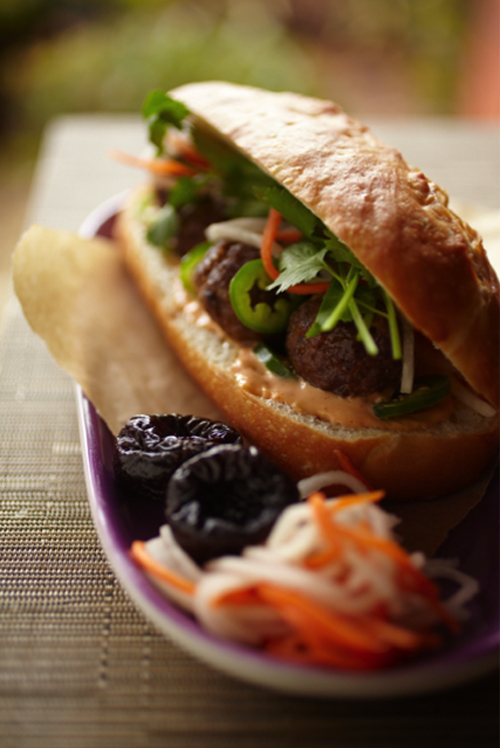 Spicy, naturally sweet, crispy and crunchy—it's no surprise that banh mi sandwiches are gaining increased popularity as of late. This type of sandwich, a phenomenal blend of Vietnamese and French cuisine, is something we like to eat on-the-go and at any time of day. You can stack almost any ingredient on a crisp, crusty baguette, but pickled carrots, fish sauce and cilantro are among the most common to round out this trendy hoagie. 
If you've never had a chance to try a banh mi sandwich yourself, don't worry, we have a version with turkey meatballs right here that is sure to become one of your lunchtime staples. This recipe for Vietnamese Turkey Meatball California Dried Plum Banh Mi Sandwich is always a guaranteed hit. And to make things even better, it makes five servings so you can eat it all week long!
California Dried Plum purée gives these spicy meatballs their moist texture and heightens the flavors of the other ingredients in the recipe. A dried plum purée actually serves as a substitute for unhealthy fats or sugars and reduces the amount of calories provided by a recipe. You can make your own California Dried Plum puree by blending eight ounces of pitted California dried plums with 6 tablespoons of hot water until smooth.
You won't believe how well these layers of vibrant, yummy flavors blend together until you try it yourself. This sandwich will not fail to get your taste buds singing. Trust us.
Here's how to use California Dried Plums in a mouthwatering Vietnamese Turkey Meatball California Dried Plum Banh Mi Sandwich recipe that was developed by Gold Medalist Swimmer Natalie Coughlin:
Vietnamese Turkey Meatball California Dried Plum Banh Mi Sandwich
Ingredients

1 pound ground turkey

¼ cup California Dried Plum purée

¼ cup chopped canned water chestnuts

3 tablespoons finely chopped green onions

2 teaspoons fish sauce

1 tablespoon minced garlic

1 teaspoon sriracha sauce

½ teaspoon kosher salt

5 baguette sandwich rolls (8-10 inches long) or 4 (8-10-inch) pieces baguette

2 jalapeño chiles, thinly sliced (seed if desired)

20 sprigs cilantro

Sriracha mayonnaise* 

Carrot and daikon pickles** 
Directions

In a large bowl, mix turkey, dried plum purée, water chestnuts, green onions, fish sauce, garlic, sriracha sauce and salt. 

Chill for 30 minutes to make it easier to form into balls.

Heat oven to 350°F.

Divide meatball mixture into 20 portions. 

Moisten your fingers with water and gently roll mixture into balls. Place on rimmed baking sheet. 

Bake meatballs about 15 minutes or until cooked through.

Cut rolls in half horizontally and remove some of the crumb to make room for the filling. 

For each sandwich, spread a thin layer of mayonnaise on insides of 1 roll. 

In bottom half of roll, layer a few slices of jalapeño, 4 meatballs, 4 sprigs cilantro and 2 tablespoons pickles. 

Cover with top half of roll.

*To make sriracha mayonnaise, stir together 1/2 cup low-fat mayonnaise and 1 teaspoon sriracha sauce. Refrigerate, covered.
**To make carrot and daikon pickles, place 1/2 cup julienned carrots and 1/2 cup julienned daikon in a nonreactive bowl. In a small saucepan, heat 1/4 cup rice vinegar, 2 tablespoons sugar and 1 teaspoon kosher salt just until sugar dissolves. Cool to room temperature and pour over carrots and daikon. Let stand at room temperature for 1 hour or refrigerate, covered, overnight. Drain before using.
Makes 5 sandwiches
We hope you will enjoy this tasty recipe. We also have a little surprise for all of you budding chefs…Today we are giving away another $100 gift card to Sur La Table!
We have our winner! A big congrats to Mary Claire! xo
Here's how to enter:

Pin it. Pin one of your favorite California Dried Plum recipes from around the Web.
Comment. Leave a comment below with the URL link to your pinned recipe image.
Wait. We will announce the winner in one week, on Tuesday, September 17th.
Good luck everyone! And a big congrats to Beth Schilling, the winner of last week's California Dried Plums giveaway!
Look out for more posts to come with creative and mouthwatering recipes you can make with these nutrient-packed California Dried Plums. We will be posting three more recipes throughout the month of September, with $100 giveaways to Sur La Table at the end of each post. Our fifth and final post will give one lucky reader who has entered each giveaway the chance to win not only a $100 Sur La Table gift card, but a Vitamix 5200 Deluxe as well. Pretty sweet, right?! Stay tuned and be sure to enter each giveaway for a chance to win the grand prize.
XO Team LC

Today's post is proudly sponsored by…