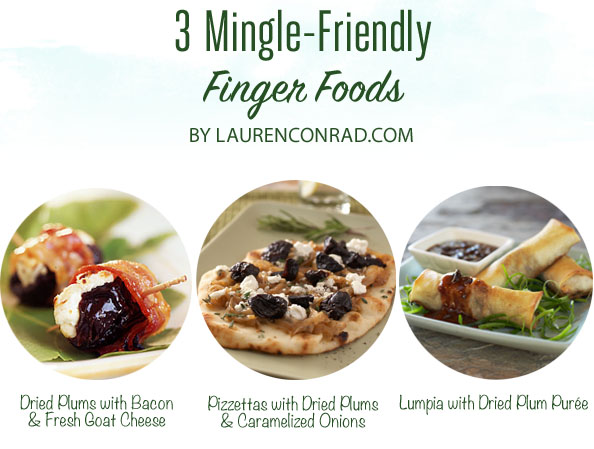 Whether you're gearing up for a night in with girlfriends, or joining the boys for the big game, nothing pairs better with your preferred beverage than a spread of mouthwatering appetizers. Fall not only hosts New York Fashion Week and football season, but it's also the time for new and returning TV shows. And if you're anything like us, you can't wait to see where the nail-biting season finale of your favorite show left off.
Today we've gathered a menu of tasty appetizers that will make the return of your favorite show fun and absolutely delicious. Read below for three of our favorite recipes that deliver flavorful, satisfying nibbles that you'll be proud to share: Dried Plums with Bacon and Fresh Goat Cheese, Pizzettas with Dried Plums & Caramelized Onions and Lumpia with Dried Plum Purée.
Let's be honest, checking out the food spread can be more exciting than checking the score or tuning into your show… But let's snack wisely. Naturally sweet, California dried plums (prunes) help support bone health, heart health, digestive health, immunity and healthy aging. At fewer than 100 calories per serving (4-5), they're a natural way to help curb appetite. In other words, they're the whole package!
Which recipe will you try first? Do you have any ideas for appetizers that incorporate dried plums?
Leave them in the comments below!
1. Dried Plums with Bacon and Fresh Goat Cheese
Did somebody say bacon? Oh-so-pretty, and oh-so-easy to make, these flavor-packed bacon-wrapped dried plums will make you and your guests smile. They take just 15 minutes to prepare, and we promise that they will disappear in half that time.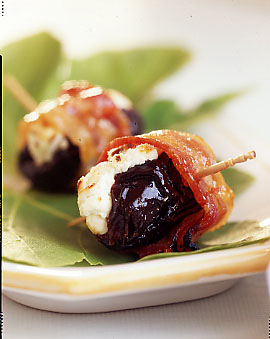 Ingredients
12 pitted dried plums
5 1/3 ounces goat cheese, divided into 12 equal portions
3 slices bacon, each cut into 2-inch pieces (to total 12 pieces)
Toothpicks

Directions
For each dried plum, make a lengthwise slit and spoon a portion of cheese into slit
Wrap dried plum with a piece of bacon
Secure bacon with wooden pick
Arrange bacon-wrapped dried plums on rack in broiler pan
Broil 3 to 4 inches from heat 6 to 8 minutes or until browned and barely crisp, turning once
Serve hot or warm

Makes 12 servings.
2. Pizzettas with Dried Plums & Caramelized Onions
A party mainstay, this fun and yummy take on traditional pizza gets a healthy makeover thanks to olive oil and dried plums. Fresh rosemary, thyme and caramelized onions add another healthy layer of flavor. But don't worry; this pizzetta is just as delicious as what you would get at the pizza joint around the corner! Recipe created by Gold Medalist Swimmer Natalie Coughlin.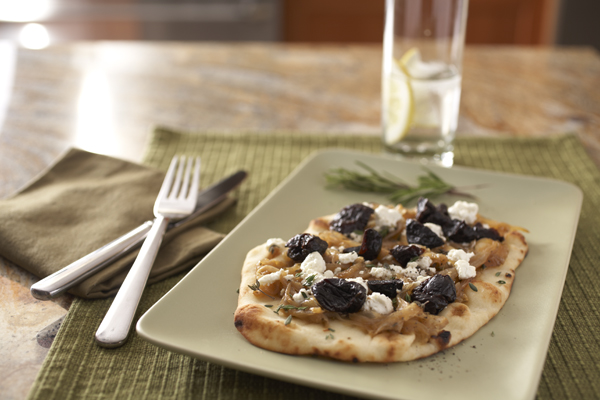 Ingredients
2 tablespoons olive oil
4 small onions, thinly sliced
½ teaspoon salt
¼ teaspoon black pepper
1 teaspoon chopped fresh rosemary
1 teaspoon chopped fresh thyme
4 (6-inch) round tandoori naan
1 cup crumbled fresh goat cheese
1 cup (about 6 ounces) quartered pitted dried plums
Directions
Heat oven to 400°F
In large skillet, heat olive oil
Add onions, salt and pepper
Cover and cook over medium-low heat until onions are soft
Add rosemary and thyme and cook uncovered, stirring frequently, until onions are golden brown
Place naan on baking sheet; spread 1/3 cup onion mixture on each naan, leaving a 1/2-inch border
Sprinkle evenly with 1/4 cup goat cheese and 1/4 cup dried plums
Bake about 5 minutes or until crust is golden and toppings are hot
Cut pizzetta into 8 squares

Makes 8 servings.
3. Lumpia with Dried Plum Purée
Bite-sized appetizers and delectable dips can be good for you and taste good. Lumpia is a classic Filipino spring roll that's a crowd-pleaser but this healthy twist makes them even tastier. A spicy chili dipping sauce made with dried plum purée and diced dried plums also creates some extra pizzazz. Recipe created by Gold Medalist Swimmer Natalie Coughlin.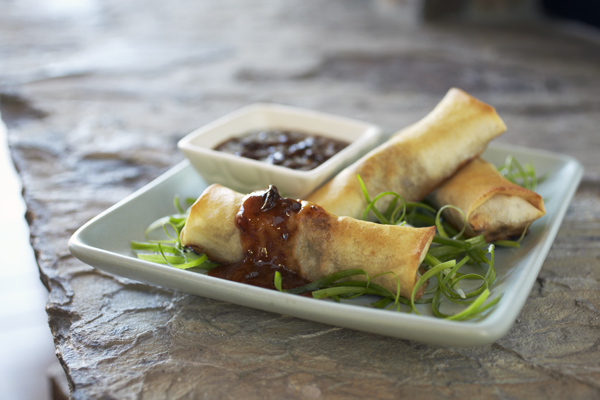 Ingredients
1 pound ground pork
1 (8-ounce) can water chestnuts, drained and chopped
¾ cup minced onion
¼ cup dried plum purée
2 tablespoons reduced-sodium soy sauce
1 tablespoon minced garlic
1 teaspoon salt
1 teaspoon white pepper
1 tablespoon flour
1 tablespoon water
24 lumpia wrappers
Cooking spray
Dried Plum-Chili Dipping Sauce (recipe below)

Directions
Mix together pork, water chestnuts, onion, dried plum purée, soy sauce, garlic, salt and pepper.
In a small bowl, mix flour and water to make a paste
Place one lumpia wrapper on a work surface and place about 2 tablespoons pork mixture near the edge closest to you
Roll bottom edge towards the middle, fold in both sides and continue rolling
Moisten edge with flour paste to seal
Repeat with remaining wrappers and filling
Heat oven to 425° F
Spray a baking sheet with cooking spray
Arrange lumpia on baking sheet and spray with cooking spray
Bake 20-25 minutes or until browned and crisp
Serve with Dried Plum-Chili Dipping Sauce **

Makes 24 servings.
**To make Dried Plum-Chili Dipping Sauce, in a blender, purée 1/2 cup Thai sweet chili sauce, 1/2 cup water and 1/4 cup dried plum purée. Stir in ¼ cup diced dried plums. (Makes 1 1/2 cups)
We hope you will enjoy these fun and yummy recipes. We also have a little surprise for all of you budding chefs…Today we are giving away another $100 gift card to Sur La Table!
We have our winner! A big congrats to Ilse!
Here's how to enter:
Pin it. Pin one of your favorite California dried plum recipes from around the Web.
Comment. Leave a comment below with the URL link to your pinned recipe image.
Wait. We will announce the winner in one week, on Tuesday, October 1st.
Good luck everyone! And a big congrats to last week's winner, Dierdre!
Also, look out for more posts to come with creative and mouthwatering recipes you can make with these nutrient-packed California dried plums. We will be posting one more recipe with a $100 giveaway to Sur La Table at the end of the post. Our fifth and final post will give one lucky reader who has entered each giveaway the chance to win not only a $100 Sur La Table gift card, but a Vitamix 5200 Deluxe as well. Pretty sweet, right?! Stay tuned and be sure to enter each giveaway for a chance to win the grand prize.
XO Team LC
Today's post is proudly sponsored by…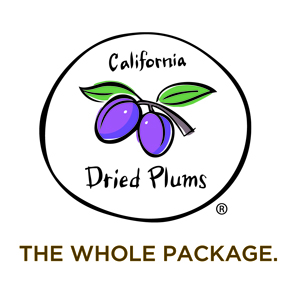 Photos: California Dried Plum Board