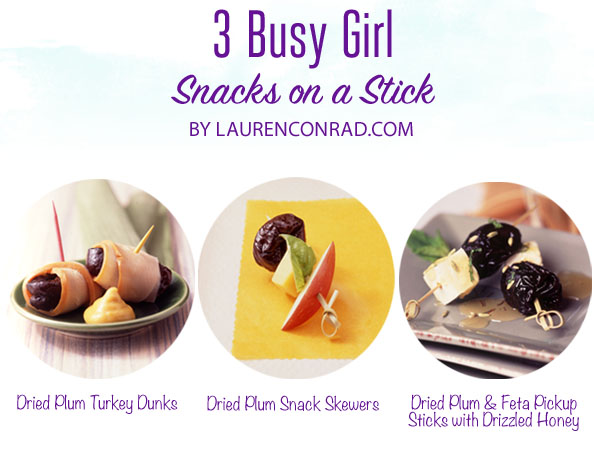 We must admit; there is just something so fun and so irresistible about eating food on a skewer. Not getting bored is crucial to a healthy eating plan, and the "stick trick" can help put even the most tempting vending machines to shame.
Of course, starting with healthy ingredients is the key to creating a successful snack on a stick. When we're not munching on California Dried Plums straight from the bag, we love to stack them on top of other yummy morsels to create a quick and easy snack that's bursting with flavor.
Dried plums alone taste so good that we have to remind ourselves that they're naturally low in both fat and sodium. But, the best part about dried plums is that they help promote satiety (aka keep you full), which is vital for a girl on the go. We like to stash dried plums in our purse, gym bag, and car for easy access to yum on the run.
Today we're sharing three of our favorite tried-and-true busy girl snacks on a stick with California Dried Plums; Dried Plum Turkey Dunks, Dried Plum & Feta Pickup Sticks with Drizzled Honey and Dried Plum Snack Skewers.
Which one will you try first? Do you have any ideas for busy girl snacks on a stick that incorporate dried plums?
Leave them in the comments below!
1. Dried Plum Turkey Dunks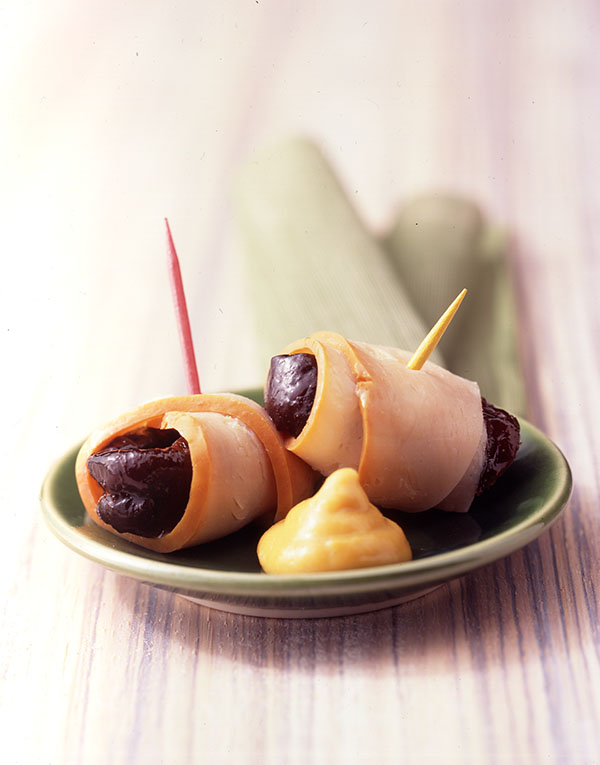 Ingredients
2 pitted dried plums
1 slice turkey breast
Honey mustard
Toothpicks

Directions
Dice pitted dried plums into halves.
Cut slice of turkey breast into four strips.
Wrap each dried plum half with one strip of turkey breast.
Thread each Dried Plum Turkey Dunk onto toothpick.
Serve with mustard or your favorite dipping sauce.
Makes 1 serving (4 Dried Plum Turkey Dunks).
2. Dried Plum & Feta Pickup Sticks with Drizzled Honey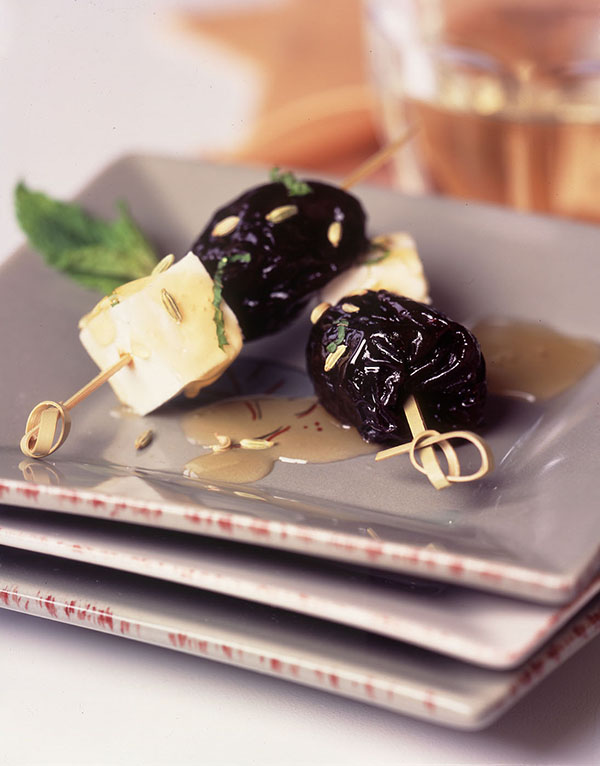 Ingredients
6 pitted dried plums
2 ounces feta cheese, cut into 6 (3/4-inch) cubes
1/2 tablespoon honey
1/2 tablespoon toasted fennel seeds, crushed
1/2 tablespoon chopped fresh mint
Toothpicks
Directions
Thread 1 dried plum and 1 cube of feta cheese onto toothpick.
Drizzle with honey.
Sprinkle lightly with fennel seeds and chopped mint leaves.
Repeat with remaining ingredients.

Makes 6 servings.
*Tip: To toast fennel seeds, place in small skillet. Toast over high heat 1 minute or until fragrant, shaking pan occasionally. To crush seeds, use a mortar with pestle or place seeds in heavy-weight plastic bag and crush with rolling pin.
3. Dried Plum Snack Skewers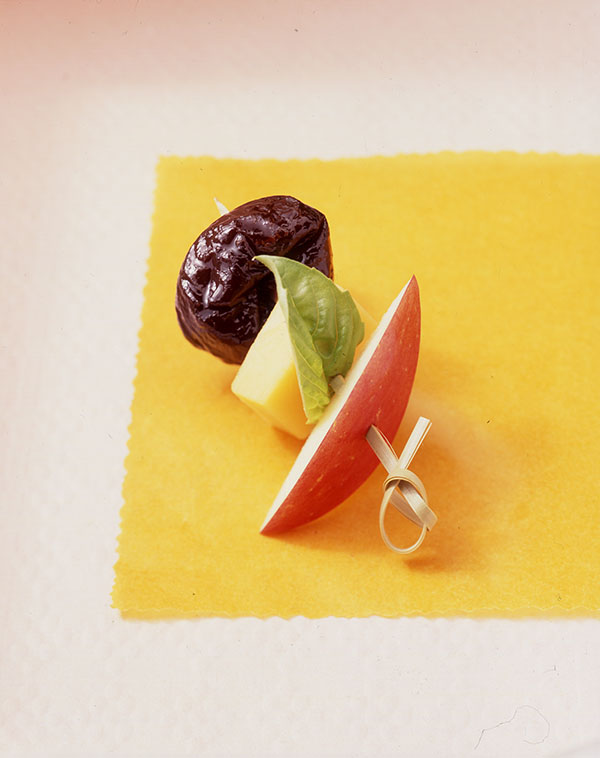 Ingredients
1 medium apple
16 fresh basil leaves
3 ounces Cheddar cheese, cut into 1-inch x 1/2-inch cubes
16 pitted dried plums
Toothpicks
Directions
Core and cut apple into 16 wedges.
Thread 1 apple wedge, 1 basil leaf, 1 cube of Cheddar cheese and 1 dried plum onto toothpick.
Repeat with remaining ingredients.
Makes 8 servings.
We hope you will enjoy these fun recipes. We also have a little surprise for all of you budding chefs…Today we are giving away another $100 gift card to Sur La Table!
We have our winner! Congrats to Dierdre!
Here's how to enter:
Pin it. Pin one of your favorite California Dried Plum recipes from around the Web.
Comment. Leave a comment below with the URL link to your pinned recipe image.
Wait. We will announce the winner in one week, on Tuesday, September 24th.
Good luck everyone!
Also, look out for more posts to come with creative and mouthwatering recipes you can make with these nutrient-packed California Dried Plums. We will be posting two more recipes throughout the month of September, with $100 giveaways to Sur La Table at the end of each post. Our fifth and final post will give one lucky reader who has entered each giveaway the chance to win not only a $100 Sur La Table gift card, but a Vitamix 5200 Deluxe as well. Pretty sweet, right?! Stay tuned and be sure to enter each giveaway for a chance to win the grand prize.
XO Team LC
Today's post is proudly sponsored by…