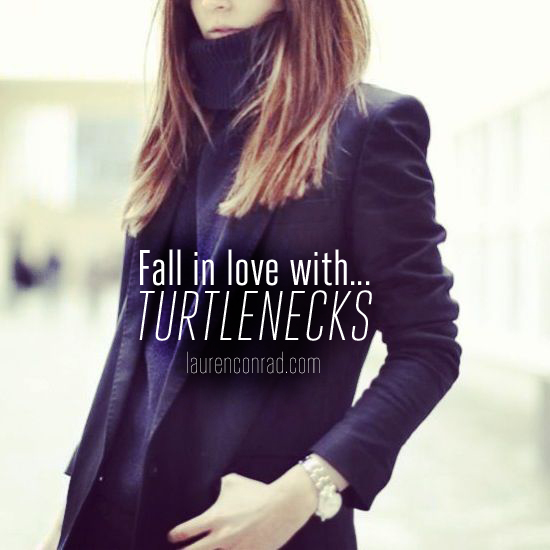 I've always thought that a woman's neckline is one of the most feminine and alluring parts of her body. I love drawing attention to this area by wearing dainty necklaces paired with pretty, delicate blouses and dresses. But at the same time, there is also something to be said for creating a sense of mystery around this area. Enter: turtlenecks. With fall on the horizon, I have found myself falling in love with this high-necked silhouette. Slouchy, fitted, ribbed, chunky—when it comes to turtlenecks, I love them all.
Turtlenecks have quite an interesting backstory. This style dates back to the 15th century, and in the 20th century they began to become associated with academics, philosophers, intellectuals and artists (talk about chic). When the 1950s rolled around, women started putting a feminine spin on the turtleneck, making it a preppy and classic style staple for hip housewives and fashionable coeds alike. Today, the turtleneck has become an essential ingredient in the closest of most street style mavens. It's a traditional look that will always be in vogue.
Since I'm going to be adding a few new turtlenecks to my own wardrobe this fall, I thought I'd share a few styles I'm craving. Without further ado, here are a few of my favorite high-necked looks and how to style them…
P.S. Be sure to shop for the styles in your favorite photos by clicking through the products below.

Shop This Story…
What are you falling in love with for fall?
Let me know in the comments below.
XO Lauren