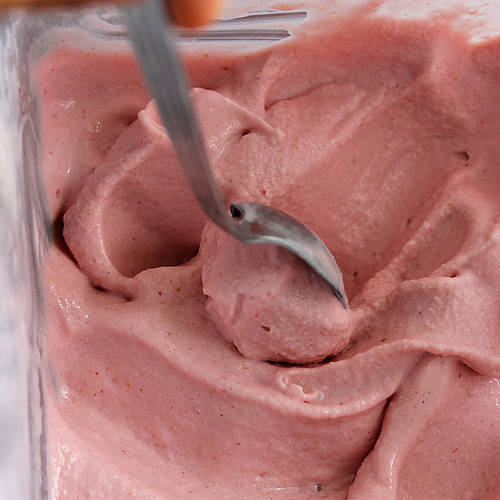 Even though summer is definitely winding down and fall is starting up, living in warm Southern California means there is always a need for frozen sweet treats. Here at the LC.com HQ, our guilty pleasures tend to come in the form of all kinds of sugary confections. So when we were browsing through the recipe gallery the other day, we all got pretty excited when we came across a member's recipe for 5-minute homemade strawberry ice cream.
This recipe is actually pretty healthy—it only has five grams of sugar per a ½ cup serving. And it was created by one of our very own members, Girl Gone Country! Lauren recently included it in a Friday Favorites post and we got so much feedback about the recipe that I decided to share it with all of you today. Take a peek below to make this quick, easy, and healthy treat…
Ingredients
1 small very ripe banana
½ cup cream
12 ounces frozen strawberries
1 teaspoon vanilla

Directions
Add the bananas (first), cream and half the strawberries and blend on high for 1 minute.
Then add the rest of the strawberries and blend on high until smooth but firm. if needed, scrape the sides of the blender and blend again. Optional – If you like it a bit sweeter, add a few drops of liquid organic stevia.
Sever or Freeze for 2 hours. If you plan on freezing your ice cream longer then a few hours you can add 1 tsp of rum (while blending) to make your ice cream creamier and smoother.
Makes four servings
I hope you enjoy this sweet treat as much as we did. And if you liked this post, be sure to take a peek at this LaurenConrad.com member's blog by clicking here: Girl Gone Country
Do you have a recipe to share with us?
Be sure to enter our Fall Recipe Contest for a chance to be featured here on the site. Click here to find out how to submit your recipe for a chance to win!
xx
Allison
Team LC