Hey ladies! Cara here, from Big Girls, Small Kitchen. By this time in the early fall, I've just about had it with the plethora of summer vegetables. It sounds ridiculous to admit that it's possible to overdose on perfect tomatoes, sweet corn, and zucchini. But somehow I've managed to do it.
That doesn't mean I'm over all vegetables though. With the cool evenings and shorter days that mark the beginning of fall also bring fall's fresh produce. I'm especially excited about all the varieties of squash headed directly to my table. Here are three of my favorite ways to use the hearty yellow root veggie, which comes in a dozen varieties and can be prepared in all kinds of creative, healthful ways…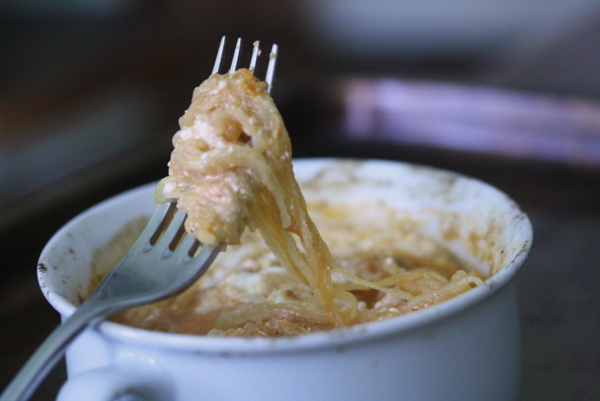 1. Baked Spaghetti Squash with Tomato and Ricotta
Spaghetti squash is really one of the coolest ingredients around. By baking what appears to be a normal squash, you end up with pasta-like strands that can be treated just like spaghetti—with cheese and tomato sauce as we do here. Lower in carbs than noodles and naturally gluten-free, you'll delight in the gooeyness of the end result and surprise your health-conscious friends with how incredible healthy eating can be! (You can see the original recipe here.)
Ingredients
1 large spaghetti squash
½ teaspoon salt
½ cup tomato sauce
½ cup ricotta

Instructions

Preheat the oven 375°F.
Place the spaghetti squash on a baking sheet. Pierce it on all sides with a knife. Bake in the oven for about an hour, or until easily pieced with a knife.
Allow to cool enough to touch. Then cut the squash in half and spoon out the seeds and pulp. Using a fork, scrape out the spaghetti squash, separating the strands as you go. It should yield about 2-4 cups.
Place the spaghetti squash in a bundle of dishtowels (or a kitchen towel), and squeeze out some of the moisture. Place in a mixing bowl, then toss together with the salt and tomato sauce. Add half of the ricotta and gently toss until the ricotta is just slightly broken up but not totally incorporated. Pour the squash into a small casserole dish or oven-safe bowl, dot with the remaining ricotta, and bake under the broiler until browned on top, about 5 minutes.
Serve immediately. You can also cook it and reheat later—this keeps really well.

Makes 2 servings.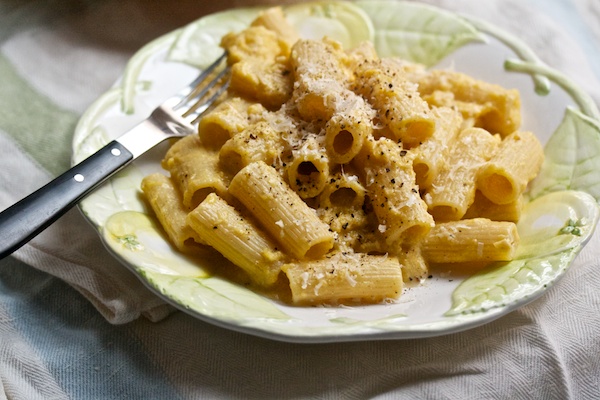 2. Creamy Squash Rigatoni
Have you ever had butternut squash ravioli? I'd venture to say it's one of my all-time favorite things to eat. But it's not always so easy to find at the grocery store, and most days I'm not up for a homemade ravioli project! So this is my solution. Basically, you turn a steamed squash into the base of a creamy, warming sauce flavored with garlic, butter, and a pinch of nutmeg.  In the fall, I like this dish even better than mac and cheese! (You can see the original recipe here.)
Ingredients
1 medium delicata squash (about 12 ounces)
2 teaspoons butter
2 cloves garlic, minced
a pinch of cayenne pepper
1/2 teaspoon nutmeg
1/2 teaspoon salt
1 cup low-fat milk
2 tablespoons cream
6 ounces rigatoni – slightly less than half a box
2 tablespoons grated Parmesan
freshly ground pepper

Instructions

Bring about an inch of water to the boil in a large stockpot. Cut the squash into large wedges and remove the seeds. Arrange in a steamer basket. Steam for 8-12 minutes, until the squash is very tender. Remove the steamer basket and let the squash cool so you can handle it. Remove the flesh from the skin into a small bowl, then mash it well with a spoon.
Meanwhile, fill up the pot with water for pasta and start it boiling.
In a medium frying pan, melt the butter over very low heat. Add the garlic and cook, stirring occasionally, until the garlic is golden, about 8 minutes. (Don't raise the heat and try to rush this.) You'll want to push both butter and garlic all the way to one side of the pot, since there's not that much of either. Add the cayenne, nutmeg, and salt and stir.
Now carefully add the milk, cream, and mashed squash to the pan, stirring to smooth. Raise the heat slightly, so the sauce simmers. Simmer over medium heat until reduced, about 12 minutes.
When you reach this point, you can add your pasta to the boiling water, so it'll be ready at the same time as the sauce.
When the sauce is reduced and the pasta done, reserve a 1/2 cup of pasta water, and drain the pasta. Add the pasta to the simmering sauce, spooning in reserved water if necessary. Season with pepper and more salt to taste, then add half the Parm and mix in. Divide between two bowls, sprinkle with the rest of the Parmesan, and serve.

Makes 2 servings.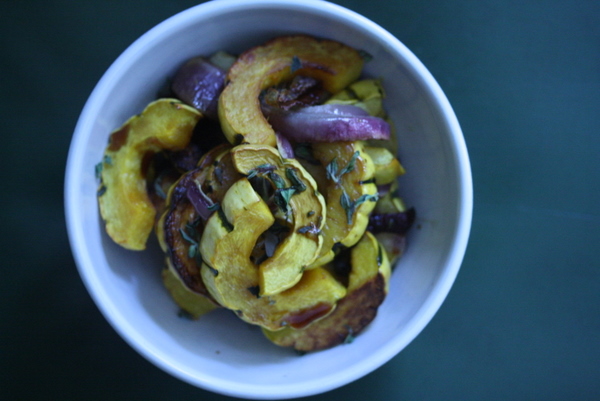 3. Warm Delicata Squash Salad with Balsamic-Oregano Drizzle
In this warm salad, just-baked wedges of hearty squash are dressing with a tangy and sweet balsamic vinaigrette that perfectly highlights the squash's texture and natural sugars. The ingredient list may sound like it calls for a lot of squash, but it really cooks down in the oven. Plus, it's so delicious, you'll be more than pleased if there ends up being extra yield! (You can see the original recipe here.)
Ingredients
2 tablespoons olive oil
4 pounds delicata squash
2 medium red onions, halved and cut into thin half moons
1 tablespoon balsamic vinegar
1 teaspoon finely chopped fresh oregano
¼ teaspoon crushed red chili flakes
1 tablespoons olive oil

Instructions

Preheat the oven to 400°F.
Remove the ends of the squash and cut each in half length-wise. Scoop out the seeds and stringy interior (a grapefruit spoon works well for this). Cut the squash into ½ inch slices. The end result will look like crescent moons.
On a parchment-lined baking sheet, toss the squash together with the onions, olive oil, and 1/2 teaspoon of salt. Arrange in an even layer and bake in the oven for 30 minutes, redistributing once during the cooking process, until browned and tender.
In the meantime, combine the vinegar, oregano, chili flakes, and 1/4 teaspoon salt . The oil and vinegar might not emulsify, but that's okay.
Transfer the squash to a serving bowl and drizzle with the balsamic mixture. Garnish with additional oregano, and serve immediately.

Makes 4-6 servings.
Which of these melt-in-your-mouth squash recipes will you make first this season?
Let me know in the comments below!
And if you liked this post, be sure to take a peek at my brown bag lunch recipes!
XO,
Cara
Big Girls, Small Kitchen
Photo: Big Girls Small Kitchen