I hope you have all been reading my Store or Style series here on LaurenConrad.com. I enjoy getting together with my team and brainstorming the styles we like most for the month ahead. Plus, it helps me to focus on which pieces may need a little more TLC in my closet (and which ones need to retire for a while too). This month, I'm focusing on skirt silhouettes. That said, take a peek below at what I'm storing and styling this month…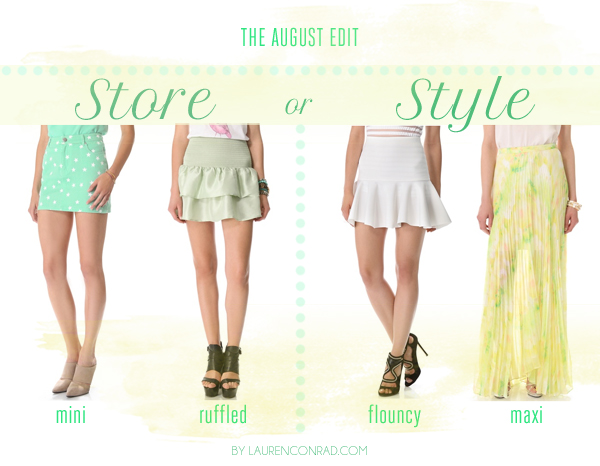 Store: Mini Skirts.
While I love to wear an occasional party dress that has a shorter hemline, mini skirts are not a style I have been sporting lately. You can still show a little leg by wearing a skirt that hits mid-thigh, and this length is also more versatile. While I love the print in the mini skirt above, I'm going to store away my minis and go for a more moderate length skirt for now.
Store: Ruffled Skirts.

I have professed my love for ruffles on several different occasions. But lately when it comes to skirts, I'd prefer them without. Sometimes ruffled details around your waist or hips can give the illusion that there are curves where there actually aren't. So for now, I think I'll steer clear of my ruffled skirts and opt for more tailored ones instead.
Style: Flouncy Skirts.
Flouncy skirts might seem similar to ruffled skirts, but the difference is all in the details. In my opinion, a ruffled skirt has ruffles all over, whereas a flouncy skirt is fitted at the top and "flounces" out around the bottom. I love the silhouette of a flouncy skirt because it is so feminine and flattering. It's a simple style that looks great on most everyone. Shop for the flouncy skirt above by clicking here.
Style: Maxi Skirts.
If my Paper Crown collection is any indication, I have always loved a great maxi skirt. They are easy to wear, comfortable, and can transition across seasons. This month, be sure to wear your light and summery maxi skirts as often as you can. And when the seasons start changing, you can still stay up with this trend by opting for maxis in earth tones and ones that have thicker fabric for added warmth. Shop for the style above by clicking here.
Like I've said in the past, just because I am choosing to store these pieces of clothing does not mean you should! The most important thing about getting dressed is that you wear something you love and feeling beautiful in. That is what truly makes an outfit perfect.
What items are you styling and storing in your closet this month?
Leave your list in the comments!
XO Lauren