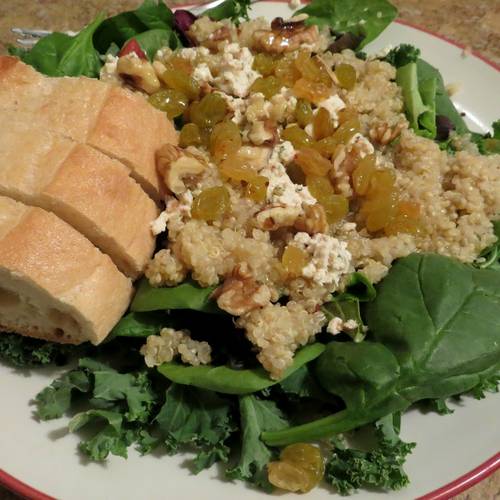 You probably already know by now that all of us here at Team LC are quinoa fanatics. We bring it to the office for a healthy lunch and we have fun thinking up original quinoa recipes to tell each other about (like this one!). Not to mention our love affair with the Pinterest phenomenon, My Imaginary Well-Dressed Daughter named Quinoa. No matter how you look at it, we just love this healthy grain. Which is why we were so excited to see one of our very own LaurenConrad.com members post her quinoa salad recipe in the gallery. We're excited to share it with you today and we highly recommend making a batch yourself!
This recipe was created by LaurenConrad.com member Sarah, who describes it as a "quick summer salad that can easily be made for one or more people." Sarah says she makes a little extra so that she can make another salad for lunch the next day. Now this is a girl after our own hearts.
Without further ado, here is Sarah's Easy Quinoa Salad recipe:
Ingredients
1 handful of spring mix, kale or greens of your choice
a sprinkling of goat cheese (any crumbly cheese will work)
1 cup quinoa
a sprinkling of chopped walnuts
a sprinkling of raisins
A drizzle of flavored olive oil, flavored balsamic vinegar or dressing of your choice
Directions
Put the quinoa in a plastic bag (if it did not come in one) and poke holes in it with scissors.
Rinse the quinoa in the bag and squeeze out the water. Repeat this one more time.
Put the quinoa in a saucepan. If you are cooking 1 cup of quinoa, use 2 cups of liquid (either broth or water). Use this ratio with any amount of quinoa you wish to cook. Any amount can be added to your salad.
Set the burner to medium/high heat until the liquid is boiling. Then, put a cover on the pot and set the heat to low. Let it simmer for 15 minutes.
Once the quinoa is fluffy and the liquid is absorbed, take off heat and let sit for 5 minutes.
While your quinoa is sitting, start preparing your salad. Add the desired amount of greens to your plate.
Once the quinoa is cooled, add it on top of your greens. Then, top with cheese, chopped walnuts, raisins and tomatoes. Drizzle with your favorite dressing, although a mix of flavored olive oil and flavored balsamic vinegar pairs wonderfully with this. Then, enjoy!
Are you going to give this quinoa salad recipe a try? (We are!)
XO Team LC
P.S. Thanks for sharing your recipe, Sarah! To see more of Sarah's recipes, outfits, and beauty tips take a peek at her blog: www.sequindoll.com
You might also like…
Member Spotlight: Laura's Soft Pumpkin Cookies
Member Spotlight: Julia's Chipotle Pumpkin Soup
Recipe Box: Julia's Healthy Veggie Rolls
Recipe Box: Easy Apricot Chicken