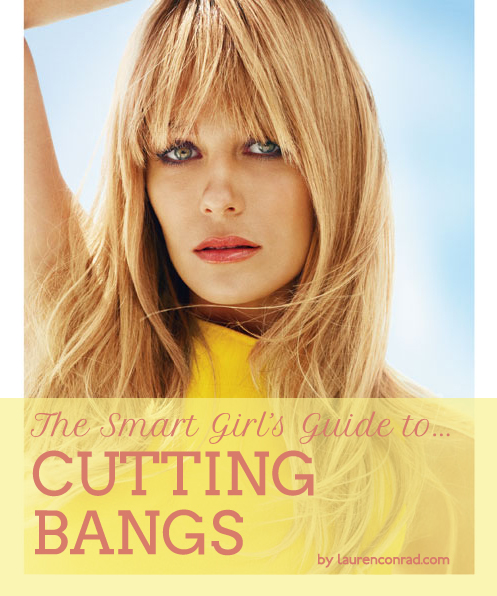 Bangs are one of the easiest ways to change up your look without having to sacrifice length of your hair or make a dramatic change in color. But for such a quick hair makeover, there's still a lot to consider before making the cut. As you know, I recently cut bangs myself, so I thought I'd share a few of the tips I learned in the process. Here is my comprehensive beauty guide to cutting bangs…
Get inspired.
From blunt, heavy bangs to wispy, side-swept bangs, there's a lot of variety in the fringe family. Before making the cut, I suggest you spend plenty of time looking through magazines or on Pinterest and gathering inspiration. Then, take these reference images to your hairstylist when you go to get your bangs cut. When I cut my fringe, I had a modern Brigitte Bardot look in mind and I brought along plenty of inspiration images to work with.
Find the right fringe for your face.
Once you identify what type of bangs you like, ask yourself how they will suit your face. While short, micro-fringe may have looked chic on Audrey Hepburn, that doesn't mean it's right for everybody. Blunt, eyebrow-length bangs are a good option if you have a long, narrow face because they will make your face appear more oval. Soft, side-parted bangs look lovely on heart-shaped faces. Long, side-swept bangs look good on almost anyone. You can straighten them or wear them wavy if you have natural curls. However, everyone's face shape and hair texture is a little different, which leads me to my next tip…
Try on a hairpiece.
Even if you have a whole collection of inspiration images saved at this point, you'll still want to try your bangs on for size. After a rather unfortunate bob incident a few years ago, I've made a habit of visiting a wig store before making any drastic changes to my cut or color (it makes for a pretty fun adventure). Find a clip-on bang that matches your hair color and texture as closely as possible, and see what you will look like before making the actual cut.
Be prepared for monthly maintenance.
Many people don't realize how fast their hair really grows until they have bangs. While most hairstylists don't charge just for bang trims, it can be a pain to keep running back and forth to your salon every six weeks. Side-swept bangs require less maintenance, but blunt cuts can start falling across your eyes as soon as four weeks after you last cut them. So, unless you're a pro when it comes to at-home trims, be prepared to stop by your stylist regularly to maintain the shape and length of your fringe.
One more thing to remember is that you can always trim more but you can't grow it back immediately, so start with longer bangs and go from there. Also, know that when the time comes to grow out your bangs, the process may take a while. Be prepared to get creative with your hairstyles and hair accessories while you are waiting for your fringe to grow long enough to blend in with the rest of your hair.
Are you considering cutting bangs?
Leave your own tips and experiences with fringe in the comments below.
XO Lauren