In the age of nail art and other creative manicures, it's rare that I wear the same polish color on my fingers and my toes. In fact, these days matching your manicure to your pedicure looks a bit dated. But while you may not be limited to the same hue for your fingers and your toes, the two colors you choose should still complement each other and look good side by side. So today I'm sharing some of my favorite mani/pedi color pairings. Since my hands are more visible throughout the day, I tend to stick with lighter or more classic hues for my manicure. (Plus, chips and smudges are less obvious with a lighter color.) From there I'll go with a bolder shade for my toes.
Here are the five color combinations I'm loving right now…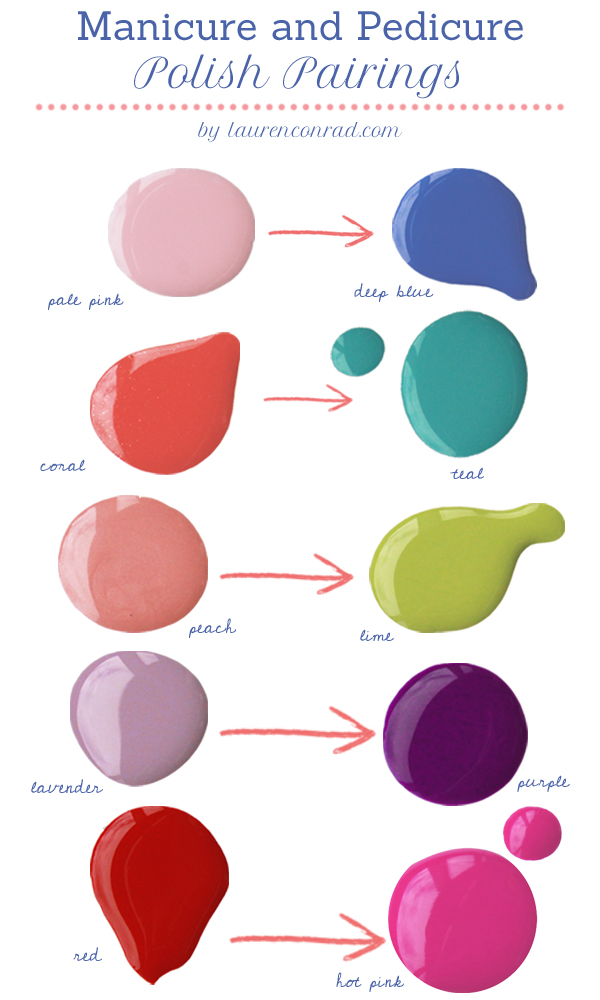 I really like the look of a pale pink nail with a deep blue pedicure. The polish colors above are Essie's Guchi Muchi Puchi (an LC office favorite) and Lancôme's Plunge Pool.
In my opinion, a coral nail looks best when paired with a teal toe. Try Essie's Sunday Funday and In the Cab-ana (pictured above).
These tropical peach and lime hues are both bright, cheery, and complementary. Get the look with Lancôme's Rose Plumetti and Essie's The More The Merrier.
When I feel like wearing purple polish, I like to use a lavender shade on my nails and a deeper purple for my pedicure. Get the look above with Essie's Bond With Whomever and Maybelline Color Show in Fuchsia Fever.
A red nail and hot pink pedicure is my go-to mani/pedi pairing. I wear this combination often. The polishes pictured above are Essie's Bottle Service and Geranium.
And there you have it! Now I would like to hear from you…
What are your favorite polish colors to pair together?
Share your own suggestions in the comments.
And be sure to click here and check out the nails section of my site for more inspirations!
XO Lauren