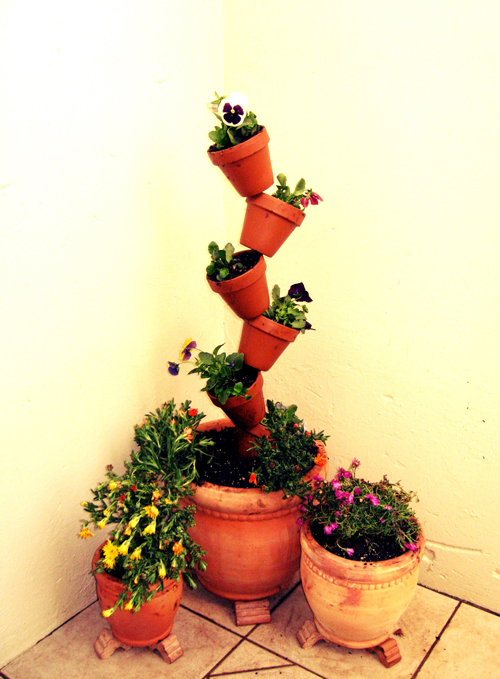 When we were browsing through photos the other day, we were so excited to see a member who submitted a very unique and inspiring craft idea. Miss Melanie, we loved your pretty tilted flowerpots that we couldn't resist from featuring them right here on LaurenConrad.com today! Take a peek below at Melanie's fabulous garden creation and read the DIY steps to create one of your own…
Here's what you will need:
1 large garden pot
1 fence dropper, 1.8 meters long
2 medium garden pots
6 small garden pots with holes in the bottom
6 different colored pansy flowers (or any seedlings of your choice)
3 different colored Mesembryanthemum plants (or any other flowers of your choice)
1 bag of potting soil compost
1 bag of small pebbles
½ bag of river sand

Instructions:
Place a small amount of the pebbles in each of the pots. Use the pebbles to secure the fence dropper in the bottom of the large pot.

Feed the fence dropper through the holes in the bottom of the small pots and place them on top of the other along the fence dropper. Mix the compost and potting soil together and pour it into each of the pots.

Plant two of the pansy seedlings (or seedlings of your choice) in each of the small pots. Plant the three different Mesembryanthemums in the large and two medium sized pots.

And…voila! We think this DIY is a beautiful feature to add to the corner of a patio, garden, or balcony. What do you think…


Will you give Melanie's crafty creation a try?
A big thanks to Melanie for sharing! Check out more crafts on her blog by clicking here: Mel's Corner
XO Team LC
Photo: Melanie