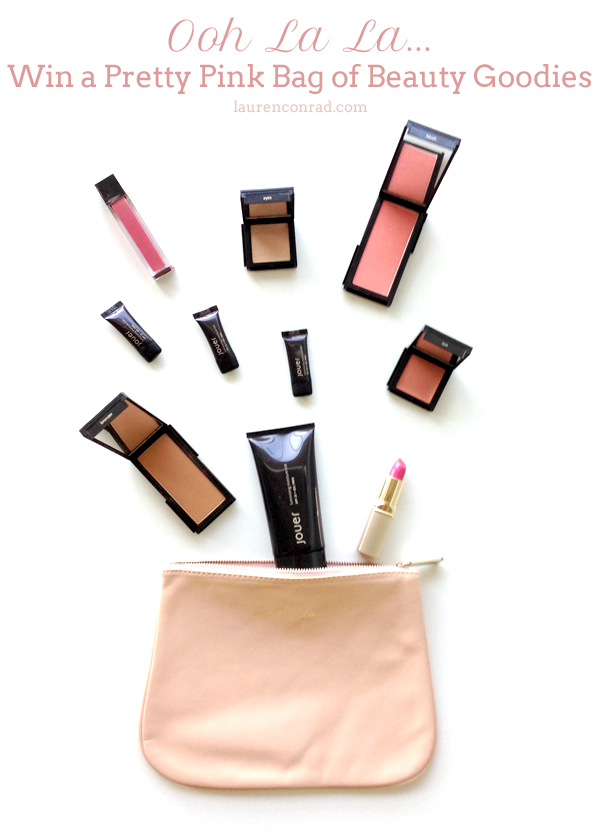 It's not every day that Team LC has the opportunity to talk with a celebrity makeup artist who creates beauty looks for Kate Mara, Emma Roberts and Olivia Munn (to name a few). But when we do have such opportunities, we definitely make the most of them. Long story short, we recently had the pleasure of speaking with celeb makeup artist Nick Barose, who is a genius when it comes to eyes, lips, cheeks, lashes—you name it. We had a few questions we couldn't wait to ask Nick, and we think you'll enjoy reading his answers as well. 

See below for his five tips on how to transition your makeup from summer to fall. Then, be sure to enter our giveaway to win a pretty pink bag full of Nick's favorite products from Jouer Cosmetics!
Q&A With Nick Barose
Team LC: How do you recommend transitioning lip colors from summer to fall without spending a fortune revamping your entire lipstick collection?
NB: Lipstick for fall should be a bit muted compared to summer. If you were into bright coral (which is this summer's color) or red try muting it down by dabbing a few dots of brown cream eyeshadow in the center of lips and blending it. This way, you will get your perfect bold, but rich and muted, lip for fall (Try Jouer Cream Eyeshadow Crayon in Baroque or Renaissance).
Team LC: Do you have any tips for mattifying your summer foundation and keeping your skin shine-free?
NB: Always start with a shine control, mattifying primer to keep skin shine free. Keep in mind that you are going for "attractive matte" not "matte like bedroom walls." The key is to keep it matte but shine free, NOT cakey. I use Jouer Matte Moisture Tint instead of thicker liquid foundations. Blend it down using a dampened sponge or a beauty blender, then apply powder all over, concentrating more on t-zone.
Team LC: Any tips on the best technique for applying cream blush in the summertime?
NB: Look for cream blush that dries to a silky finish and isn't so creamy that it turns greasy in the heat. I love Jouer's Tints. Blend it on with a beauty blender on apples of cheeks and lightly dust loose powder on top to set. I highly recommend picking a deeper shade, blending directly on bare skin and then applying Jouer Luminizing or Matte Moisture Tint on top. It will look like your natural coloring is peeking through from underneath.
Team LC: Do you recommend continuing to use bronzer in the fall? And if so, how do you transition this summertime beauty staple?
NB: Yes, definitely! You want to stay looking healthy, so continue using it to look sun kissed and healthy. Use a big fluffy brush to dust it around the perimeter of your face, the center of your neck and your chest. Adding a warm tone cream highlighter on top of your cheekbones and the bridge of your nose will add a radiant glow to your skin.
Update: And our winner is…Maddy Bendetti! Congrats!
One winner will receive a pretty pink bag full of the following products from Jouer Cosmetics:
Here's how to enter:

Follow. If you haven't already, follow LaurenConrad.com on bloglovin' by clicking here. (If you don't have bloglovin', you can follow us on Pinterest by clicking here.)
Comment. Leave one comment below with your bloglovin' username (or your Pinterest username), along with a request telling us what beauty question you would like to see answered here on the site. Please note that you must be a registered LaurenConrad.com to enter. Click here to join now—it takes less than a minute!
Wait! Lauren will announce the winner on Wednesday, August 21st.
Remember to follow us on bloglovin' and leave your submission below… And good luck!
Also, we are holding two more giveaways for the exact same prize on our instagram and twitter accounts. Enter all three for your best chances of winning 🙂


XO Team LC


P.S. A huge thank you to the Jouer girls and Nick Barose for helping us put together this giveaway!