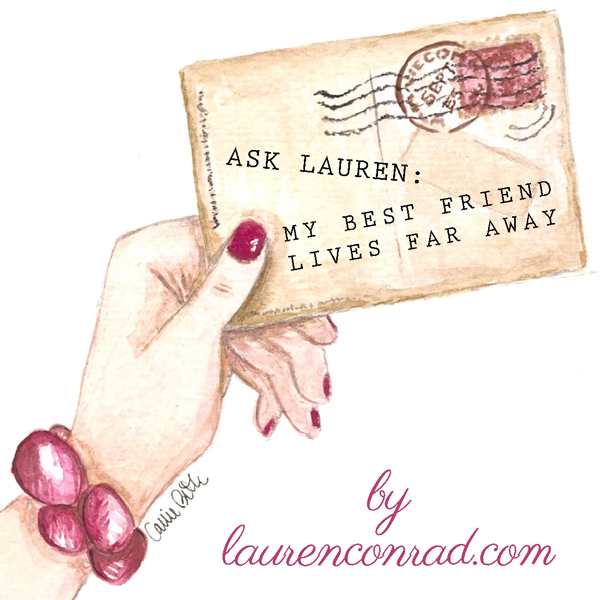 When I came across today's Ask Lauren question in my LaurenConrad.com inbox, I really understood the reader who sent it to me because I've been in her shoes before. This question came from an anonymous member of my site, and I think you might be interested to read my answer. Here it goes…
After graduating from college, my closest friends and I have all moved to various places and are no longer close in proximity to each other. I try to talk with them as frequently as possible, but it's hard because we all have busy lifestyles. I'm sure with all the traveling you do, you have had to put in the effort to maintain friendships. Do you have any advice for those of us who have best friends that live far away?
As we become busier, our friendships can often take the back seat to jobs, boyfriends and new friends. However, it is important that we don't forget these important parts of our lives all-together. Hopefully most friends will be forgiving in this situation. We all know what its like to be swamped at work or get lost in the bliss of a new relationship, and you've probably been understanding when a few weeks have gone by without hearing from an old friend. But as long as these are temporary stints, all is good and well. It's when we stop making time for our friendships that the trouble starts. Good friendships are important to maintain, and to be honest it isn't always easy.
Fortunately, in this day and age there are about a million ways to stay in contact with one another, so there are really no excuses. That said, here are a few tips for remaining close even when you are far away…
Schedule your hangouts.  
Just like you would have made plans to grab a drink after work or meet up with a friend for lunch, plan a time to connect you're your old friends too. Between different schedules and time changes, planning on a set time to video chat or get on the phone is the best way to catch up.
Plan a getaway.  
Whether it's around a holiday or one of your friend's birthdays, get everyone on an email and find a weekend you can all take a little time for a getaway. Even if it is months away, a little together time is a great thing to look forward to.
Send some snail mail.  
There are few things I love more than receiving a hand-written note from one of my besties. It doesn't have to be anything special. Send your bestie a little reminder that you love and miss them and I guarantee it will brighten their day.
If your best friend lives far away, try making one of the tips I listed above a regular occurrence. Maybe you each send each other a "postcard" from the city you live in once a month. Or maybe you plan two trips a year with your girlfriends. However you decide to keep in contact, making it regular part of your life will make the distance between you seem a lot shorter.
Do you have any tips for staying in contact with your friends who live far away?
And what would you like to see me cover in my next Ask Lauren post?
Sound off in the comments!
XO Lauren