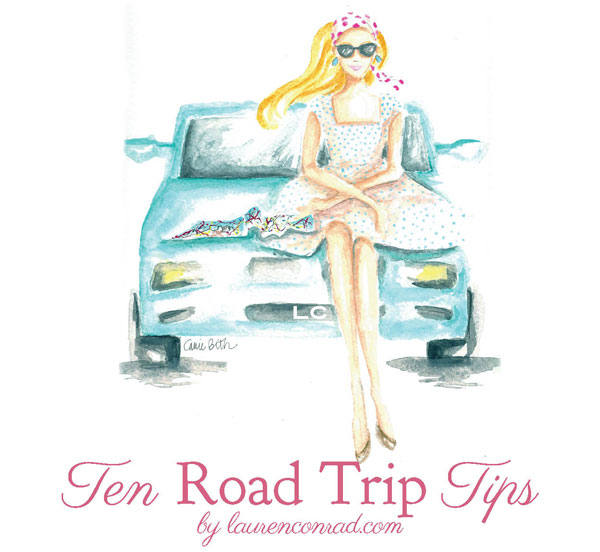 Planes and trains might get you where you want to go, but there's just something romantic and alluring behind the idea of a road trip. Summer is the season for spontaneous getaways, so there's no better time to hit the road than right now. I've personally taken my fair share of car trips up the California coast, so today I wanted to share a few of the tricks I've learned along the way. Whether you're planning a quick weekend escape or a cross-country trek, these 10 tried-and-true tips will make your road trip that much better:
1. Start early or leave late. 

It goes without saying that you will make the most headway when the least amount of cars are on the road. But besides being efficient, beginning your trip at the crack of dawn or after the sun sets can be exciting. There's something thrilling about exploring the world when everyone else is still asleep. Just make sure you're plenty alert and got enough sleep the night before.
2. Fill her up. 

Don't wait until the day you're hitting the road to fill up your tank. Gas prices go up around weekends and holidays, so plan ahead and hit the pump midweek instead. And while you're at it, have a professional do a little maintenance check to make sure your ride is vacation-ready.
3. Pack snacks. 

Packing snacks is the best way to maintain your bikini body when there's nothing but fast food for miles. Fill a cooler with veggie sticks, hard-boiled eggs, peanut butter, crackers, and other snacks like the ones we recommended in this post. And if your car snacks just aren't cutting it, find a grocery store to restock rather than giving into the nearest drive-thru. Supermarkets offer plenty of quick and healthy alternatives.
4. Make a mix.
Since you'll be stuck in the car for a long time, it's important to keep yourself and your passengers entertained. Make a playlist of upbeat driving songs to help pass the time. And since it's practically guaranteed that you'll never see the people driving in the cars next to you again, now's the time to sing at the top of your lungs with your windows rolled down. Downloading a few podcasts or a book on tape are also great options.
5. Plan for spontaneous stops.
Road trips are as much about the excursion as they are about the destination. Be sure to allow enough time for stopping at that cute little roadside diner or kitschy tourist attraction. (The app Roadside America is a great resource for finding quirky pit stops.) Take the scenic route and embrace unexpected detours. Stop every couple of hours to soak it all in or take pictures of the view.
6. Stretch.
We've already shared the importance of walking the block when you're sitting at a desk all day, and the same philosophy goes for road trips too. Park as far as possible from rest stops to make sure you're getting in those extra steps. Or if you need to, pull over and log in a few sun salutations as you watch the sun set.
7. Don't forget your sunnies and SPF.
If you are road tripping in the sunny months, keep in mind that it is possible to get sunburnt through the car windows. Prevent an embarrassing sunburn on one side of your body by slathering on the SPF.
8. Try a traffic app.
Nothing's more tedious spending 2 hours driving first 10 miles (If you live in LA, you can sympathize with this dilemma). To avoid getting stuck in a jam when you're leaving or entering the city, download a traffic and navigation app like Waze. It will save you time and gas money.
9. Invite your friends.
Unlike a plane flight where every passenger needs their own ticket, the cost of your road trip will be cut down dramatically by every passenger who joins you. So pack your car with four of your besties and enjoy the time spent together. You can all take turns driving, playing games and catch up everything new in your lives.
10. Mind the rules.
This one goes without saying, but just because you're on the open road doesn't mean that traffic rules don't apply. One speeding ticket can destroy your road trip budget and your mood. Drive safely!
Have any other tips for taking a road trip?
Share them in the comments below.
xo Ilana
Team LC
Illustration:  Carrie Beth Taylor