This story is from our partner, Tone It Up! Karena and Katrina, the girls behind Tone It Up, will be sharing their best fitness and healthy living tips. Today's post is all the benefits of a small but mighty super food called chi seeds: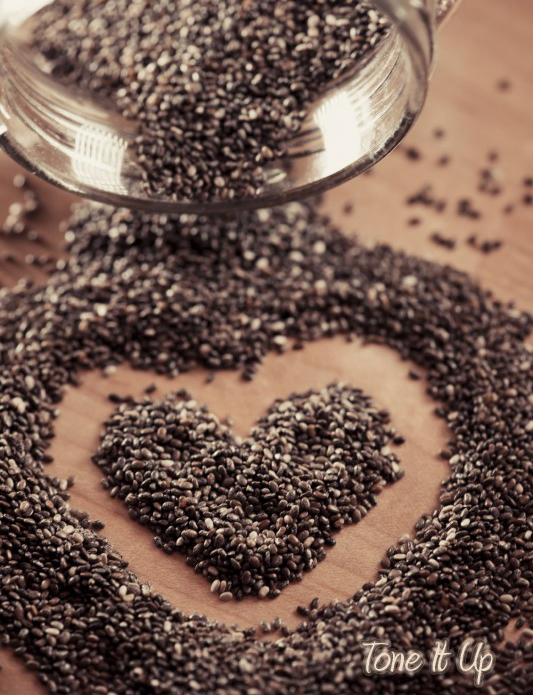 Hi everyone! It's Katrina and Karena here. Today we want to tell you a bit about chia seeds, which are tiny black (or white!) seeds that are an amazing super food packed with tons of essential nutrients. Did you know that chia seeds are an ancient secret to strength and endurance? They have been traditionally used as an important food source in Mexico and Central America for thousands of years. They were even a main food source for Aztec warriors. We love these seeds because they are perfect to use in just about any recipe for an added crunch. We love them in baked goods, smoothies, sprinkled on top of yogurt, cereal, fruit and salads. And unlike flax seeds, there's no need to grind them first. Enjoy them just as they are. Easy as that!
The benefits of eating chia seeds seem endless, but we've decided to fill you guys in on five of our favorite reasons you should be eating these super food seeds. Here they are…
Chia seeds are a rich source of omega-3 fatty acids that give you the necessary nutrients for gorgeous hair, healthy nails, and smooth, glowing skin. Remember, beauty starts on the inside.
These seeds are one of the highest plant-based sources of protein you can find. Protein is an essential macronutrient needed for almost every function in your body. It helps with weight loss and is a must for building lean muscle.
They're a great source of fiber. This keeps you feeling full, controls hunger, and balances your appetite. It also means less sneaky snack attacks. Fiber also helps to regulate your system, which will contribute to detoxing—a great choice after a party or fun girl's night out!
Chia seeds are high in magnesium, potassium and calcium. Among other things, these essential nutrients keep your body healthy and energized for your workouts…and who doesn't want more energy?
But the coolest thing about chia seeds? They have the ability to absorb 10 times their weight in liquid, creating a unique gel that is incredibly hydrating and satisfying. Add chia seeds to a vegan pudding, overnight oats, or your favorite green smoothie.
Take a look here for more of our favorite ways to use chia seeds and click here to see this original post on the Tone It Up blog!
Have you ever tried chia seeds before? How will you use them in your next recipe?
XO Team LC
P.S. If you liked this post, be sure to check out Tone It Up for more fitness tips from Katrina and Karena.
Photo: Tone It Up