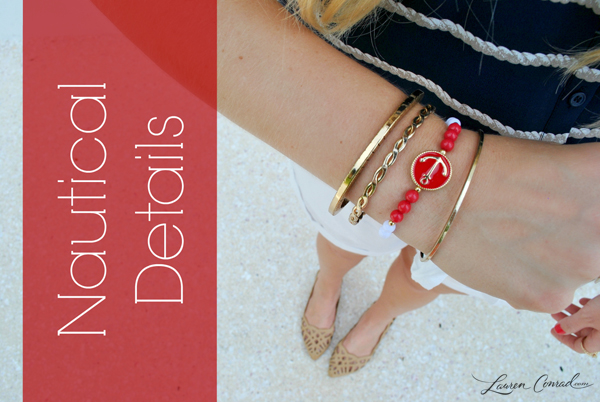 Ahoy, ladies! It's Anna here from Fash Boulevard bringing you my favorite summer trend. While most of our summer plans may not include impromptu yacht chartered cocktail parties, we shouldn't allow this minor detail to hold us back from infusing a "preppy sailor" vibe into our wardrobe. Thanks to the growing popularity of designer resort collections, nautical details—from anchor-appliqués to sailboat motifs—have trickled into the Spring/Summer collections of almost everyone's favorite designers. With a few key pieces, this all-American seafaring style can easily be incorporated into your everyday ensembles. If you can't find the perfect nautical pieces you've been on the hunt for all summer, today's style guide will point you in the right direction.
There are plenty of ways you can show off this trend with pieces that are already in your wardrobe. From horizontal stripes to red, to white and blue color combinations, here are a few style ideas that will insure smooth sailing through this summer's nautical craze…
Anchors Away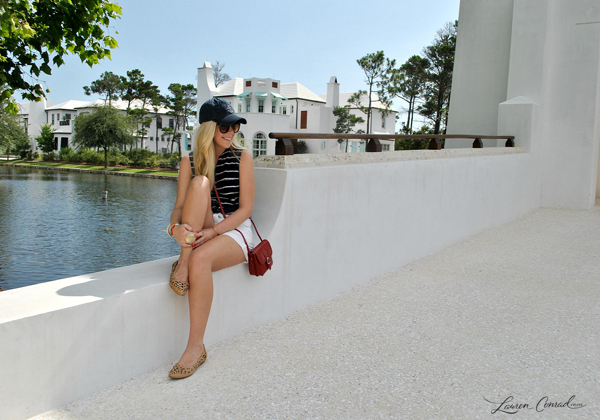 top – Joie, shorts – Kohl's, flats – ShoeMint, hat – Gap (sold out)

It's time to drop your anchors, ladies. The summer's hottest appliqué has made its mark. Navigating through the season with this playful print is the easiest way to achieve a preppy sailor ensemble. Here are a few of my favorite picks…

t-shirt – Shopbop, ring – ILY Couture, handbag – Zappos, earrings – ModCloth, pants – ShopBop

Line Leader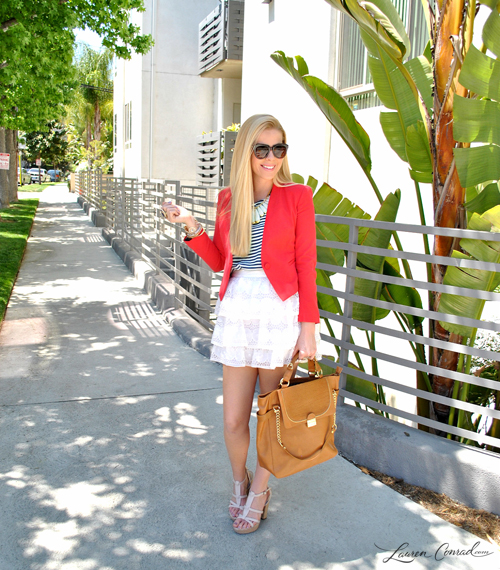 top – Paper Crown, blazer – RACHEL Rachel Roy, skirt – Alice + Olivia, necklace – Loft, handbag – Olivia + Joy, heels – LC Lauren Conrad

Crisp clean lines are key to achieving a classic Americana look. Stocking your closet with stripes will leave your wardrobe awash in endless nautical possibilities.

skirt – Robert Rodriguez, travel tote – MICHAEL Michael Kors, blouse – Joie, flats – J. Crew, dress – ModCloth
Set Sail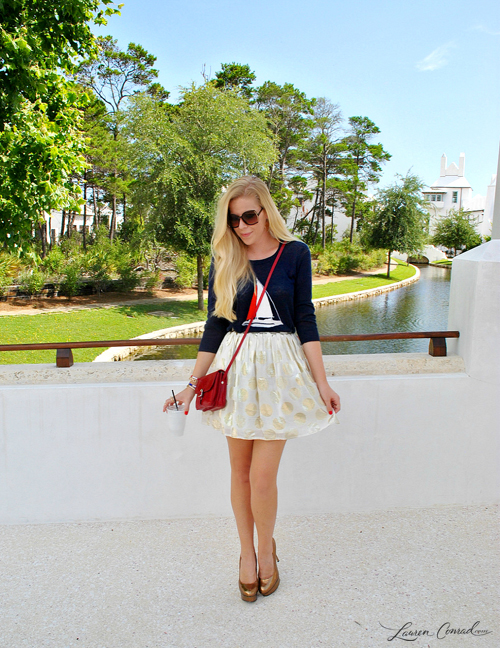 sweater – Joie, skirt – Very.com (sold out), heels – ShoeMint, chain cuff – Forever 21, anchor bracelets – Pop of Chic
Sail through new style territories with an adorable sailboat motif. Integrating this picturesque print into your warm weather wardrobe is a great way to exude nautical flair.

skirt – Modcloth, dress – Rachel Roy, sweater – Band of Outsiders, tank – ModCloth, scarf – Modcloth
Will you be sailing through summer with these nautical details?
P.S. I'm so excited to share my new site redesign. If you haven't seen it yet, be sure to check it out here!
xoxo
Anna
Fash Boulevard