It's time for the July edition of my Store or Style series, and today I will be featuring a few styles of sunglasses in honor of this summer month. Sunglasses are one of my most necessary accessories in the summer. And I love finding fun new pairs that add a pop of color or an unexpected surprise to the rest of my outfit. The best part about sunnies is that you can find inexpensive versions of the trends that are in style that moment. Then, when a new trend hits the fashion scene, store them away for a later season.
Without further ado, here are the sunglasses I'm going to be storing and styling this month…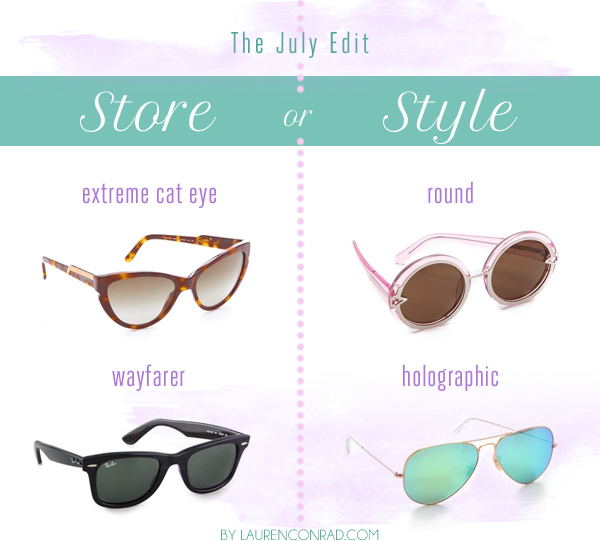 Store: Extreme Cat Eye Sunnies.
While I loved how cat eye sunnies have been back in style lately, I am storing my extreme cat eyes away for now. They have a retro feel that is perfect with spring dresses and skirts, but I've been choosing to pair different shapes with my bikinis this season.
Store: Wayfarers.
There's no denying that everyone loves wayfarers. But I've been challenging myself to give this classic shape a break for a while. Storing my wayfarers this month helps me to tap into other sunglasses and try new styles that I never thought I would like. Don't feel like you can't wear your wayfarers—they look good with everything—but do try to think outside of the box this season.
Style: Round Sunnies.
Round sunnies look great on almost every face shape and they have a playful feel to them. I've been wearing my round sunnies nonstop so far this summer, and I suggest you do the same. I love the clear-pink Karen Walker pair above. Shop for them here.
Style: Holographic Sunnies.
If you read my July style tips (see them here), you might remember that I mentioned holographic sunnies as an accessory to try. I think they look best when they're in a classic shape like aviators. The green-blue pair above is a guaranteed street style staple. Shop for them here.
Do you have a favorite pair of sunglasses? Describe them in the comments below. And let me know which of your own pairs you are storing and styling this season too.
XO Lauren