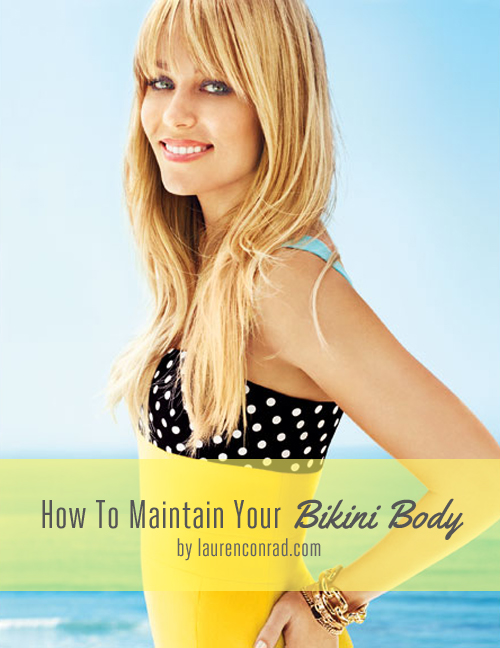 My Bikini Boot Camp Plan has been in full effect for a little over two months now, and I am so pleased to see that a lot of you have been following it pretty strictly this entire time. As I've mentioned before, the goal behind Boot Camp is to create good habits for slimming down and living a healthier life overall. The one thing you must remember when you follow my Bikini Boot Camp Plan is that it should become a lifestyle, not just a phase. Essentially, you should be on the plan all year round—not just during bikini season! That said, here are some helpful tips for keeping off those pounds and maintaining your beach bod for months to come…
Diet and Exercise Tips for Keeping the Weight Off
1. Stay on track with your workouts.
Try not to get off the bandwagon…if you go to spin every Monday before work, keep doing it! Make it a goal to work out at least five days a week and take each day at a time. If you fall off the bandwagon, just keep your chin up and get right back on. We all have weeks that are extra busy or where life throws us curve balls. View those weeks as little hiccups, then get back on board. Also, if you are on board but you feel bored, switch up your workout. Grab a buddy, try a Zumba class, or take your sweat sesh outdoors. It will give your fitness routine a fresh perspective.
2. Start your day with a healthy breakfast.
You should know by now that skipping breakfast is a bad habit—and one that can actually lead to weight gain. Start off every day with one of the healthy breakfast options from my list of Boot Camp-approved meals. Starting your day off right will set a healthy tone for the rest of your meals and snacks to come throughout the day. It will also stabilize your blood sugar and keep you feeling satisfied until lunchtime. That way, you won't feel starving and order a large pizza, party of one.
3. Treat yourself to a reward every once in a while.
How you reward yourself is up to you, but you should definitely give yourself a little treat every so often to keep yourself going. Whether that means having a s'mores bar one week when you worked out particularly hard or, my personal favorite, splurging on the bikini you've had your eye on all summer—we all need a little motivation to keep us going. Maybe it's booking that tropical vacation when you finally feel bikini-ready. When you reward yourself, your brain will associate your hard work with positive reinforcement. And hopefully, that will help you to stay on track in the long run.
4. Identify your weight-gain triggers.
I mentioned this tip last year, and it's a crucial part of maintaining the figure you've worked so hard on. If you can identify the triggers that lead you to making bad decisions, you are one step closer to breaking a bad habit. For example, if you know that when the weekend rolls around you start to crave pizza, French fries and other junk food, you can also find the tools to avoid giving into these cravings. Other triggers can include 3 o'clock boredom or dips in blood sugar (solution: take a quick walk or have healthy snack), watching television and mindlessly snacking (solution: eat fresh veggies instead of starchy or sugary foods and do crunches or lunges during commercial breaks), or getting in a fight with your beau and turning to your old friends Ben & Jerry (solution: call a girlfriend or go for a run). Stay strong and come up with a solution to counteract your bad habits. Before you know it, you will have made new good habits in place of the bad ones!
5. Step it up!

Now that you've been on the Bikini Boot Camp plan for a few months, it's time to take it to the next level. Run that extra mile, bike up a steeper hill, and eat even more fruits and veggies than you have been. If you saw big changes in your body when you started the plan but you feel like you are starting to plateau, the only way to see more changes is to take things a step further. Go that extra mile…literally and figuratively. This is the hardest part of getting to the body of your dreams but it is so worth it.
The most important thing to remember is that you are doing this to be healthy and feel great. As long as you have accomplished those two things, you will have a happy and healthy mindset about diet and exercise. Don't forget to love the skin you're in.
Did you do my Bikini Boot Camp Plan? What challenges and successes did you face?
Calling all Boot Campers: Last year I spotlighted a LaurenConrad.com member who lost 20 pounds on the plan. And this year, I'm looking for a new member to share their success story. If you're ready to show off your new bikini bod, upload a photo to your profile page and share the link below. I will pick the best success story and share it in my next Boot Camp blog!
XO Lauren
Photo: Marie Claire