Going to the nail salon for a mani-pedi is one of my favorite little luxuries. I wish I could say that I get my nails professionally polished before chips rear their ugly heads and cuticles ever appear. But the truth is, with such a busy schedule I can't always find the time to make it to the salon. Not to mention it's an expensive habit. That said, I'm a big fan of a good old-fashioned at-home manicure. If you have a steady hand and a covetable collection of lacquers, you will probably agree with me too. It has taken me quite a bit of practice to get my DIY manicure to pass for a professional polish change. Thankfully, I have a few handy tips that I'm going to pass on to all of you today that will have your friends ooh-ing and ahh-ing the next time they see your nails…
Here's what you will need:
nail clippers
nail file
nail polish remover
hand scrub
hand cream
rubbing alcohol
base coat
nail polish
top coat
eyeshadow brush
cuticle oil (optional)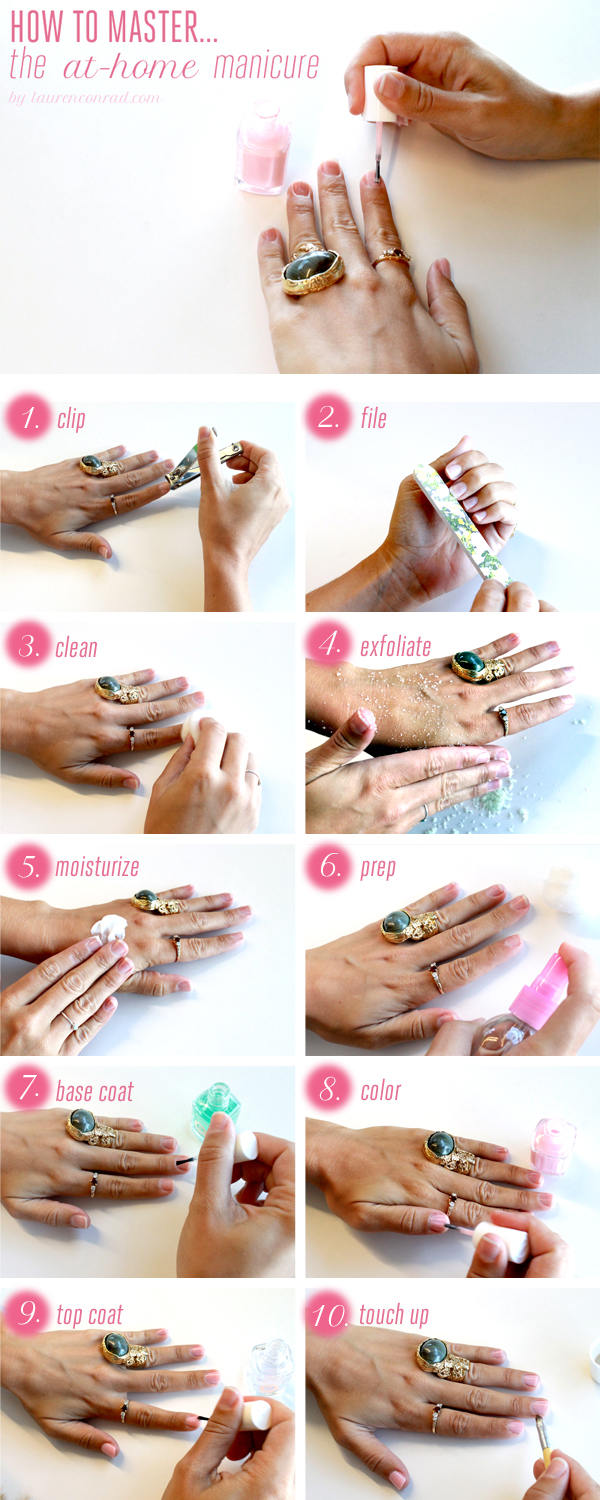 Step 1: Clip your nails.
Use a nail clipper and trim your nails down to your desired length. We do not recommend cutting your cuticles at home, but if you've had a lot of practice and you are a pro, go for it. Just be aware that your cuticles can get infected if you don't know what you're doing!
Step 2: File them into shape.
Using an emery board nail file, shape your nails and even out any jagged edges. You can go for a rounded nail shape or a square shape. I usually like something that's a little bit in the middle—square with rounded edges.
Step 3: Clean your nails.
It is best to start with nails that are already polish-free, but I recommend getting them extra clean with polish remover and a cotton ball. You don't want to have leftover polish or base coat on your nails because it will make your new manicure appear uneven.
Step 4: Gently exfoliate your hands.
Using your favorite body scrub, give your hands a gentle rub. This will remove dead skin and give your skin a glow.
Step 5: Moisturize with hand cream.
Just like the skin on your body and face, the skin on your hands needs moisture after you exfoliate it. Use a rich, luxurious hand cream to keep your skin smooth and hydrated.
Step 6: Prep your nails.
Next, clean your nails again—this time with rubbing alcohol. It will remove the oils from your hand cream from your nails so that the polish will stay on longer. Plus, I have noticed that using rubbing alcohol instead of acetone for this step keep my polish chip-free for days!
7. Apply a base coat.
Evenly apply a thin layer of your trusty base coat to each nail.
Step 8: Choose a color and apply.
Pick a color, any color…and apply two coats. I chose a color called "Guchi Muchi Puchi" by Essie in the photos above. (It's my newest obsession!) Use quick, light strokes to allow polish to evenly distribute on each nail. And I recommend letting the first coat dry before applying the second. It will eliminate those little polish bubbles that no one likes.
Step 9: Let your nails dry and add a top coat.
After your nails have dried, apply a quick-dry top coat. If you happen to accidentally smudge a nail, follow these steps for fixing it in a snap.
Step 10: Touch up with acetone and an old makeup brush.
Salon manicurists always perfect my nails by brushing off any polish that went "outside the lines" with a makeup brush and acetone. Doing this trick at home creates a polished, professional result. Just remember to apply some cuticle oil afterwards to that your nail beds don't look dry.
Have you ever given yourself an at-home manicure that could pass as professional?
Don't keep your secrets from the rest of us…share them below!
xx
Allison
Team LC
P.S. In case you missed it, the nail polish color used in the photos above is "Guchi Muchi Puchi" by Essie.
Photos: Allison Norton for LaurenConrad.com