The other day I took a peek inside my trusty makeup bag that holds my favorite products of the moment. I couldn't believe that I hadn't realized it sooner, but much of the makeup inside was still geared for winter and spring beauty looks. I saw earth toned palettes, dark lip colors, and powder everything. Since I update my wardrobe, accessories and even my hairstyle with the change of the seasons, I have always believed that my makeup bag deserves a little overhaul as well.
I'm not big on powdered products in the warmer months. I feel that piling on powder creates a cakey look, whereas cream-based and sheer products leave my face looking natural. You won't need much makeup with sun kissed skin (or a great faux tan). So go for the glowy look with natural eyes and a pop of color on lips and nails. With this beauty palette in mind, this is how I swapped out my makeup products for summer…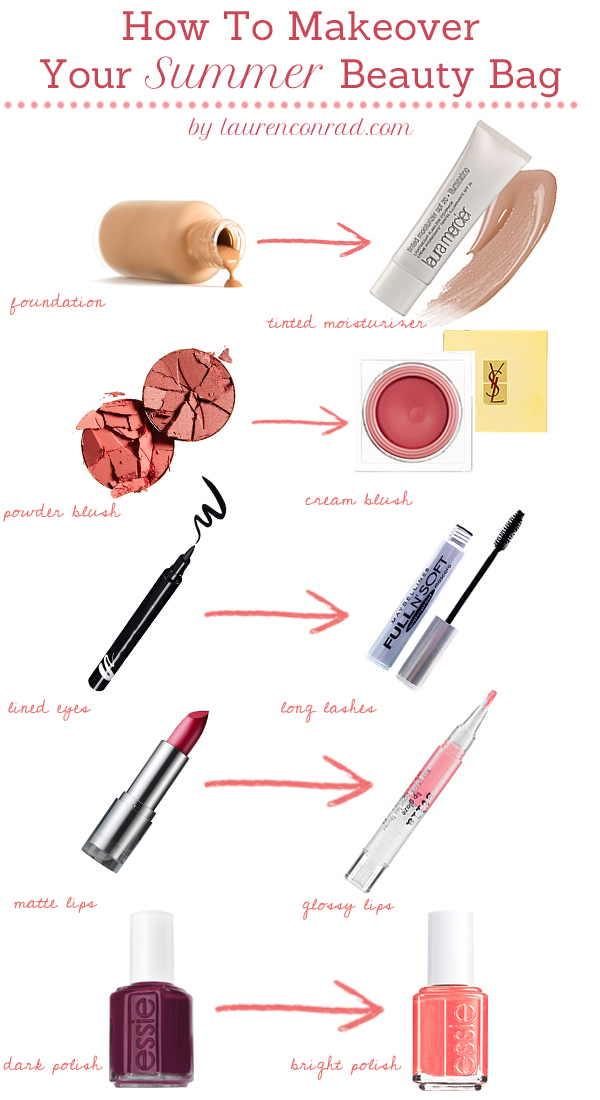 Skin: Swap your heavy liquid foundation for a tinted moisturizer. Make sure you use one that has at least SPF 15, like Laura Mercier's Illuminating Tinted Moisturizer (which actually comes packed with SPF 20). That way, it's a 3-in-1 foundation, moisturizer, and sunscreen.
Cheeks: Swap your powder blush for cream blush. As I said above, I like the way cream-based beauty products give my skin a glow in the summer. Try using Yves Saint Laurent Crème de Blush in powdery rose.
Eyes: Swap heavy liquid liner for voluminous lashes. You all know by now that my signature beauty look is winged eyeliner on my eyes. But on beach days when I'm in and out of the water and laying in the sun, the last thing I want is a time-consuming beauty routine. Trade in your liquid liner for Maybelline's Full 'N' Soft Waterproof Mascara.
Lips: Swap matte lips for a colorful, glossy pout. Matte lips are very pretty with a fall, winter or spring beauty look. But in the summer I like gloss and lots of color. Change out your berry and pastel hues for punchy pinks and pretty corals. Cherry red glossy lips also look great with a tan and a white dress. Try Stila Lip Glaze in Peach, Watermelon, or Strawberry.
Nails: Swap earth-toned and pastel polish for brights. This might seem a little obvious, but summer is a time to have fun with your mani-pedis. The best accessory to your favorite bikini is a colorful pedicure. So don't shy away from blues, greens, oranges—whatever your heart desires. Lately, I'm loving Essie's summer collection. The coral color called "Sunday Funday" is the perfect peach.
While these are my product preferences for my summer makeup bag, you might have your own favorites. And I'd love to hear about them…
What beauty essentials do you keep in your summer makeup bag?
Leave your list below!
XO Lauren
Shop This Story…