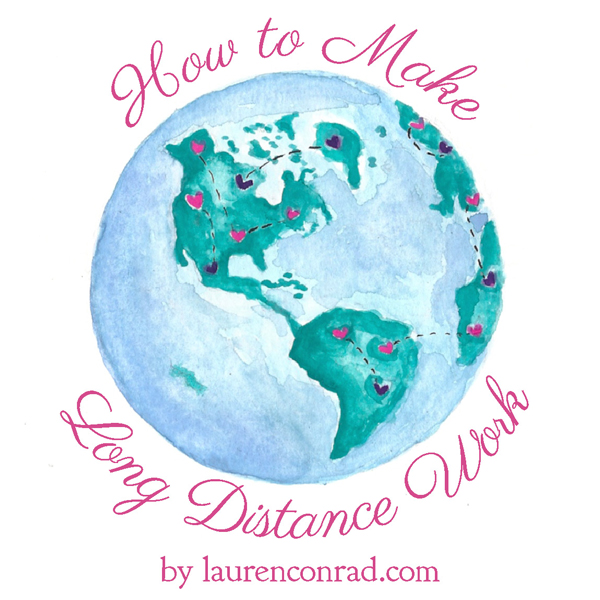 Today's Ask Lauren question comes from an anonymous member who sent me a private message to my LaurenConrad.com profile. This is an important topic because many of you who might have just graduated from high school or college might be in a relationship that is about to go cross-country or even overseas. Here it is…
I have been going out with my boyfriend for nearly five years now and I recently started my first job post-college degree. The problem is my boyfriend has gone back to college, and we are at two completely separate paths in our lives. I really don't know what to do with this or how to handle this. Do you have any tips for making a long-distance relationship work?
This is a hard situation that many girls find themselves in and, unfortunately, it is just part of growing up. Feeling like your life is moving in a different direction or at a faster pace than someone else's is difficult because you are trying to decide your future. And unfortunately your future isn't the only one to consider. It sounds like you and your boyfriend are in different places right now, both physically and mentally. I think the best way to handle this is to have a very honest conversation about the goals you both have. You have been together for five years now, so obviously you are serious about each other. Questioning whether or not you are both in it for the long haul isn't a bad idea. Discuss your long-term goals and where you both want to be in five or even 10 years from now. This will help you to gauge if you're on the same page right now and later on too. Also, time spent apart can sometimes be a good thing. It really serves as the ultimate test for a relationship. When you are beginning your adult life and finding out who you really want to become, there are a lot of changes happening all around you: New job, new home, new friends. At the end of the day, if you and your boyfriend still want to be together then you clearly have a strong relationship. And if not, there is no better time than now to begin the next (exciting!) chapter of your life.
What would you like to see me cover in my next Ask Lauren post?
Leave your suggestions below. And if you have any advice for our anonymous reader or experiences of your own, sound off in the comments.
XO Lauren
P.S. Thanks to Carrie Beth Taylor who created the beautiful illustration for this post!