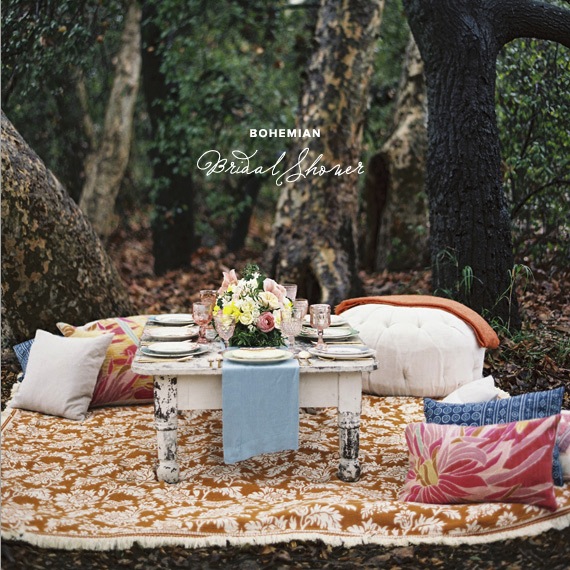 Hi LC readers! It's your 100 Layer Cake gals back to chat about one of our favorite fêtes to celebrate during the wedding planning process, the bridal shower. Up to now we've shared our favorite sparkly wedding decor inspirations, swooned over our favorite bridal hairstyles, and shown you how to DIY a pair of glitter wedding shoes. Now we party! Any time there's a chance to dress up, drink, gab and celebrate with the gals is a guaranteed good time. The best part is, you don't have to stick to any rules. It doesn't have to match the theme of your wedding, you don't have to go all out and rent a venue, and you don't have to invite everybody. The more intimate, the better. That way you can focus on the pretty little details and enjoying your last single lady moments with your ladies.
With that being said, check out some of our all time favorite bridal showers starting with this Boho themed bridal shower…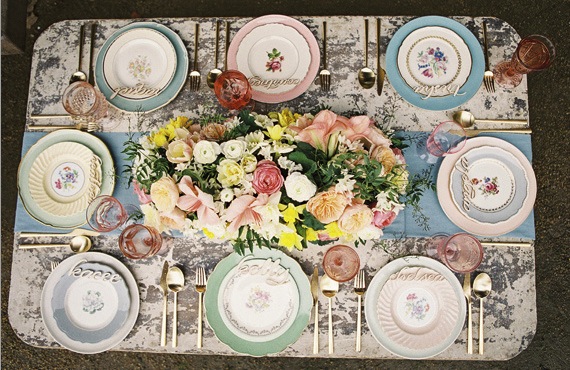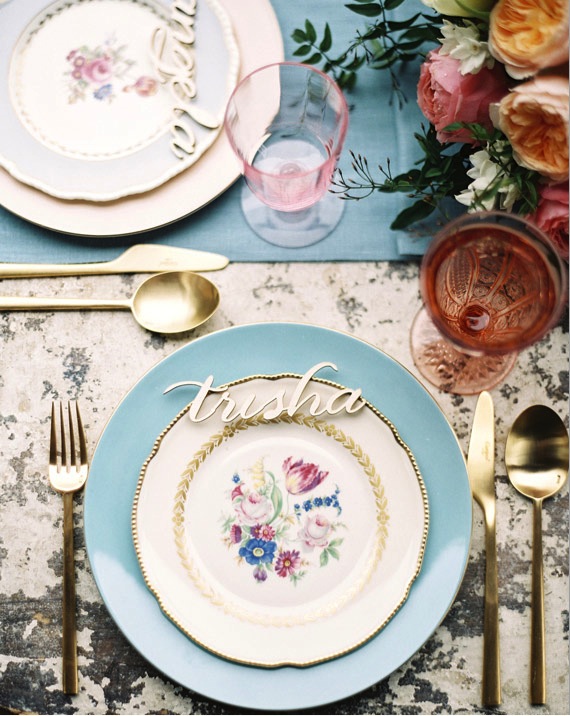 Each personalized place setting was adorned with botanical-inspired china, blush glassware, gold flatware, and place card names made of laser-cut wood.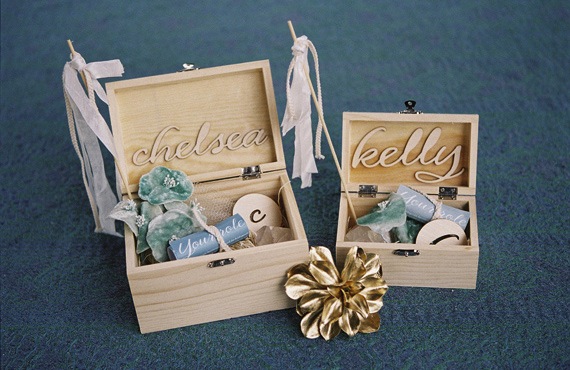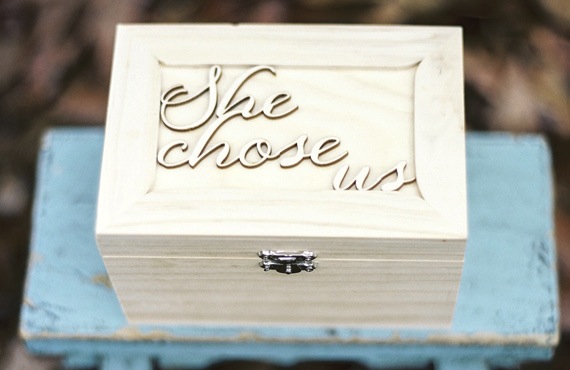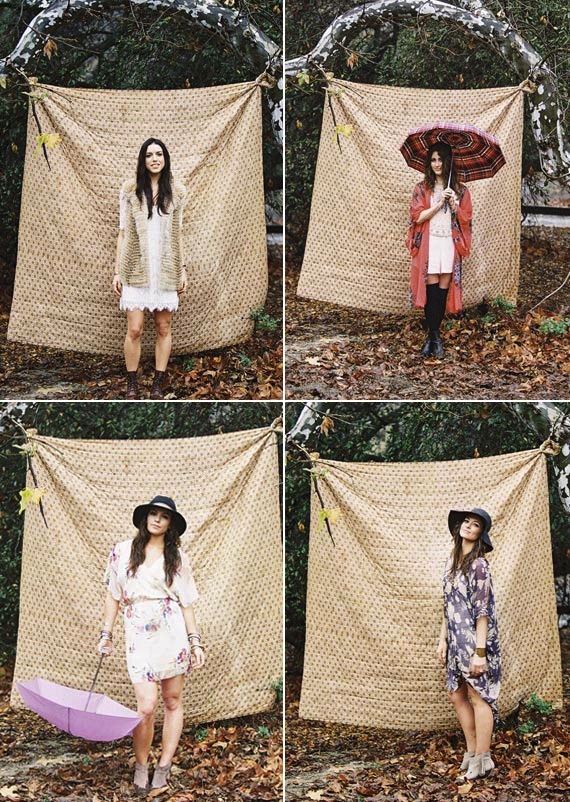 Making your own photobooth is simple, and you don't need to rent any fancy equipment to capture cute pics like this. Get creative with a backdrop. They kept it simple with a patterned sheet here, but you can pull out your DIY skills and have a little more fun with balloons, ribbons, and so much more. An eye-popping pattern is always our go-to. Check out some of our favorite pin-worthy patterns here.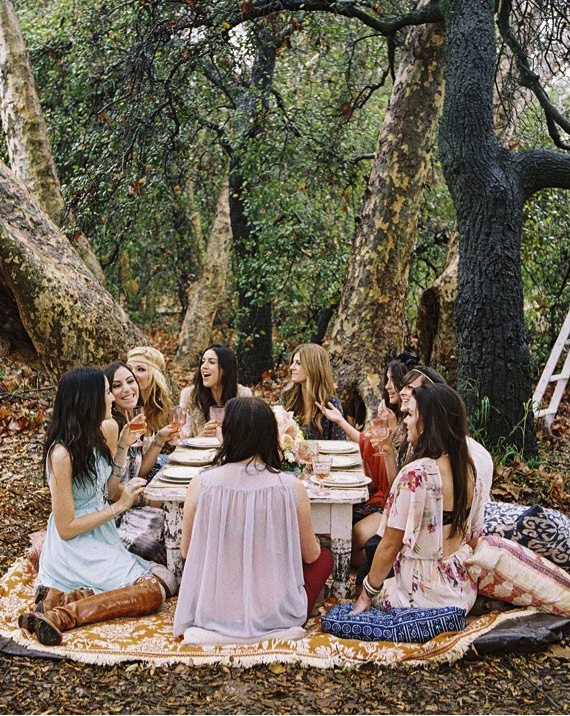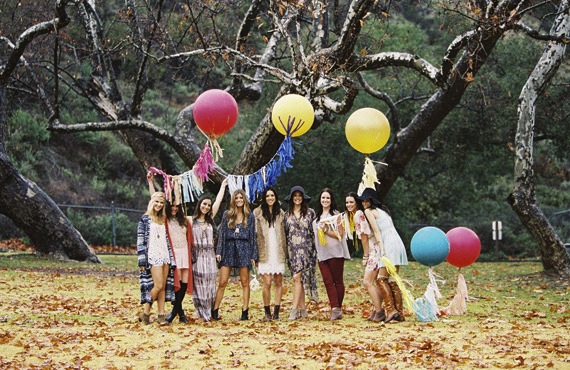 If you don't have access to a backyard, just pick a spot in your favorite park.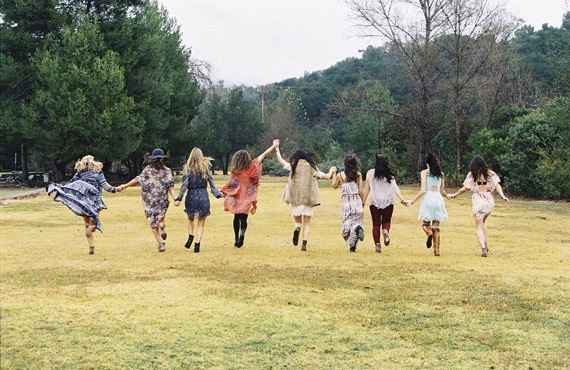 Ok, we know some of you loved what you saw in this bridal shower, so we scoured the web to find some of the standout pieces that you can buy to incorporate into your next party…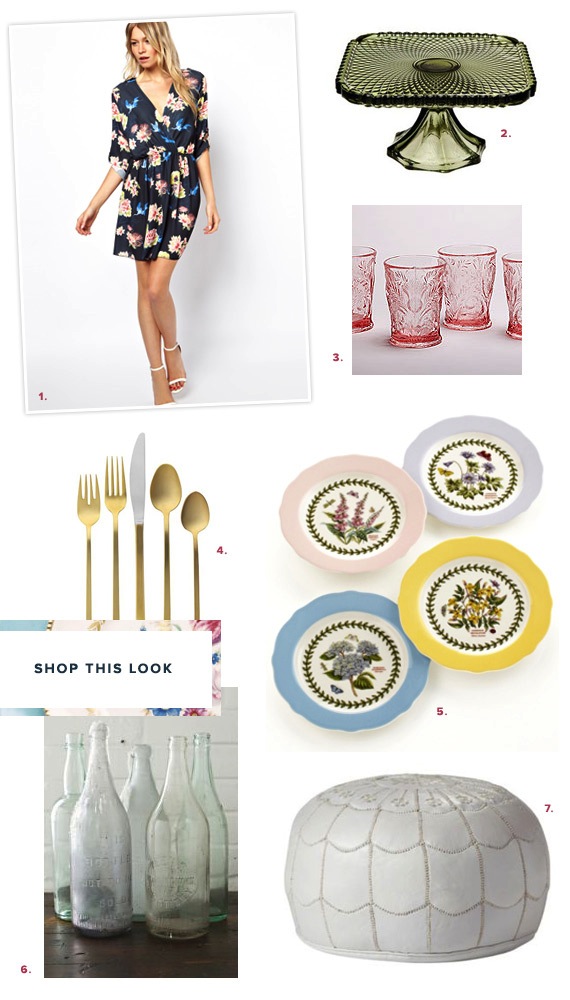 1. / 2. / 3. / 4. / 5. / 6. / 7.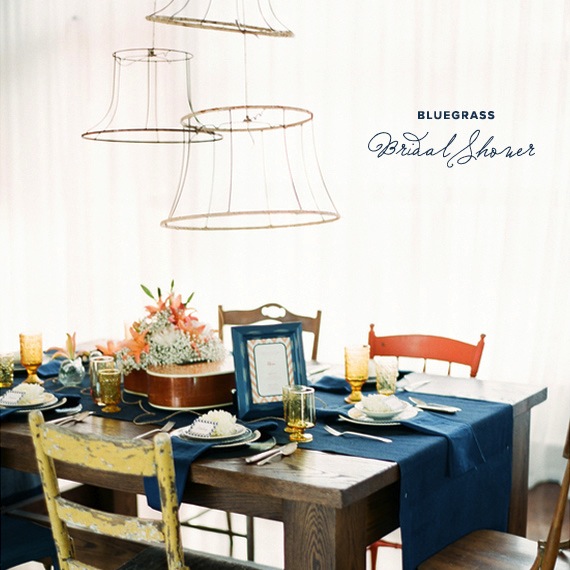 For the bride that's into music, we thought this Bluegrass bridal shower hit all the right marks and didn't go over the top with obvious music-inspired decor.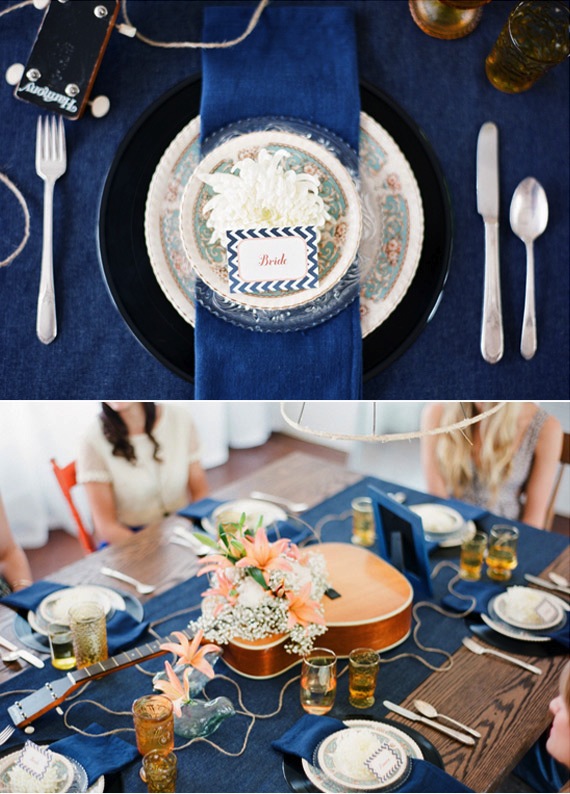 The most creative bit that we loved about this tablescape was the use of the guitar as a vessel for the main centerpiece arrangement atop of a denim table runner.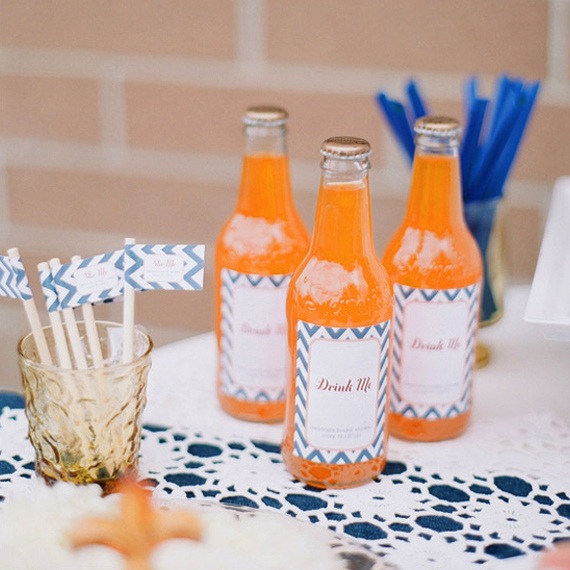 Personalize whenever possible. It just makes your party feel more complete. Even if it's as simple as stripping off the labels from soda pop bottles to stick your own on, we say do it! These Paper Source printable labels are super easy to use if you want to give it a shot.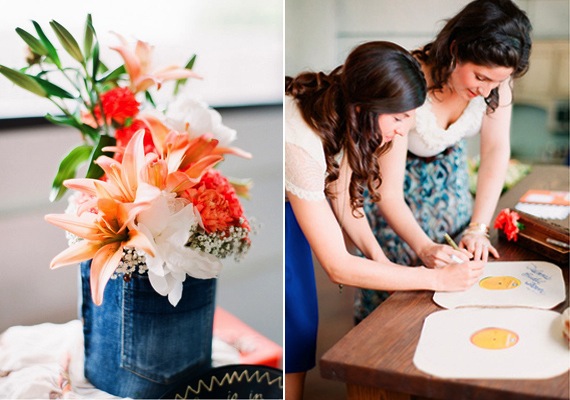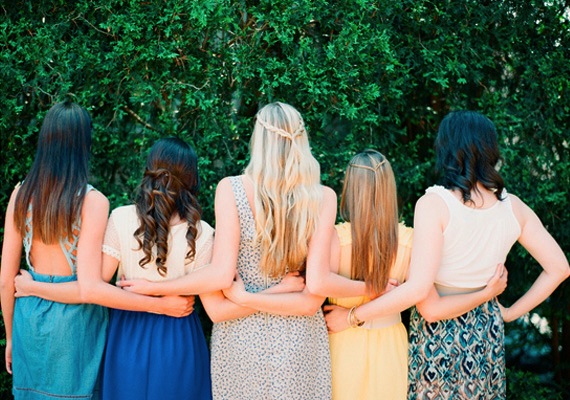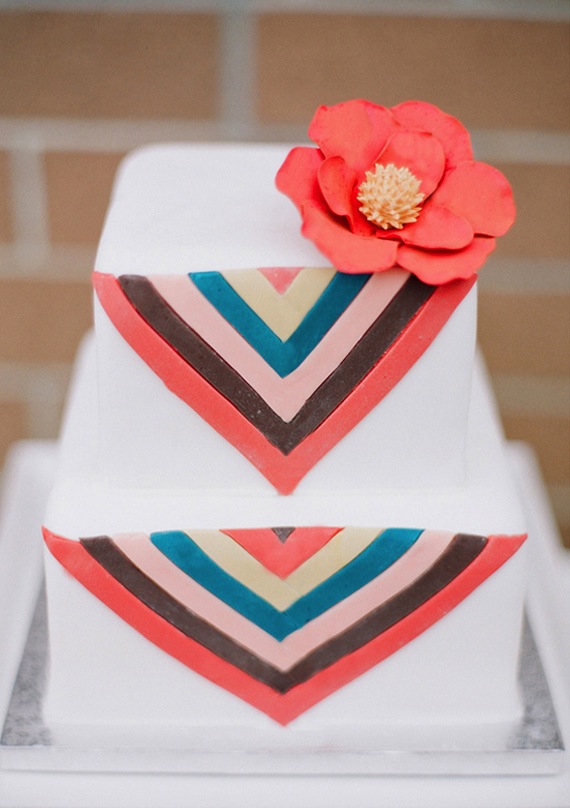 If this party was more your style and you want to "steal" some of the looks, we've gone and found these decor items for you…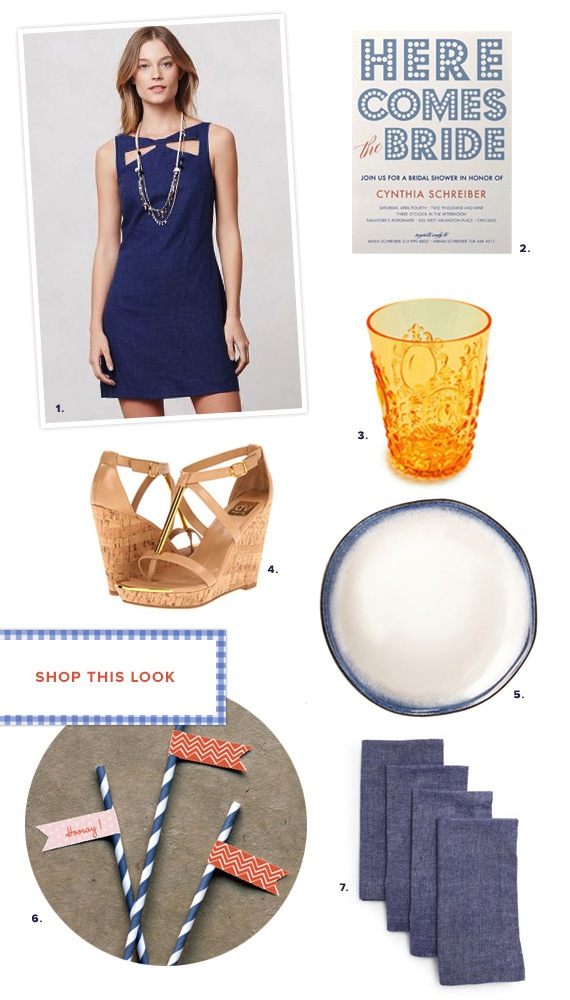 1. / 2. / 3. / 4. / 5. / 6. / 7.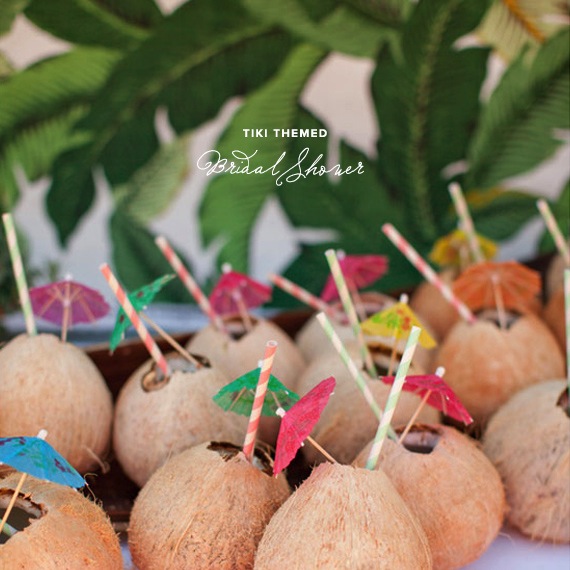 This last bridal shower is pretty darn special to us because it was the tiki themed bridal shower we threw for our very own Amanda. She put together this inspiration board for us and we just ran with it, gold flamingos, coconuts and all!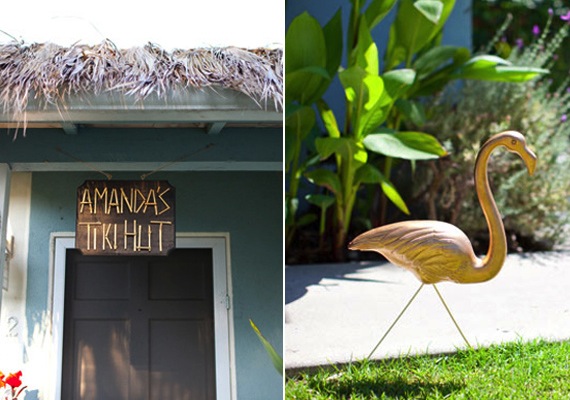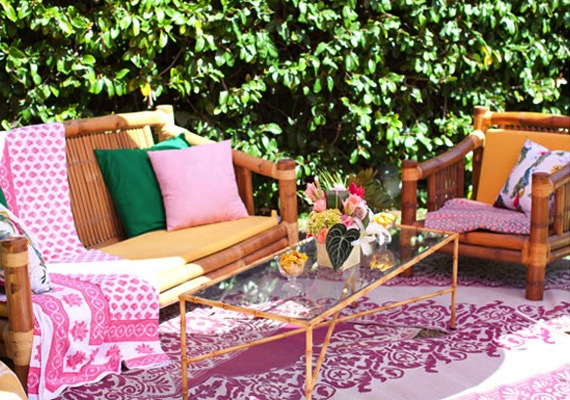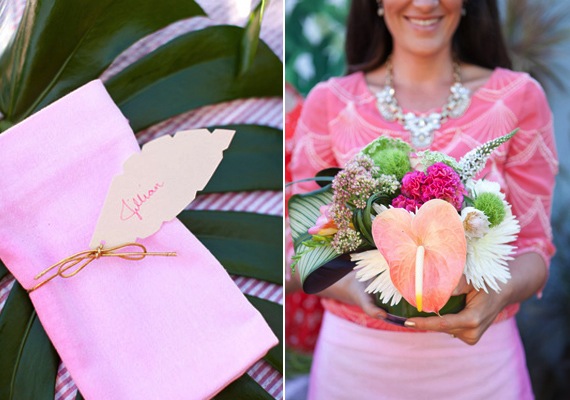 Traditional bridal showers can have some pretty cheesy games or activities, yes? We didn't want to go that route for Amanda, so we hired The Little Branch to come out and teach a floral arrangement class. So glad we did because it was such a hit! Ladies got to learn how to arrange exotic flowers and take them home. Win, win.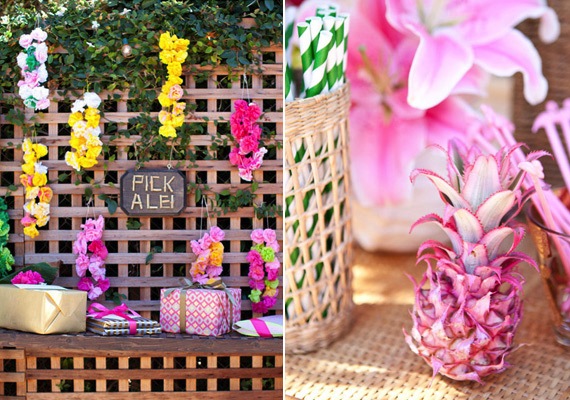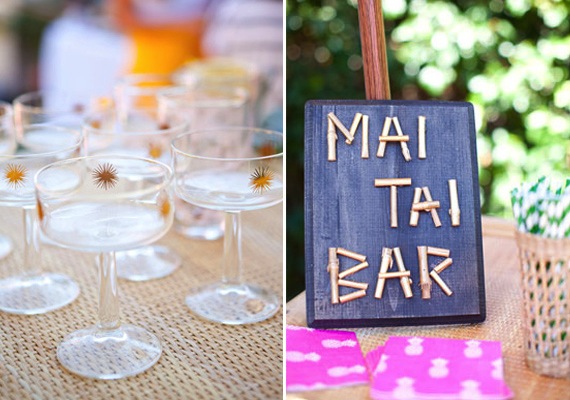 If you follow the 100 Layer Cake blog, you may have noticed, over time, that we love cocktails. But more than that, we can honestly say cocktails are best when served from pretty glassware. So go out and hit up the thrift stores and flea markets before your shower. We promise you'll find some gorgeous pieces to use at your party.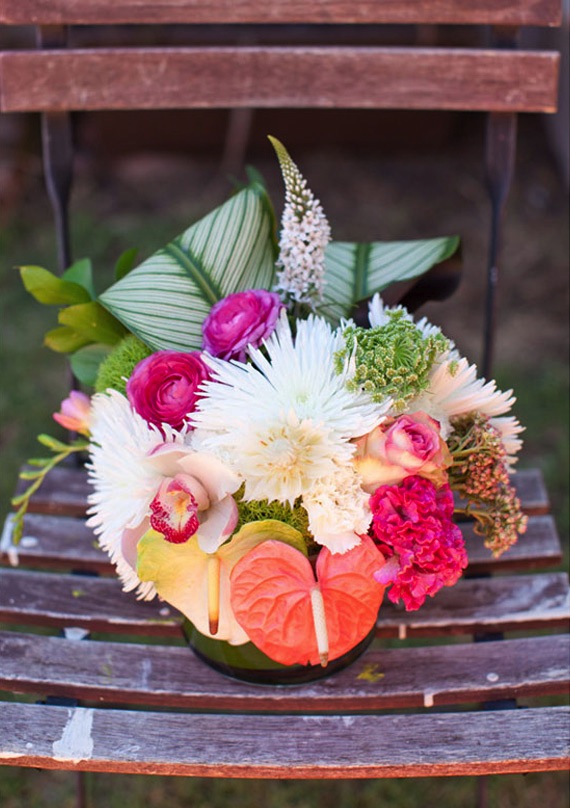 There's so much fun you can have with this theme, so if you're loving the pinks, golds and pops of green from Amanda's bridal shower, check out some of these shopable items…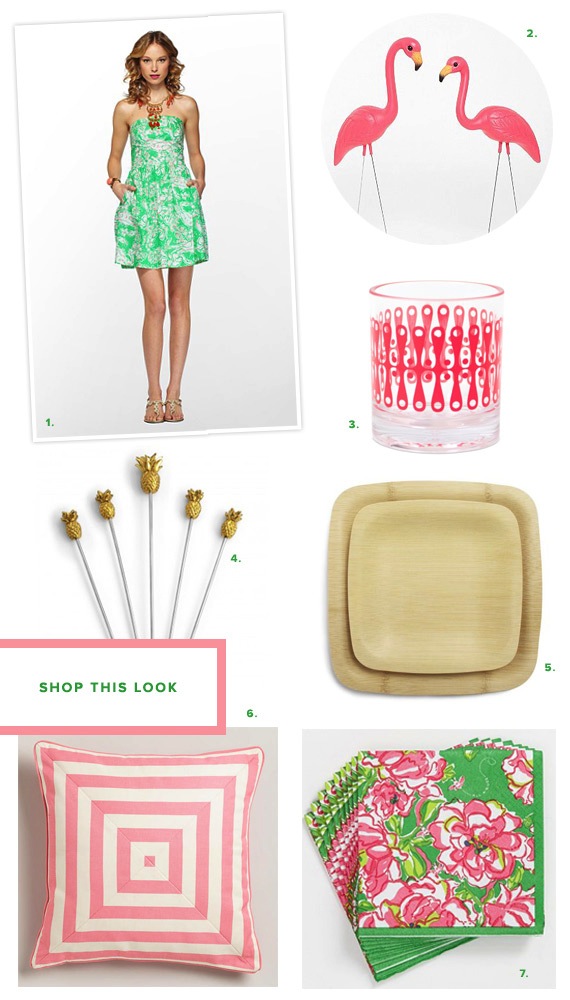 1. / 2. / 3. / 4. / 5. / 6. / 7.
That was fun! We hope we've sparked some bridal shower inspiration.
There's really so much you can do, right?
For even more decor inspiration you can always pop over and peruse our Pinterest board and inspiration section! Chat next time!
xo,
100 Layer Cake