I hope all of you have liked the health and fitness posts we've been featuring here on LaurenConrad.com this month. The other day I was going through our LaurenConrad.com Editorial emails, and I noticed that a lot of you who are doing my Bikini Boot Camp Plan are struggling with keeping your mind on track to achieve your goals. I know that it can be easy to get a little side tracked, but all it takes are a few small changes and clever thinking to get self-motivated again. That said, you may need to play a few tricks on your brain to get your discipline back to where it once was…
Without further ado, here are five ways to think yourself thinner: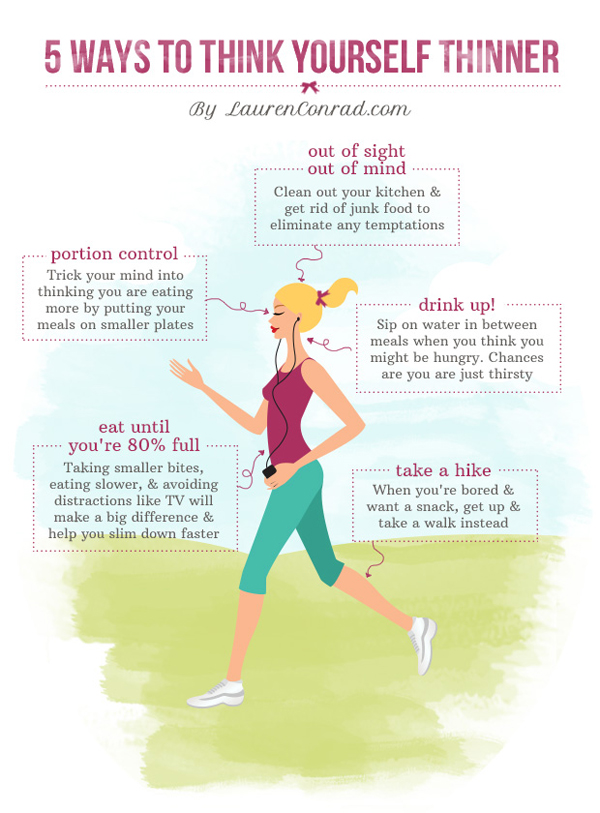 Do you have any tips for sticking to your fitness goals?
Leave your tips and tricks below! And if you liked this post, be sure to check out more of my favorite fitness posts below:
Get Fit: It's Bikini Camp Time!
Shape Up: Walk the Block
Slim Tip: Boost Your Metabolism
Slim Tip: Surviving the Snack Attack
XO Lauren
Sources: Livestrong
Photo: LaurenConrad.com