Whether it's a certain fit that flatters your figure or a color that complements your complexion, most of us know how to shop for clothing that helps us look and feel our best. But what many people aren't aware of is how to keep their clothes looking as good as new over time. As I've developed my personal style and added more investment pieces to my wardrobe, it has become even more important to me that I care for my clothes the right way.
Caring for your washable garments at home goes beyond keeping that red sock out of your load of whites. Your mother may have taught you how to sort colors and load the washer, but today I am sharing a laundry list of tips that you might not have heard before. So before you empty your hamper next time, check out these five tips to keep your clothing looking fresh and feeling soft.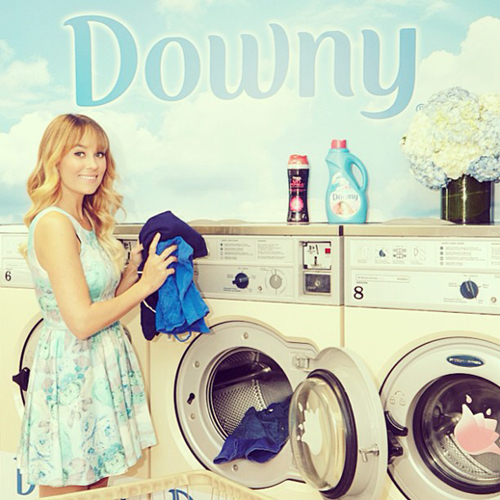 Button, zip, and tie. Before you throw your clothes in the washer, spend a moment making sure that your buttons are buttoned and your zippers are zipped. It's an extra step, but it will mean that your garments are less likely to snag one another in the load. (Case in point: metal zippers don't mix well with sheer blouses.) Also, make sure you loosely tie drawstrings and sashes to prevent tangling.
Don't forget fabric softener. I always make sure to incorporate fabric softeners into my laundry routine. Just as you use conditioner after you shampoo to keep your tresses looking sleek and shiny, you should use fabric softener with your detergents to keep your clothes looking just as beautiful. I use Downy liquid fabric softener, especially on my pieces that are worth protecting. Downy provides amazing softness, long-lasting scent, and protection so I can see, smell and feel the difference on my clothes.
Protect with a pillowcase. If you don't have a mesh laundry bag on hand, you can protect small or delicate items using nothing other than a pillowcase. Simply place your lingerie, hosiery, and other delicates in the pillowcase and then tie it off. This trick will prevent wear and tear, and can also be used to keep track of easily misplaced items like socks. Plus, you'll have a freshly laundered pillowcase to sleep on!
Wash inside out. Protect the important part of your garment by turning your clothes inside out before washing them. Especially with dark pants and denim, this is an important step to prevent fading. If you have machine washable items that include beading, screen-printing, or other embellishments, it's a good idea to turn these items inside out as well.
Boost your scent. Scent boosters are my little secret for fresh laundry that smells amazing. Adding a scent booster, such as Downy Unstopables, to my load makes that freshly laundered scent that everyone loves last up to 12 weeks in storage. If you love the smell of fresh laundry like I do, you will wonder how you ever lived without them. My personal favorite is Downy Unstopables Spring.
Do you have any other laundry tips you've learned?
Share them in the comments below.
XO Lauren