Hi LC readers! It's Cara here from Big Girls Small Kitchen. I don't know about you but for me, a salad is the best summer lunch. In fact, salads are so light and refreshing that I often find myself serving them for dinner too. As you probably already know, the options are endless when it comes to making your perfect salad. And if you're eating them a lot you'll want to mix things up by using different types of greens, lots of veggies, and unexpected flavors like fruit, nuts, or croutons (wonton strips anyone?). I also like making salads that use quinoa, grains, or veggies as a base instead of lettuce. This is a great way to keep your taste buds interested and excited about eating "salads!"
The best part about these leafy green meals (besides the fact that they're healthy) is that most of the cooking isn't really cooking. The fun comes in thinking up new combinations and arranging all the ingredients so that each one complements the others.
Without further ado, here are three of my favorite creative salads…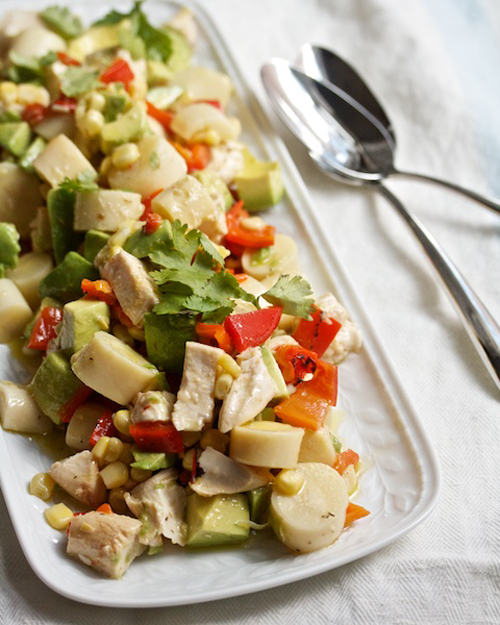 1. Chicken, Hearts of Palm, and Avocado Chop Chop Salad
This is a miraculous salad. It is healthy, fresh, tasty, and unusual to boot. It's also very easy to make because it requires far less chopping than many traditional chopped salads. There's no lettuce here, which means no pesky washing and drying of all those lettuce leaves. Combine a mix of cubed roasted chicken, avocado, red peppers, corn, and hearts of palm for a salad that is full of crunchy, flavorful bites. (You can see the original recipe here.)
Depending on what's available at the market, you can throw this dish together from canned and frozen ingredients—it will still taste remarkably fresh! This dish is perfect for when you've just gotten home from a vacation and need to eat something tasty and light.
Ingredients
For the Salad
1 bone-in, skin-on chicken breast
Olive oil
Salt and pepper
One 14-ounce can hearts of palm, cut into chunks (about 1 1/3 cups)
1 cup frozen corn kernels, thawed under running water and drained
3 roasted red peppers, washed well and drained, then cut into bite-sized pieces
2 ripe avocados, cut in half, pit removed, cut in a cross hatch then scooped out
Cilantro for garnish
For the Vinaigrette
2 teaspoons apple cider vinegar
1 tablespoon fresh squeezed lime juice (about half a lime)
1/2 teaspoon Dijon mustard
2 tablespoons olive oil
2 tablespoons vegetable oil
¾ teaspoon kosher or sea salt, or more to taste
¼ teaspoon oregano
1 scallion, white and light green parts, sliced
1/2 teaspoon honey
¼ teaspoon freshly ground black pepper
Instructions
Preheat the oven to 425°F.
Wash the chicken and dry it very well with a paper towel. Place it on a parchment- or foil-lined baking sheet.
Drizzle with olive oil and sprinkle liberally with salt and pepper.
Bake for 35 minutes, or until the skin is crispy and the juices from the chicken run clear.
Cool completely – at least 1 hour, but you can also store for a couple days in the fridge. (Hint: if you like crispy chicken skin, eat it right away, before you refrigerate.)
Remove the chicken from the bone as neatly as possible. Cut into bite-sized cubes and place them in a large bowl. Add the hearts of palm, corn, red peppers, and avocados.
In a second bowl, make the vinaigrette: whisk together the vinegar, lime juice, and mustard.
Slowly drizzle in both oils, whisking as you go so the dressing emulsifies.
Add the salt, oregano, scallion, honey, and pepper, and combine.
Pour most of the dressing over the salad and toss gently so you don't smush the avocado. Serve, garnished with cilantro.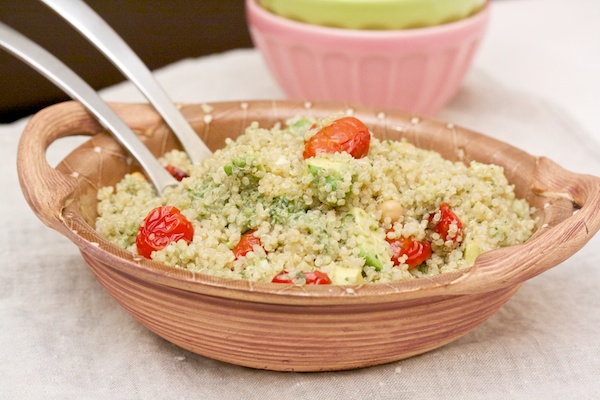 2. Quinoa Salad with Roasted Tomatoes, Avocado, and Pesto
Protein-rich quinoa forms the base of this bowl full of everything good. Seriously, when I created this, I put every single one of my favorite ingredients into the mix. There's rich avocado, creamy pesto, sweet roasted tomatoes, and little bites of mozzarella. This one gets better with time, so make it in advance as a busy girl lunch or dinner option, or when you go on picnics or road trips.
Ingredients

For the quinoa and vegetables
2 cups cherry tomatoes
Olive oil
Salt

2 cups dry quinoa
1 avocado, cut into chunks
1/3 to 1/2 cup diced mozzarella (about 3-4 ounces)
3/4 cup chickpeas, more if desired
For the pesto vinaigrette
1 clove garlic, chopped
1/2 teaspoon salt
1/2 cup walnuts, toasted
1 cup basil leaves

pinch cayenne
1 1/2 tablespoons rice wine vinegar or lemon juice

1 teaspoon Dijon mustard

4-6 tablespoons olive or canola oil or a mixture of the two
Instructions
Preheat the oven to 375°F. Line a baking sheet with foil.
Make sure the tomatoes are completely dry, then drizzle with olive oil and toss to coat them all.
Bake the tomatoes for about 35 minutes, flipping once, until they are brown and poufy. They will deflate when you take them out of the oven. Sprinkle with salt.
Make the quinoa: Combine the quinoa with 4 cups of water in a small, lidded saucepan and bring to a boil. Add 1/2 teaspoon of salt, give it a stir, put on the lid, and turn the heat down as low as possible. Cook for 15 minutes, until all the water is absorbed. Turn off the heat but leave the lid on for 5 more minutes. Then, spread the quinoa out onto a baking sheet to let it come to room temperature and dry out a bit so it doesn't stick together when you make the salad.
Make the pesto vinaigrette: Placing the garlic and 1/2 teaspoon salt in a food processor. Pulse until minced, then add the walnuts and pulse again until they're finely chopped. Throw in the basil and cayenne and process until smooth. Next, add the mustard and vinegar or lemon juice and pulse to make a paste. Add the oil a tablespoon at a time, processing in between, until the dressing is lightened and smooth. Taste as you go–if you like the dressing tangier, use the lesser amount of oil; if you like it a bit creamier, go for all 6 tablespoons. Taste for salt and add more if you like.
In a large mixing bowl, gently mix the quinoa with the tomatoes, avocado, mozzarella, and chickpeas. Spoon in the dressing and toss to distribute it evenly. Eat immediately, at room temperature, or cold.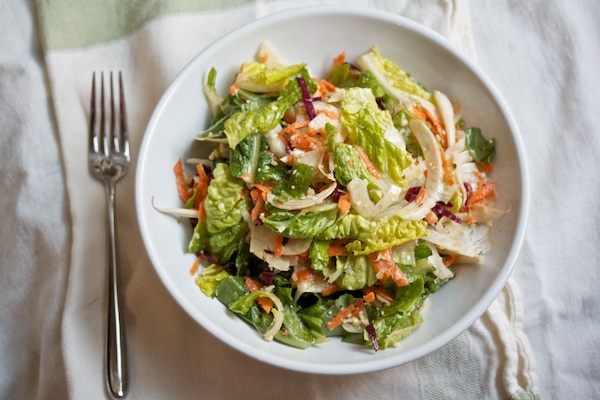 3. Romaine and Radicchio Salad with Shaved Fennel and Creamy Dressing
This crunchy, vegetable-filled salad tastes like a lighter Caesar, making it perfect for summer eating. Lots of lemon juice and good-quality olive oil form the base of a dressing; a whole egg and a handful of grated Parmesan turn the vinaigrette creamy and add protein to the cool dish. My favorite parts are the shards of crisp fennel and the beautiful purple hue of the radicchio.
Ingredients
1/2 cup olive oil

1/4 cup freshly squeezed lemon juice, from 1 or 2 lemons

1 egg
About 12 big romaine lettuce leaves, torn into bite-sized pieces
1/2 radicchio, outer leaves and core removed, sliced thin
1/2 fennel bulb, core removed and slivered on a mandolin, or cut very thin
1/4 cup grated Parmesan (you can do this in a food processor to get a nice crumbly texture)
1 small carrot, peeled, trimmed, and grated
Kosher salt
Freshly ground pepper
Instructions
In a large mixing bowl or salad bowl, whisk together the olive oil and lemon juice.
Place the egg in mug. Pour boiling water over it and set a timer for 1 minute. When it beeps, carefully remove the egg and run it under cold water until it's cool to the touch.
Crack the egg into the olive oil and lemon juice mixture and whisk together immediately. You'll see the dressing emulsify. Add 1/4 teaspoon kosher salt and pour most of the dressing into a spouted measuring cup or a jar to keep it in the fridge.
Add the torn romaine, radicchio, fennel, Parmesan, and carrot to the salad bowl.
Pour some of the reserved dressing over, toss, then taste and add salt and pepper to your taste. Toss again.
I hope you liked these three salad recipes. Let me know if you try them in the comments below, and tell me which one is your favorite.
What kind of recipes would you like to see in our next Good Eats post?
We're taking requests, so let us know!
XO Team LC
P.S. You can see even more light, delicious salads in the salad section of the Big Girls, Small Kitchen recipe index.
Photo: Big Girls, Small Kitchen