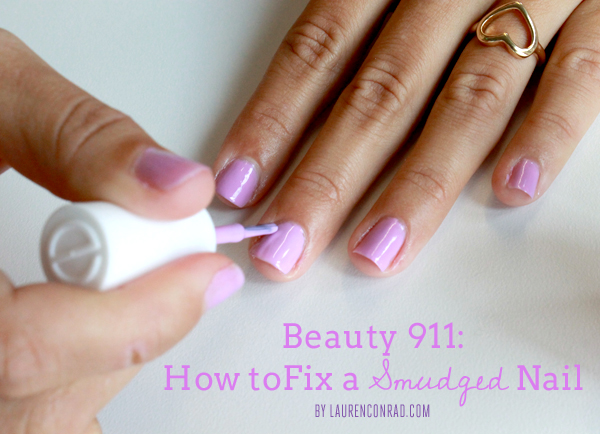 We've all been been there before: You've just indulged in a fabulous mani-pedi only to find that you've smudged one of your nails 5 minutes after walking out of the salon. Not the best feeling. A few of us ladies here at Team LC were talking about this exact beauty blunder the other day, and we decided to put an end to the occasional smudged nail catastrophe. We researched a few tricks and tried them out for ourselves. We discovered that fixing a smudge nail is easier than you'd think, and today I'm sharing the steps to do just that.
Without further ado, here are three steps for perfecting your manicure:

To recap, here are the steps in a little more detail:
First, dip your finger or a q-tip into an acetone-based nail polish remover and smooth it lightly over the smudged area of your nail to create an even surface.
Then, either find the same polish color you used or a similar hue and paint back over the smudged area. You want this layer to be thick enough that you can't see through it, but not so thick that it stands out from your other nails.
Finish with a topcoat to smooth everything out.
…and voila! Your mani is good as new. Pretty easy right? Pin this post and pull it up the next time you experience your next post-salon smudge.
What beauty blunder would you like to see us solve in our next Beauty 911 post?
Leave your requests below!
And be sure to check out these manicure ideas the next time you're in the mood for a polish change:
Polished: Mixed Media Manicure
Polished: The Glitter Manicure
Polished: How to Do a Floral Manicure
Polished: 4th of July Nails
xx
Allison
Team LC
Photos: LaurenConrad.com