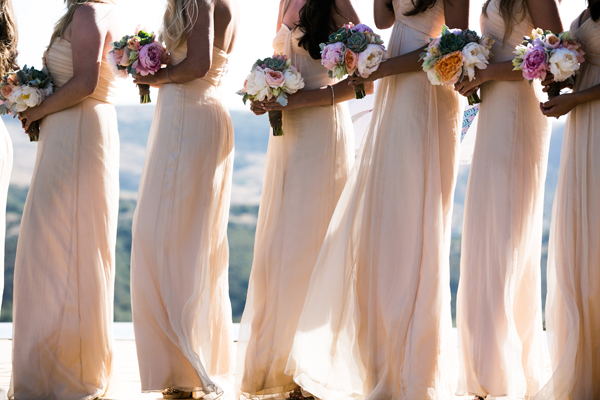 For today's edition of Wedding Bells, Lauren's friend Jess of Carats & Cake weighs in with her best tips on how to avoid breaking the bank as a guest attending a wedding. Enjoy! XO Team LC
Hi LC readers, it's Jess again from Carats & Cake. With the start of summer just around the corner, we are about to begin my favorite time of the year when weekends are filled with rehearsal dinners and late night dance parties. Now, as much as I love a good wedding (cake + champagne + flowers = what's not to LOVE?!), I also know that this time of year can be overwhelming both socially and financially. So, Lauren asked me to share a few tips on surviving the party circuit this summer. Here are my tips for attending a friend's wedding without breaking the bank…
What to Wear. For many of us, the thrill of receiving a wedding invitation is quickly followed by the thought of what to wear. And, given that weddings have gone from one-night parties to weekends of events, the pressure is on. Whether you have one wedding this season or seven, you are going to need multiple outfits. Luckily, services like Rent the Runway have you covered, literally. You can choose from over 95 designers, and reserve your dress (and now shoes and jewels, too) in advance. Still have the urge to splurge? Look for something basic that you can accessorize differently for multiple events.
Travel. These days, the cost of attending a wedding can be prohibitive, especially when the weekend of events begins as early as a Thursday. Three nights of hotel stay plus travel fares can add up quickly. To save and have fun, make a girls weekend of it. Even if you were invited to the event with a plus one, there is no obligation to bring someone, so why not shack up with your friends and relive spring break? You can also save up by turning your friend's wedding weekend into that vacation you've been wanting to take by adding on a few extra days. Think of it as two trips for the price of one.
The Gift. Buying a wedding gift is like shopping a sale: You want to get there early, before the good stuff is gone (the good stuff in the land of wedding registries is the affordable stuff). If nothing falls within your budget or if you waited too long, then pool together with friends or another couple and use a site like Split a Bill to painlessly make sure that everyone pays for their share. Also, if you were invited to the wedding of a couple that you are close friends with, opt for something personal and thoughtful. One of my favorite gifts at the moment is a hand-drawn portrait of the happy couple. Head on over to Etsy and go wild. Just be sure to look for an artist whose style you think your friends will like.
Prioritize. At the end of the day, what matters most in a wedding is that this couple has found their own happily ever after. With that in mind, whether you are invited to more than one wedding this summer or whether you are attending an incredibly expensive extravaganza, figure out what works for you. Maybe you can't afford five nights visiting the Southern Californian coast. Perhaps spending one night in a hotel is easier on your wallet. There is nothing wrong with just attending the ceremony and wedding night. If you can't make the wedding at all, decline with a hand-written note and something sentimental, like a framed photo of the two of you or a gift of his and hers favorite candy. Your friend will understand you want to be there and would be if you could.
Do you have any tips for surviving wedding season on a budget?
Share them in the comments below!
Jess
Photo: Jan Garcia Photography