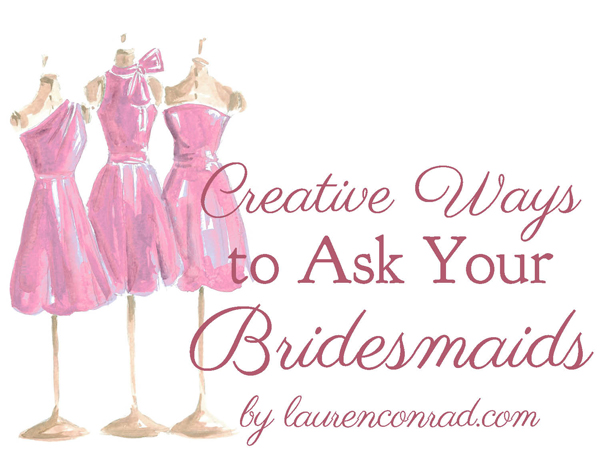 Hi everyone, it's Alex and today I am back with a new Wedding Bells post about creative ways to "propose" to your bridesmaids… 
With the advent of Pinterest, it seems that everything us ladies do must be—how do I put this—pin worthy. Even a task as simple as asking your besties to be your bridesmaids has turned into a creative event. That said, when it was time for me to ask my girls to be a part of my special day I thought long and hard about the various ways I could ask them and I figured many of you might be mulling over the same thing! For today's newest edition of Wedding Bells I will be sharing 5 creative and thoughtful ways to ask your bridesmaids…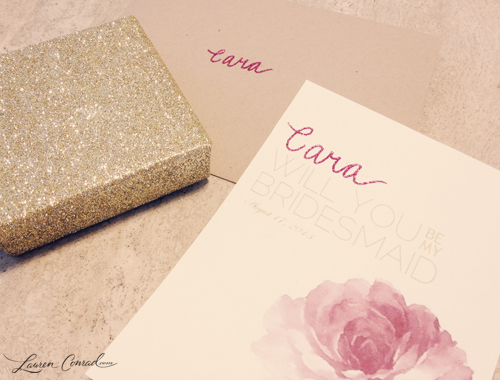 Ask with a card. When it was time for me to ask my bridesmaids to be my go-to girls for my wedding, I decided to create a custom card (pictured above) that proposed the question. (If you want to keep it easy, check out BHLDN—they have a nice assortment of "Will You Be My Bridesmaid" cards.) I also presented each of my girls with a small piece of jewelry from one of my favorite jewelry designers; every bauble was different to reflect each maid's personal style. Asking with a card is a simple and sweet way to pop the question. As a matter of fact, my fellow Team LC member, Ilana, also asked her maids in the form of a card…but her card was 3D! How cool is that? Click here to check it out.
Surprise adventure. Whether it's asking your maids out to brunch and surprising them by popping the question or doing a day at the spa, taking your girls for an unexpected outing and asking them all at once is a great way to invite them to be a part of your big day.
Provide a prep kit. If you consider yourself a crafty gal, this might just be the perfect idea for you: Put together a "bridesmaid emergency kit" for each of your girls. Fill each kit with all the necessities they will need to not only get you down the aisle in one piece (blister bandages, fashion tape, eye drops), but also some items to help them maintain their peace of mind (aspirin, gum, a mini bottle of bubbly). Then present each of your girls with the kit and ask them to be your bridesmaid!
Say it with something sweet. Who doesn't like an excuse to indulge in a yummy cupcake? When I spotted this DIY on how to make ombré cupcakes in a jar on Marry This, I just knew I had to share the idea… Invite your girls out to brunch and place a cake jar at each of their place settings…once they sit down and realize what's in front of them they will be pleasantly surprised!
Hang it out. Order personalized hangers (you can find dozens of them on Etsy) for each of your would-be maids. Add a special touch by attaching a handwritten note to each hanger upon delivering it to your girls. The best part? All of your maids can hang their bridesmaids dresses from the hangers on the day of the wedding…can you say cute photo op!?
Have you been a bridesmaid? How were you asked? Or if you're a bride, how did you ask your maids? I would love to hear about it so please sound off below!
Xx Alex
P.S. For more wedding-related content, be sure to check out the Wedding section here on the site for everything from what to do when you're newly engaged to a detailed wedding planning timeline and even a complete breakdown on wedding party responsibilities plus more!
Photos: Alex Gariano
Illustration: Carrie Beth of Sugar B Designs