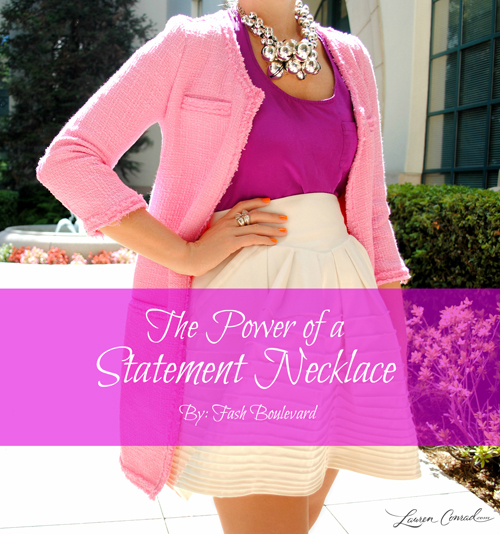 Hi ladies, it's Anna from Fash Boulevard. As a self-proclaimed accessory addict, it's no surprise that I tend to follow accessory trends as thoroughly as a stockbroker studies the stock market. Last summer, bauble necklaces changed the face of fashion jewelry when this dramatic accessory landed on the necks of practically every style enthusiast. And now, once again, this bold statement is staking its claim, so expect to see more sparkles and brighter colors than ever this summer. When the weather is warm and you want to show off your style without layering on blazers, hats and scarves, throw on an eye-catching statement necklace over a breezy maxi for a quick and effortless ensemble.
Rules and guidelines for styling statement necklaces:
This stand out piece looks best when styled with a simple outfit. Styling your go-to little black dress with various statement necklaces is a fabulous way to add a trendy twist to an old classic.
Keep the rest of your jewelry simple, especially your earrings. You don't want to look like a little girl who overindulged in her mom's jewelry box. By keeping your jewelry simple, you are letting the statement pieces speak for themselves.
If you have a larger bust, it is important to opt for shorter necklaces that don't lie directly on your chest.
When choosing a bright colored necklace, think of the colors that you wear the most frequently and purchase a necklace that will compliment your existing wardrobe.
Store your oversized necklaces on hangers (like this decorative pearl hanger!) to keep them from tangling, bending or breaking. This will keep your necklaces from sliding and clumping together.
Bright Colored Baubles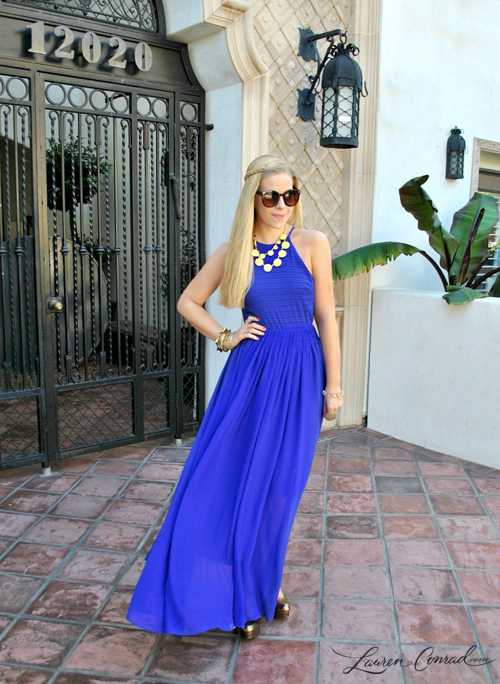 dress – French Connection, necklace – Mindy Mae's Market, heels – ShoeMint
Bright colored bauble necklaces are fun accessories to add to your jewelry collection. Keep your outfit simple and avoid crazy prints in order to let your statement piece speak for itself. If you're experiencing a styling slump, I always like to refer to the color wheel to help inspire fun and unexpected combinations, like my yellow and purple combo, which creates a complimentary color scheme.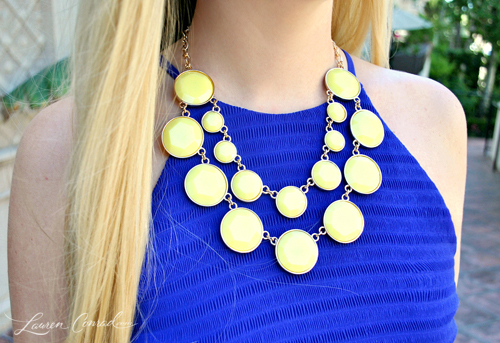 Metallic Moment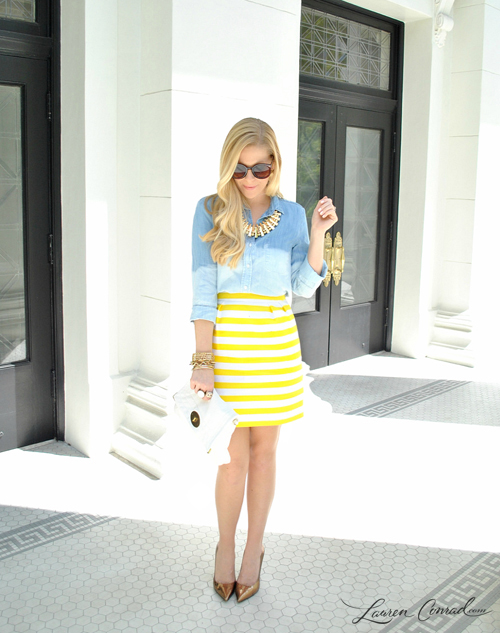 top – Bella Dahl, skirt – Kate Spade, necklace – M. Haskell, flower ring – Chloe + Isabel, heels – Spiegel
If you're nervous about pairing color with color, this is the necklace for you. Whether you're a silver or gold loving gal, there are hundreds of fabulous statement necklaces clambering to give you a metallic moment this summer. And the best part…they're pretty much guaranteed to match every piece in your wardrobe. Throw your statement necklace under the collar of your button down top like I did above to add an extra dash of Fash to your summer tops.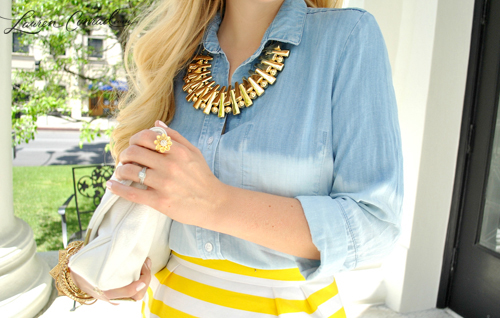 Are you planning to rock metallics or bright colored baubles this summer?
P.S. For more statement necklace styling ideas check out these outfit posts here and here.
xoxo
Anna
Fash Boulevard