When summer hits, there is no pair of footwear more practical than a trusty pair of sandals. In fact, I consider them a summer style essential. They are comfortable, easy to wear, and these days they come in all colors, shapes, and sizes. And while a pair of basic flip flops might be practical for scurrying to and from a yoga class, they aren't the most interesting way to spotlight your soles. So, today I've rounded up 10 chic styles of summer sandals that will have you stopping traffic…from head to toe. Check out a few of my favorite pairs below…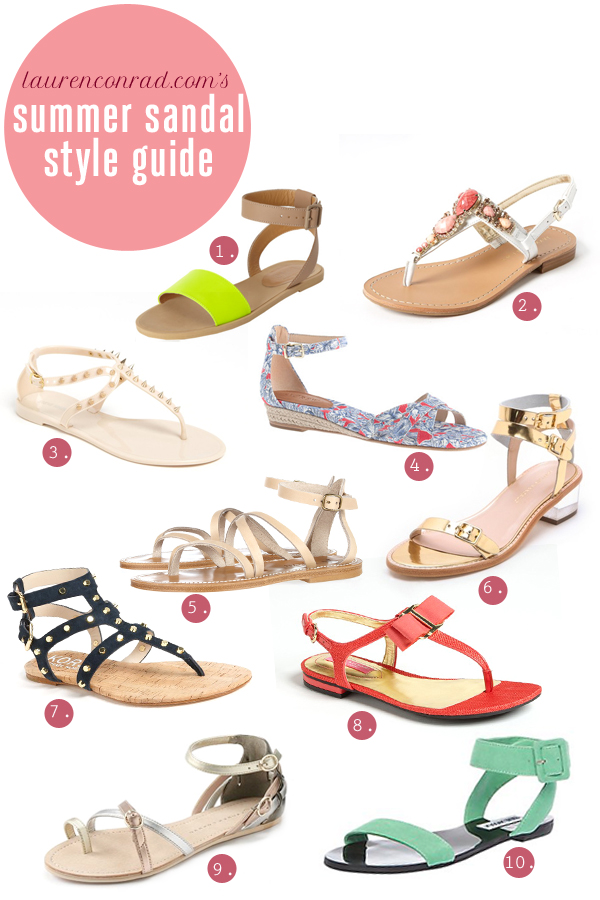 Some of the biggest trends I'm looking out for this season are metallics, pops of neon, and natural sandals. I love the way a metallic shoe spices up the rest of your outfit. Pops of neon are fun too, but I like to make sure that they only come in small doses so that the look isn't too highlighter-bright. Natural sandals go with everything in your closet, plus they're very flattering. If they are close to your skin tone they will basically disappear, making your legs look longer.
Which one of these summer sandals do you like best?
Click the links under the image to shop for your favorite styles!
XO Lauren