Last month I started a new series called Store, Toss or Wear. After posting my April Edit, I realized that some trends—no matter how out of style they may be—don't necessarily have to be tossed. Instead, they can be stored away for a later time when fashion tastemakers deem them stylish again (which always happens in a season or two). That said, I've updated this series to be called Store or Style, and I'm excited to share my May edition with you all today! Here's what's on my list…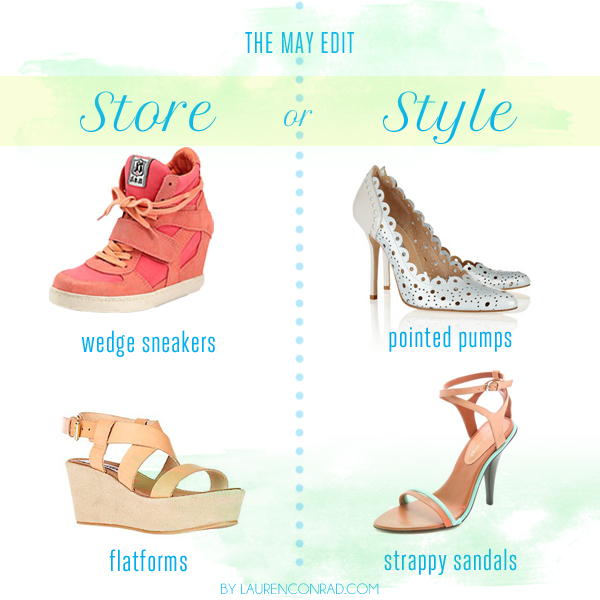 Store: Wedge Sneakers.
Since May is a month that transitions us from spring to summer, I think swapping out your sneakers for strappy sandals is a safe move. While I haven't tried the wedge sneaker trend myself, these soles have been having a really big moment. For those of you with wedge sneakers in your closet, I would recommend opting for a summery shoe instead this season.
Store: Flatforms.
Flatforms were all the rage last summer, but I'm putting my pairs back in their shoeboxes for now. They are comfortable way to add height to your silhouette, but heeled sandals or pumps are predicted to be more on-trend this season.
Style: Pointed Pumps.
There's no questioning my love for pointed pumps (I blogged about it here!). This style of shoe is so feminine and adds a ladylike touch to any outfit. I like wearing mine to business meetings, luncheons, or press events. They look great on everyone, and you can wear them any time of the year. Invest in a pair this month—you'll be glad you did come summer.
Style: Strappy Sandals.
Delicate, strappy sandals were all over the Spring 2013 runways. They instantly elongate your legs and you can wear them with pants, skirts, dresses, or even dress shorts. I would recommend buying a black pair (to pair with boyfriend jeans a blazer), a neutral pair (which look amazing with a little white dress) and a colorful pair for the element of surprise. I guarantee you will wear out these soles before you know it!
What items are you excited to wear going into the summer months?
XO Lauren