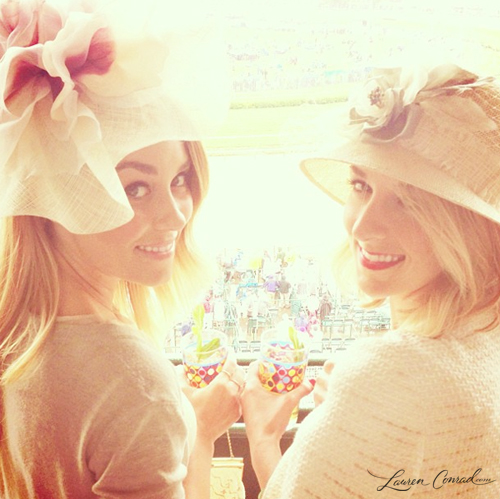 This past weekend, I attended the 139th annual Kentucky Derby horse races. The event was exciting (and a little rainy!), and the red carpet was quite a spectacle as well. Everyone who went to the races was dressed to the nines. It is tradition to wear a big hat to the opening day of horse racing events. This custom actually began in England, where attending the races was just as much for fashion as it was for sport. Think My Fair Lady. I chose a champagne colored creation for my own hat and I had so much fun wearing it. Anyway, this is how I styled my two looks for the derby…
The dress in the photo below is a nude polka dot number from my Paper Crown line. I paired it with a neutral pair of LC Lauren Conrad pumps…and my fancy hat, of course.
Style Tip: Nude heels will give the illusion of longer legs and flatter your figure. For more silhouette-slimming style tips, click here.
The night before the races, I went to the Unbridled Eve Gala at The Galt House Hotel. It was a night filled with mint juleps and Southern hospitality. I wore a Paper Crown dress for this event as well.
Have you ever gone to the races? What would you wear to the Kentucky Derby?
XO Lauren