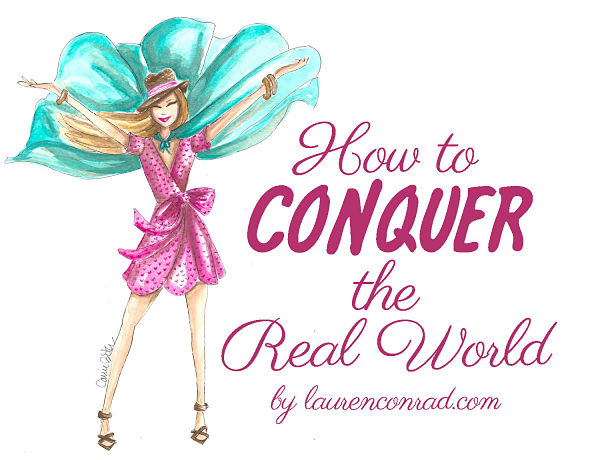 The other day I was going through myLaurenConrad.com inbox, and I noticed that a lot of you were asking questions about one specific topic: life after graduation. I recently covered a few tips about what to do leading up to graduation, and it is definitely an exciting yet uncertain time. But once you're out in the real world, you may find that life isn't the way it used to be. While there are a few obstacles every graduate will face, I have some tricks up my sleeve that will help make the transition a little easier.
I'm not going to tell you to get a job or decide where you want to live (I've already covered that in this post). Instead, here's what you really need to know about conquering your first year in the big, bad real world:
Set up weekly get-togethers with friends.
For those of you who lived in a sorority house or a college town, you probably spent the last four years living in close proximity to your closest friends. While post-grad life is definitely fun and social, you probably won't be sharing a house with 10 of your besties anymore. When you and your friends are no longer living under the same roof, staying in touch requires a little more effort than before. Plan a weekly activity, like a supper club or a girl's night out, that will allow you to see your friends on a regular basis. And it doesn't have to be on the weekends—arranging a weeknight get-together can be a fun way to break up the workweek. It might sound silly to "schedule" time with your friends, but I promise you will be glad you did!
Get on a daily workout schedule.
One of the best parts about graduating is that you can swap partying and all-nighters for a much healthier lifestyle. I'm not saying that you won't still bar hop and get a little wild (you will!), but the real world is definitely a better environment for developing good exercise and diet habits. Since you will no longer be able to hit the gym in between class, I recommend setting up a daily workout schedule for yourself. This is especially helpful if you have a job that requires you to sit at a desk all day. If you're a morning person, you will love the feeling of logging in a sunrise sweat sesh before you head in to work. And if you like to snooze, join a gym that stays open late so you can pack a bag and exercise after-hours.
Draft a beginner's budget.
When you enter the real world, the last thing you want is to feel financially unstable. To avoid having any "eek!" moments when you look at your bank account, draft a budget for yourself and stick to it. Playing personal accountant doesn't have to be a drag—today there are so many apps and programs that make budgeting easy. Try downloading iReconcile, Mint, or MoneyBook onto your phone so you can log your expenditures on the go. Also, if you took out student loans, you will want to set up a system that allows you to start gradually paying them off. If you make budgeting and saving money a habit in your first year out of college, you will be much less likely to have financial woes in the future.
Make your house your home.
I am a big believer in nesting—adding special touches to my home to make it feel cozy and comfortable. One of the best parts about transitioning out of your university housing is that you will probably rent a place of your own. It will feel more grown up, and you can invest in some nicer pieces that won't get destroyed during an impromptu college rager. I recommend buying a bigger bed (maybe stepping up from a full to a queen), collecting quality kitchenware, and decorating an outdoor patio or balcony if you have one. These little touches will make you feel proud to live in your own place, and they will impress any dinner party guests too.
Don't stop learning. 
Just because you're not going to class everyday doesn't mean you can't continue to learn after graduation day. This tip is very important to me. When I'm not learning in some way, I tend to feel unfulfilled with life, which is why I'm always starting new projects and taking on new challenges. It may feel nice to take a mental vacation for a few weeks after graduation, but when you start to miss the constant flood of knowledge that comes with college, just try something new. Start your own blog, take a cooking class or join a book club. Learning should never stop, no matter how old you are.
The best way to tackle post-grad life is to use this time as an opportunity to discover what your goals, values, and challenges are in life. If you can learn how to overcome the obstacles that come your way while still driving towards your life goals, you will have all of the ingredients for a happy and fulfilling life.
What questions do you have about post-grad life?
Also if you have an Ask Lauren question, leave it in the comments below or feel free to send me a private message by visiting my Profile Page.
XO Lauren
Illustration: Carrie Beth Taylor