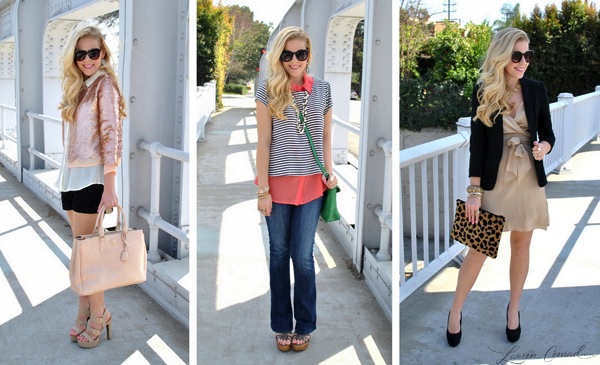 Hey ladies, it's Anna from Fash Boulevard. Let's face it, mastering the art of styling ensembles with pieces from contrasting price points is a style maven must. You should never be afraid of pairing items together just because of their drastic price difference. In fact, you should feel extra empowered by the challenge. As you've probably noticed I have a bit of an obsession with Lauren's utterly amazing designs and I have a sneaky suspicion you might as well. Lauren's Kohl's collection offers trendy pieces, youthful prints, and most importantly, affordable prices. While Paper Crown, Lauren's contemporary brand, embodies classic and timeless prints with lavish fabrics and finishes. Sure, the price point between these two fabulous collections may differ, but that doesn't mean you should shy away from combining the two. Below are a few of my personal rules when it comes to mixing luxury and affordable brands.
Rules for Mixing
Keep it Classic when spending a large amount of your shopping budget on a single item you expect to stay in your wardrobe for many seasons to come. No one wants to walk into a wardrobe filled with dated designer pieces.
Save on Trends. I always suggest avoiding investing a lot of money on disposable trends. Season after season we are swooned by tantalizing trends, but you have to stand strong in your heels, ladies, when you're tempted by trendy designer duds. Be a savvy shopper and purchase your favorite trendy pieces at the more affordable big box stores.
No one knows your style better than you do. Whether you're splurging or saving, be sure to spend your money on the things that are going to give you the most mileage. It's important to remember that not all trends are meant for every woman. Stay true to who you are and be aware of trends that may not suit your body or align with your personal style.
Don't be ashamed of your budget. An outfit is not judged on the amount of money you put into it, but on the style and confidence that you exude while rocking it.
Girly Glitz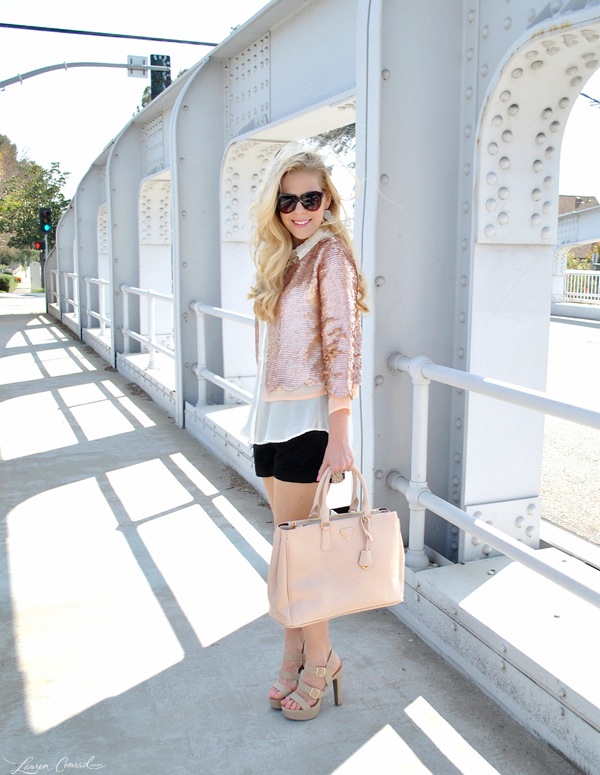 jacket – Paper Crown, top – LC Lauren Conrad,
shorts – LC Lauren Conrad, handbag – Ily Couture, heels – LC Lauren Conrad
Investing in outerwear is an excellent way to make sure your luxury item doesn't go unnoticed. The second I spotted this utterly breathtaking Paper Crown sequin scalloped blazer my heart skipped a beat. And then another. And another. It's adorned with sequins, can you blame me? The champagne color softens its flashy flare giving it the perfect dash of girly glitz for spring. When your luxury item demands this much attention take the opportunity to run wild with extra affordable additions like these LC Lauren Conrad shorts and classic white embroidered top.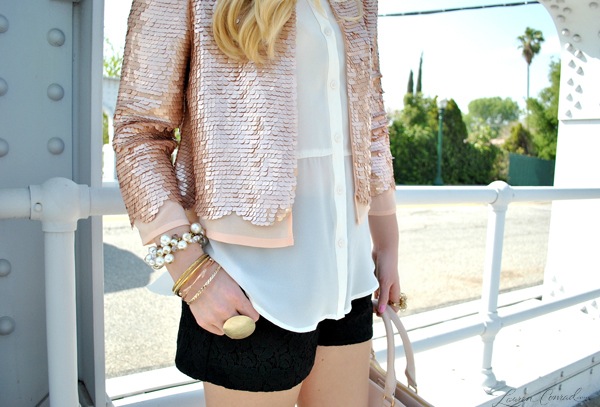 Luxury Layering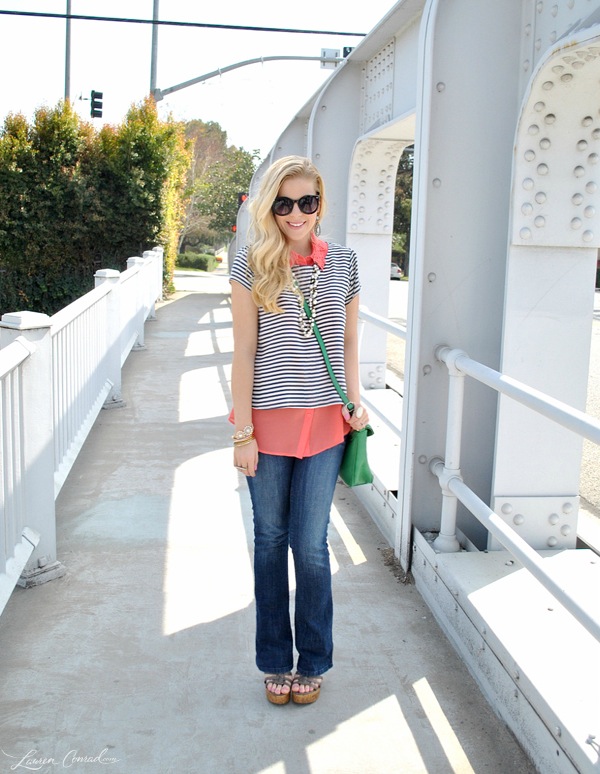 top – LC Lauren Conrad, striped blouse – Paper Crown, pants – LC Lauren Conrad,
heels – LC Lauen Conrad, handbag – Frock Candy (sold out), pearl Necklace – Chloe + Isabel
Luxury brand tops like this striped Paper Crown blouse make for fabulous investment pieces. Due to their extreme versatility they can easily go with pants or a skirt, like I recently styled here. (http://fashboulevard.blogspot.com/2013/03/vintage-inspired.html) Let your high-end piece be the star of your outfit by layering your lavish top over a more affordable piece like this embroidered mixed media blouse from the LC Lauren Conrad collection at Kohl's. When investing in designer tops, opt for luxurious fabrics in classic prints to insure its longevity.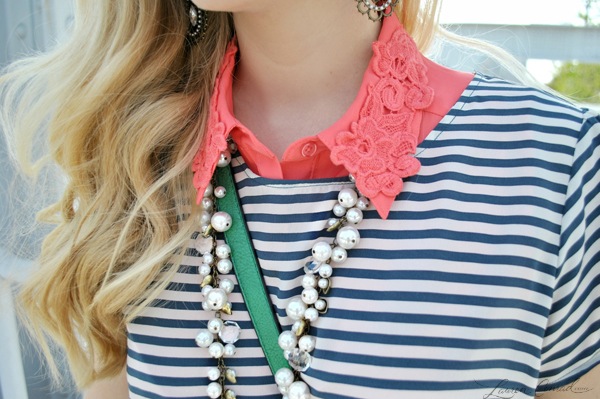 Classic Wrap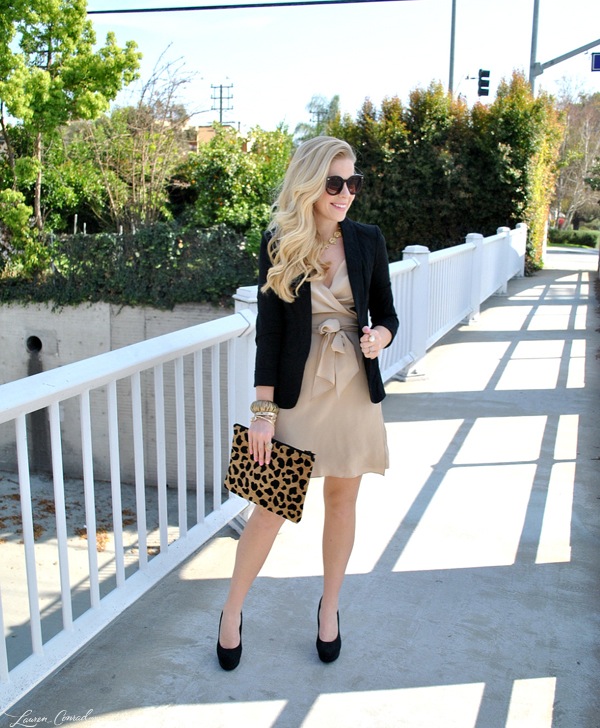 dress – Paper Crown, blazer – LC Lauren Conrad, heels – LC Lauren Conrad, clutch – Love Cortnie
Dresses will always be one of the best pieces to invest in. Knowing you have an amazing dress on standby in case of any impromptu special occasions is always worth a few extra dollars. Splurge on solid colored dresses which will serve appropriate for more occasions than a busy print. When shopping for affordable pieces to accompany your fabulous new frock be sure to stray away from of-the-moment trendy prints and instead chose classic fabrics and applications like lace, foiled brocade and jacquard printed separates, which will add textural contrast to your look and help camouflage their price point.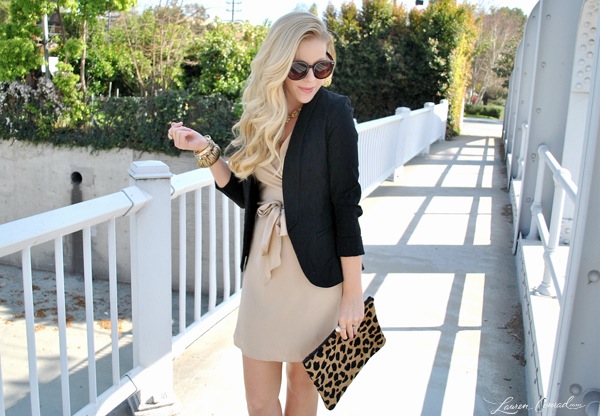 Have you recently splurged on an item you can't get enough of? Leave a comment below telling us about it!
P.S. For more spring outfit inspiration be sure to check out two of my latest blog posts: Seeing Hearts and Daily Denim!
xoxo
Anna
Fash Boulevard
Photo: Fash Boulevard