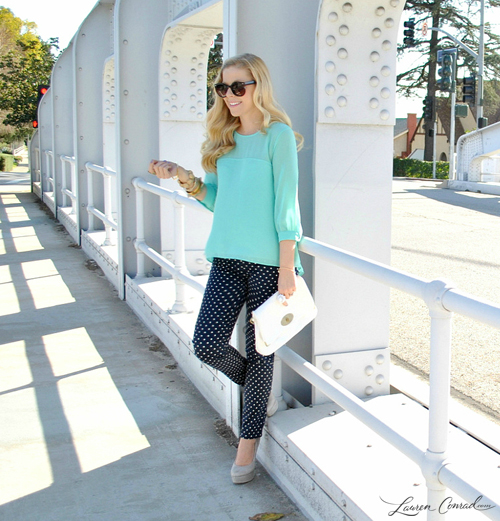 top – French Connection, pants – J. Crew, heels – Jessica Simpson (sold out), clutch – Francesca's (sold out), pom pom cuff – Jewel IQ, nail polish – Nicole by OPI "Love Song"
Hey ladies. It's Anna from Fash Boulevard again. As someone who spent the majority of her life living in jeans, I was shocked to discover, while cleaning out my closet a few weeks ago, that my collection of denim has faded to near extinction. So naturally, in an effort to quickly rectify the shortage, I set out on a hunt for new pants. Having become inspired by style savvy celebrities like Solange Knowles and Ashley Tisdale's impressive collections, printed pants seemed like the way to go. I wasn't long into my search when I realized, while some prints may be pretty enough to frame over your fireplace, that doesn't necessarily mean they're the best choice for your body. From dressy trousers to printed denim, it's important to find the ideal fit for you. Below are a few tips for achieving print perfection this spring: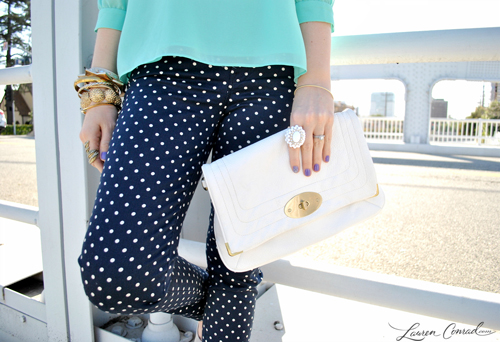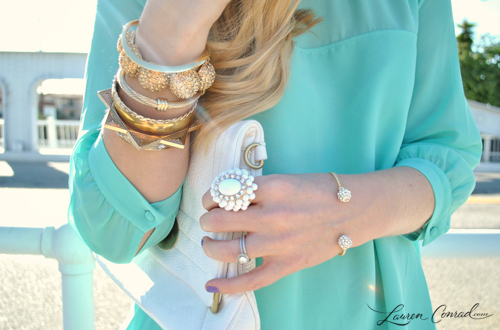 Balance is key. From the blouse, to the shoes, it's important to keep the rest of your look simple. If you choose fitted skinny jeans with a fun print, balance your look with an oversized solid blouse or sweater and save the fitted tops for the looser pants.
For those of us who weren't blessed with the height of a runway model, sticking with fitted, tailored trousers is the best way to avoid looking stumpy. Flowy oversized pants, like the ever-growing "pajama" trend style, are best left for the lucky ladies with the extra height.
With warmer months on the horizon, it's important to keep your denim-infused ensembles looking extra fun and fresh. You can achieve this spring-friendly twist by opting for lighter fabrics, colors and prints, like a feminine pastel floral print.
If you're self-conscience about your lower half, try sticking with smaller prints and neutral tones. This will help camouflage your insecurities rather than highlight them with larger, louder designs.
For an introductory approach to printed pants, opt for a monochromatic jacquard print, which will allow you to give a subtle nod to the trend without all of the risks. For an extra punch, try adding a statement clutch or necklace.
Remember, applying prints to unexpected pieces like your pants will always help create an unanticipated eye catching ensemble.
Below are some fabulous printed pants that are currently available online. Add a pair to your closet today!

ASOS Printed Skinny Jeans ($157.94), Ikat Print Pants (sold out), ASOS Geo Jacquard Trouser ($74.81), Forever 21 Arrowhead Print Satin Trousers(19.80), Forever 21 Watercolor Ankle Pants ($24.80)
Will you be donning printed pants this spring? If so, which print is your favorite?
xoxo
Anna
Fash Boulevard
P.S. For more inspiration on how to style printed pants for spring be sure to click here!