Today I will be kicking off a new series called Store, Toss, or Wear. Think of it as a style guide that indicates which items of clothing I recommend wearing this season and which items I recommend storing for later on. Today I've put together a little April edit for all of you. Here's what's on my list…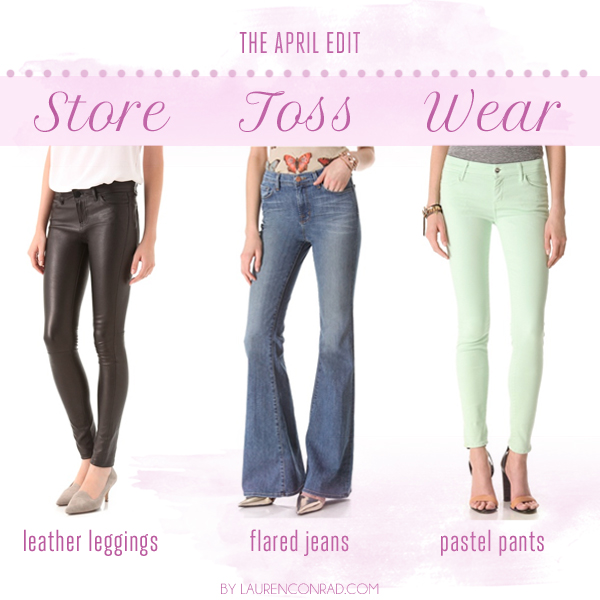 Store: Leather Leggings.
These glossy pants were a favorite of mine in the fall and winter months. But now that warmer weather has rolled around, it's time to swap them out for pastel pants, lightweight shorts and flouncy skirts. Don't let these ones go though—you will find me wearing mine when autumn rolls around again.
Toss: Flared Jeans.
I'm not one to play favorites…except for when it comes to jeans. Skinny jeans are at the top of my style staples list right now, and flared jeans have just simply fallen off my radar. In my opinion, there's no need to hold onto your bellbottoms, so go ahead and donate them or sell them at a consignment store. My bet is that the skinny jean empire will reign for quite a while.
Wear: Pastel Pants.
Spring has sprung, which means it's time to pull out the pastels in full force. Pastel denim is all the rage this season, so look at April as an opportunity to channel your pinks, blues and greens.
What items are you excited to wear this month? What trends are you ready to retire?
Be sure to snap photos of your favorite spring outfits and upload them to the gallery. We're always on the lookout for our next Chic of the Week!
XO Lauren
UPDATE: I have been reading your comments and I would like to you all to know that the  most important thing is that you are wearing clothing that feels right to you and flatters your figure. If you don't feel comfortable in pastel skinny jeans, that's totally ok! Be sure to read up on my post about finding the right jeans for your body type by clicking below, and remember that you look your best when you feel great in the clothes you're in.