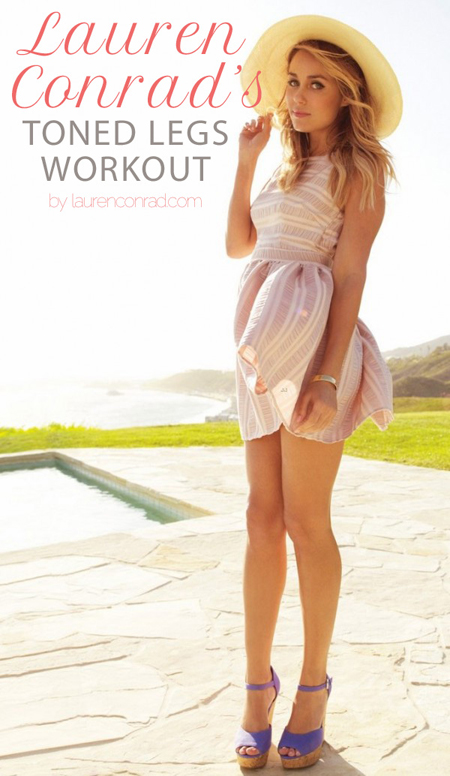 Happy April 1st everyone! Now that we're officially in the swing of spring, it's time to start kicking your workout routine into high gear. To me, spring is the time to start showing a little skin. It's the season to begin baring your gorgeous gams in skirts, sundresses, and shorts. And nothing complements a cute spring skirt better than a pair of toned legs. With this in mind, I recently asked my trainer Jarett Del Bene for his best exercises for toning your legs at home. As always, Jarett gave me some useful tips that I'm going to share with all of you today. Follow this weekly schedule to get toned legs now…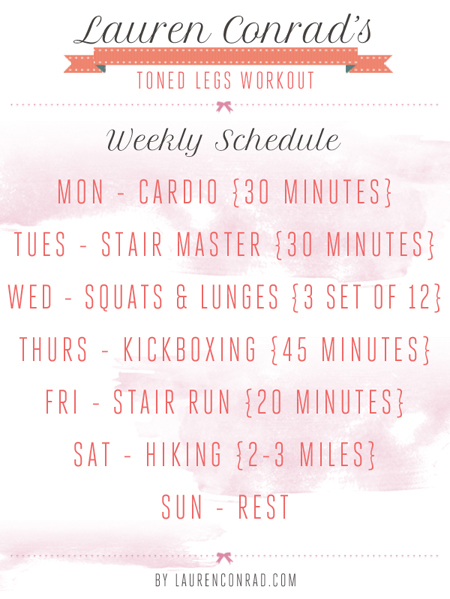 Here are a few tips from Jarett to keep in mind:
For cardio, I tell my clients to use the stair master. It works your legs and helps to slim and define them.
Do "round the world" lunges. Start with your feet together, then lunge forward with one leg. Use that same leg and go into a backward lunch, then straight into a side lunge. Switch legs and do the same with the opposite leg. I recommend doing 12 full reps.
Try kickboxing. It works everything from your core to your buns!

I hope these tips and tricks have inspired you to start toning up those legs for spring. Make sure to pin this image so you can pull it up the next time you're at the gym!
What fitness questions would you like me to answer in my next Shape Up post?
Also, be sure to follow @JarettDelBene on Twitter for daily fitness tips!
XO Lauren