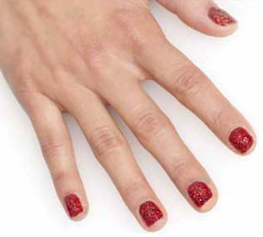 Let's be honest, some of the manicures out there are a little labor intensive. (You know this if you've ever searched for "nails" on Pinterest.) Rather than showing you how to recreate The Starry Night on your pinky nail, I thought I would share one of my favorite, less demanding manicures. Ladies, put away your tiny paintbrushes because for this manicure, we forgo nail polish all together. All you need is a base coat, fine-grain glitter and a topcoat. So without further ado, I give you the glitter manicure in three simple steps: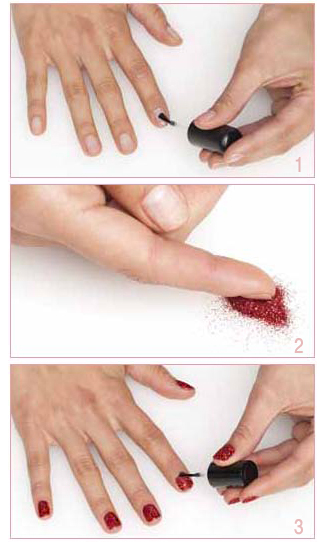 Step 1: Apply a base coat to one hand.
Step 2: Before that hand has a chance to dry, dip each finger in a fine glitter (which you can get at any art supplies store). Repeat on the other hand.
Step 3: Apply two top coat layers. (the second layer is to give you a smoother surface.)
Tip: Once your nails are dry, you can use clear tape to remove stray glitter around your cuticles.
For more manicure how-to's shop my book, Lauren Conrad Beauty. And if you're just dying to break out your tiny paintbrush, check out my floral manicure.
What manicure will you be wearing this weekend?
XO Lauren
Photo: Lauren Conrad Beauty