Hello loves! Coachella is almost upon us—only 48 hours left for those of us counting down to the first weekend. And now is the time to start perfecting your outfits and looks for three days in the desert. I'll admit that I've been tirelessly scouring Pinterest (see my board here!) for a little beauty inspiration of my own. And between flowers, feathers, and beads, I've seen just about every kind of festival hair accessory you can imagine. Today I'm excited to announce that I will be recreating three of my favorite festival hairstyles for all of you, with a little help from my fellow Team LC bloggers…
These DIY hair tutorials are easy enough to do on the drive down to Indio, and they will transform your look from casual concertgoer to fearless festival girl in a matter of minutes. Without further ado, here are three foolproof festival hair ideas…
Flower Crown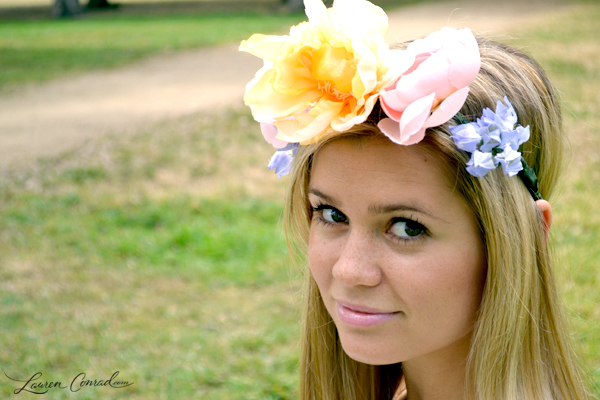 You will need:
scissors
fake flowers
2 pieces of 16 gauge fabric floral wire
green floral tape

Instructions:
Tape two fabric floral wires together and measure them to fit around the crown of your head.
Tape the other two ends together, creating a wire circle. This will be the base of your flower crown.
Cut your flowers off of the bouquets, leaving about an inch-long stem.
Lay out your flowers in the order you want them to appear on your crown.
Tightly wrap the floral tape around the stems of your flowers, securing them in place. Overlap the next flower so that you create a clustered look as you go, until the wire crown is filled.
Fluff your flowers and adjust them into place!
Feather Hair Barrette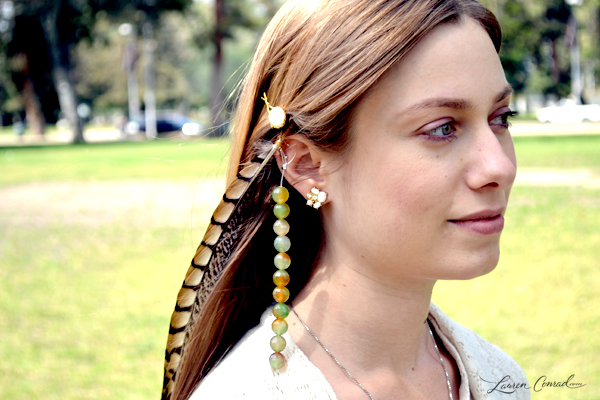 You will need
barrette
natural colored string
feathers
beads

Instructions:
Start by fastening your string to your barrette. We used a bobby pin and tied the string to the "bend" of the bobby pin.
String beads onto the string, or repurpose an old necklace by attaching it to the string.
Wind the string around the hard tip of the feather, then tie it all off with a knot.
Clip the barrette into your hair so that it feels secure.
Woven Milkmaid Braids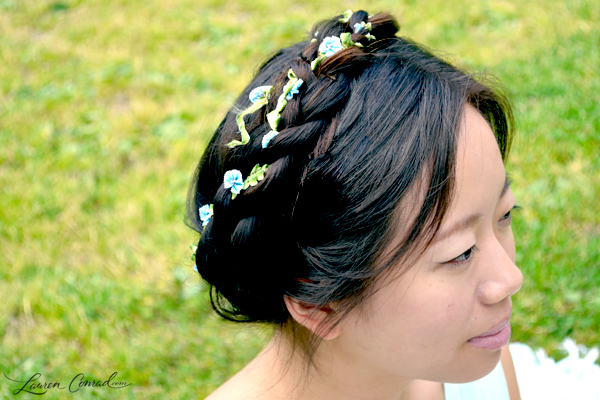 You will need:
ribbon
bobby pins
2 hair ties

Instructions:
Separate hair into two sections to braid pigtails.
Cut a piece of ribbon a little bit longer than the length of your hair, measuring from about an inch above your ear. Attach the ribbon to your hair with a hair clip, about an inch above your ear. (If you're using ribbon that has a design on one side, clip it so that the designed side is facing away from you and towards your head.)
Separate your hair into three pieces, and include the ribbon in one of the pieces. Start braiding, keeping the ribbon facing the inside of the braid, not the outside (You're going to flip the braid upside down, so you want to make sure the ribbon is on the bottom).
Tie off your first braid, then wrap it on top of your head. Using bobby pins, pin the end of the braid in place on top of your head. The ribbon should be showing now!
Repeat steps 1-4 with the other half of your hair.
Pin the second braid to your head underneath the first braid. Also, make sure that the second covers the hair tie of the first braid.
Pull out a few whispy pieces in front for a bohemian look.
These DIYs are a great way to get into the festival spirit with your friends, and they are quick and easy too. Bring your supplies along with you in the car and customize your crafts so that they match your daily festival fashions perfectly.
Will you try one of these Coachella-inspired hair ideas?
xx
Allison
Team LC