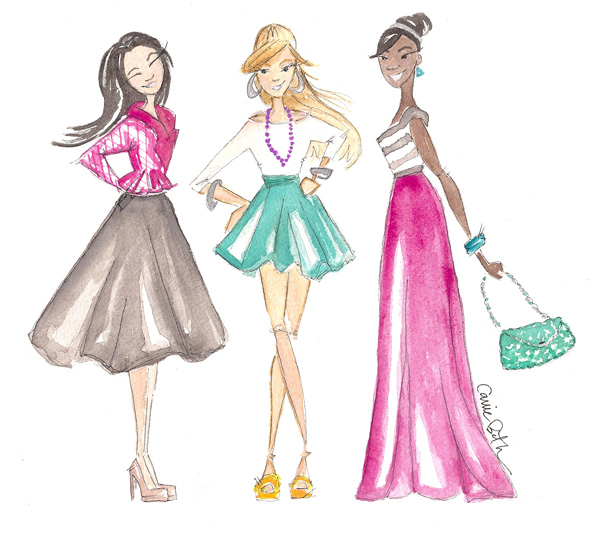 Midis, maxis, minis – oh my! Spring collections have made their way down the runways and the legs have taken center stage at top fashion houses like Carolina Herrera, Rebecca Taylor, and Elie Saab. Three major skirt trends emerged for spring and I've come up with a few style tips to help you handle any hemline.
The Maxi
The maxi is the one-woman-wonder of skirts… Flattering and fashion forward, comfortable and chic – it's one hemline that's hard not to love. But there are some things to keep in mind when wearing longer lengths. To make your maxi look effortless (and not careless) proper proportions are crucial. Take note of these tips to wear your maxi like pro.
Go long… but not too long. Remember: floor grazing is good—dragging is not. It's okay to show a little toe, especially since they've been hiding all winter in boots.
Balance it out. Anyone can wear a maxi skirt (yes, even you petite ladies) as long as you're mindful of the scale of the skirt. To avoid getting swallowed in fabric, try a tucked in top and a cropped jacket to keep the proportions in check.
Up the ante! Take this trend to the next level and go sheer. Sheer paneling was all over the spring runways and a maxi skirt is the perfect piece for embracing the trend. (Need some sheer style inspiration? Check out the spring collections of Jason Wu and Paul & Joe.)
The Midi
After decades of hibernation, the midi skirt saw a resurgence in popularity last spring. And this spring it's back and bigger than ever. With these tips in mind, you can tackle the tea length trend just in time for warmer weather.
Make it modern. It's great to pay a little homage to the 1970s with this retro style skirt, but keep the look totally 2013 with of-the-moment accessories such as bold metal pieces like belts, long pendant necklaces and upper knuckle rings.
It's hit or miss. What makes this trend so tricky is if the skirt hits you in the wrong place, the look is lost. As with any flattering skirt, the hem should hit the slimmest part of your leg. That means mid shin for all you tall ladies and just below the knee for all you petites.
Pair it properly. Let the skirt make the statement and keep the top simple. A fuller midi skirt looks perfectly polished with a slimmer fitting top. Even a tucked-in tee will look effortlessly on trend. (Extra style points for tackling another spring trend like stripes with your midi!) I might be bias, but the Paper Crown Netting Skirt is a great midi to try since it's not too voluminous and has a nice slimming effect.
The High-Waisted Mini
The term "mini skirt" may induce flashbacks to some questionable fashion moments in your past (cut off micro-mini denim skirts, anyone?), but I'm not talking about the ghosts of closets' past. Today's mini hits about mid-thigh and doesn't involve a frayed hem. Rather than slung low on your hips (not a very flattering look for most of us), the modern mini is high-waisted and sits at your natural waist. To wear this trend with all the confidence of the ladies at Carolina Herrera, follow these tips…
Belt it! I'm always a fan of cinching the waist, but a sleek slim belt atop a high-waisted number is the pinnacle of chic.
Take a risk. This style is very flattering and probably more familiar to you than some other spring hemlines, so play with the trends. Try a floral high-waisted skirt with denim on top. Or go black and white and finish the look with a pointed toe pump.
Wear what works for you. Confidence is the key to any ensemble. If you love a high-waisted skirt but shorter hemlines just aren't for you, stick with the style but opt for a length you love.
Which style will you be wearing this season?
XO Lauren
P.S. A very special thank you to our fabulous illustrator, Carrie Beth of Sugar B Designs, for the lovely watercolor image!