Most days of the week my schedule is completely packed. Between blogging, designing, and everything else in between, let's just say I am a busy girl. My jam-packed agenda leaves a few precious hours in the week for luxuries like browsing my favorite boutiques. Although I've found that when I'm in need of a little retail therapy but can't find the time to pop into my favorite stores, I turn to online shopping.
Determining your perfect size by looking at an image on a computer screen can make online shopping intimidating and tricky. Lucky for you, I have a few tips that can help you master this shopping skill. Read on for my foolproof guide for taking your proper measurements so you can shop online like a pro, without hesitation and with confidence …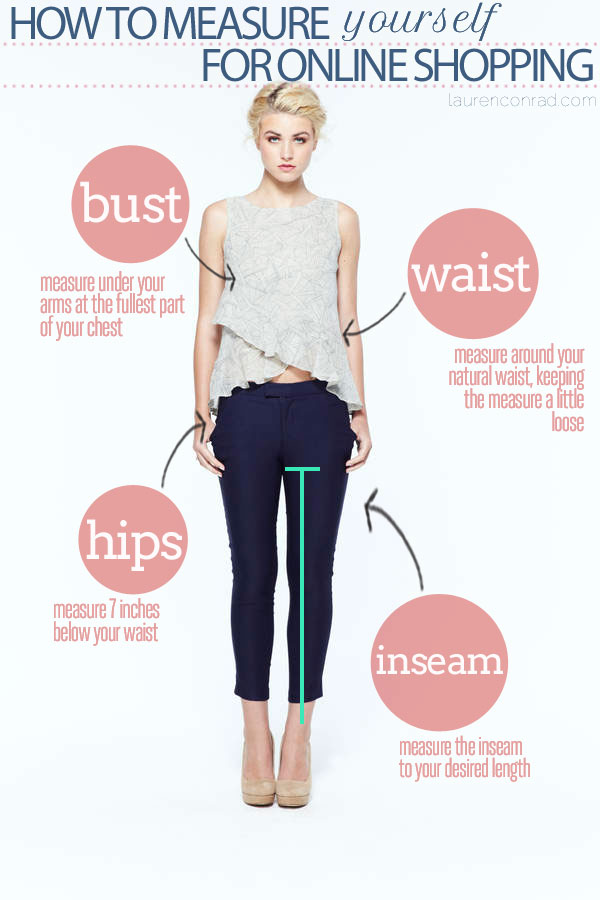 To get started, all you need is a soft tape measure to take your measurements along with a paper and pencil to write them down. I recommend saving your measurements in your phone or emailing them to yourself so you can have them readily available when you're making an on-the-go purchase. Now it's time to measure.
If you're buying a top…
1. First, measure your bust, which is the fullest part of your chest. It should be somewhere between 31 and 42 inches.
2. Then measure your natural waist, keeping the tape a bit loose. The term "natural waist" refers to the smallest part of your midsection (not your hips).
3. Next, refer to the sizing chart below. Match up the closest combination of your bust and your natural waist to find your size and numeric size. (Some websites have petite, tall, and plus sizing charts, so be sure to apply your measurements to the correct chart.)
If you're buying pants…
1. Measure your natural waist. Just remember to keep the tape loose.
2. Measure your hips, which are the fullest part of your body at the top of your leg. If you can't figure out where your hips hit, try measuring about 7 inches below your waist.
3. Then, measure your inseam, starting at the crotch seam and ending at the bottom of your leg. Your inseam will help you buy pants that fit well and let you decide if you need to opt for a size that specifies a "tall" or "regular" inseam. If you are petite, you might be able to tell if you will need your pants hemmed.
4. Match up your waist and hip measurements with the chart below to find the best fit.
If you're buying a dress…(You know the drill!)
1. Measure your bust.
2. Measure your natural waist.
3. Measure your hips.
4. Match them up according to the sizing chart below.
It's important to take note of the fabrics and materials of the item you are considering purchasing before deciding on a size. If your measurements say you're a small but you like your t-shirts to be a bit roomy, don't buy a size small cotton t-shirt…cotton shrinks! Similarly, if you're looking at a pair of pants that have spandex in them, be aware that they give a little (check out my denim guide here). Jeans and bathing suits are two items I avoid buying online. It is always better to see how they fit before making one of these purchases, unless you are buying a style that you know has worked for you in the past.
Some websites will even tell you what size the product model is wearing. This can be helpful if you want to see how the clothes hang on a body as opposed to a hanger. But just be aware that stylists will usually clip and pin the clothes in the back so that they fit the model perfectly.
Ready to shop? Head on over to Paper Crown to shop our new online store!
What's your favorite online purchase? Also, where you like do to do your online shopping? Share your favorite finds and online shopping destinations below!
XO Lauren
Photos: J Crew,  Christopher Patey for Paper Crown, Sizing charts courtesy of J.Crew