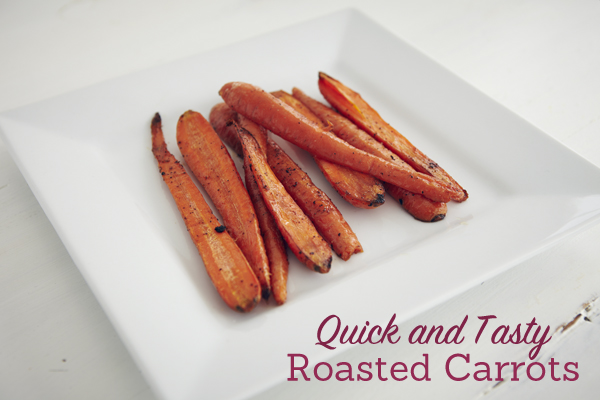 In order to make it into my recipe repertoire, a weeknight dinner must be three things: yummy, healthy, and easy. And these Quick & Tasty Roasted Carrots fit the bill! Roasting vegetables is one of the best ways to really bring out the natural flavors in vegetables, which is great because it's pretty easy to do. Even if you're not the biggest fan of raw carrots, this four-ingredient recipe will take your veggies from hard and crunchy to tender and juicy. Plus, the minimal prep time on this side dish means that you can just toss them in the oven and get to work on your main course. Here's how to make them…
Quick & Tasty Roasted Carrots
Serves 2-4
Ingredients

1 bunch of carrots, washed
3 tablespoons olive oil
salt and pepper to taste
Directions
Preheat oven to 400-degrees.
Cut carrots in half lengthwise, and toss with olive oil, salt, and pepper on a rimmed sheet pan.
Roast carrots in a single layer for 30 minutes or until browned and tender.
These carrots go with just about any protein, but I often make them as an accompaniment to this Easy Apricot Chicken recipe that I shared a few months back. And since this dish keeps well, I usually chop them up and throw them into a salad for lunch at work the next day.
If you want to give them an extra burst of flavor, sprinkle a little brown sugar over the top of the carrots before popping them in the oven. And as far as the ingredients go, I definitely recommend picking up your carrots from the farmers market. Fresh and local produce always tastes better.
Submit your favorite recipe to the Recipe Gallery, and leave me a link below.
What's your favorite veggie to make?
XO Lauren
Photo: Christopher Patey for LaurenConrad.com