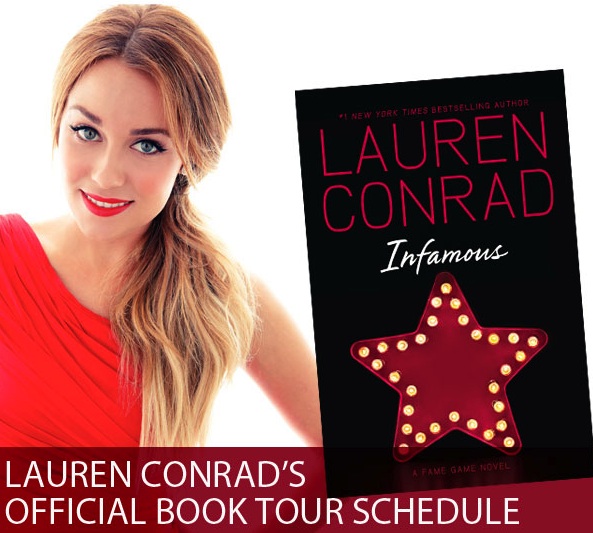 I'm excited to announce the official dates for my book tour for Infamous: A Fame Game Novel. As you might already know, Infamous is the finale of The Fame Game series, and I think you're going to really love it.
I'm kicking off the tour in Los Angeles on June 11th, the same day Infamous hits the shelves. I'm looking forward to meeting everyone and can't wait to share my newest book with you. All of my tour dates are below. Also, be sure to check out my blog post about what to expect at a book signing.
If you're interested in coming to one of the signings and meeting me, please be aware that some of these events will be ticketed, so check with the stores directly (all store contact information is listed below).
Hope to see you there!
Tuesday, 6/11/13: LOS ANGELES, CALIFORNIA
Barnes & Noble
The Grove at Farmers Market
189 The Grove Drive, Suite K 30
Los Angeles, CA 90036
323.525.0270
7:00 PM
http://www.barnesandnoble.com
Wednesday,6/12/13: MILWAUKEE, WISCONSIN
Boswell Book Company
2559 North Downer Avenue
Milwaukee, WI 53211
414.332.1181
7:00 PM
http://boswell.indiebound.com
*Event with Kohl's
Thursday, 6/13/13: NAPERVILLE, ILLINOIS
Anderson's Bookshop
123 West Jefferson Avenue
Naperville, IL 60540
630.355.2665
7:00 PM
http://www.andersonsbookshop.com
Monday, 6/17/13: BURLINGTON, MASSACHUSETTS
Barnes & Noble
98 Middlesex Parkway
Burlington, MA 01803
781.273.3871
7:00 PM
http://www.barnesandnoble.com
Tuesday, 6/18/13: PETALUMA, CALIFORNIA
Copperfield's Books
140 Kentucky Street
Petaluma, CA 94952
707.762.0563
7:00 PM
http://copperfieldsbooks.com
Let me know if you're going to come to one of my book signings in the comments!
And don't forget to contact your local bookstore for ticketing information.
XO Lauren
Author Photo: Steve Erle